Wigginton's position at second base meant little to the Orioles, who are 32 games out of first place with four games to play, or to the Rays, who clinched a playoff spot. It probably meant nothing to Wigginton either.
But to the Staffwaggers, the Rotisserie (fantasy) league team that I co-own with my brother-in-law Jim Wagstaffe, Wigginton's 39th appearance at second base this year was big news. If he plays just one more game at second, one pitch even, he will reach our league's minimum qualification of 40 appearances at a position. Then, we will be able to count his statistics from the 148 at bats that we foolishly played Wigginton at second, during which he amassed 25 RBI and 5 home runs.
This could mean the difference between finishing in the money or getting nothing.
At the beginning of the year Wigginton came into Oakland playing second base and had a great series, so we drafted him and installed him at the keystone corner. We should have realized that he would move to first once Brian Roberts came back. But we did not, and now our season hangs on the brink.
This was not our only mistake, of course. We also drafted the disappointing A-Roid with our first round pick and additionally thought Milton Bradley's troubles were behind him. Also, our alternative was Jose Lopez.
So I can only issue this plea to the great Buck Showalter, the militaristic, but occasionally effective manager who greatly improved Baltimore's play after he took over in mid-season. Please, please play Wigginton one more inning at second base before the season ends Sunday. I promise to root for the Orioles for evermore, unless they are playing the A's or Giants . . . or the opposing pitcher is a Staffwagger.
Oh, and Umpire West, sir, that Oriole second baseman just called you a bad name.
UPDATE: Orioles Insider posts that Brian Roberts will not play 2B Friday because of headaches. Why not Wiggy?
FURTHER UPDATE: Last inning in last game, Wiggy at 2B. Thanks Buck. Only problem is that my team didn't finish high enough.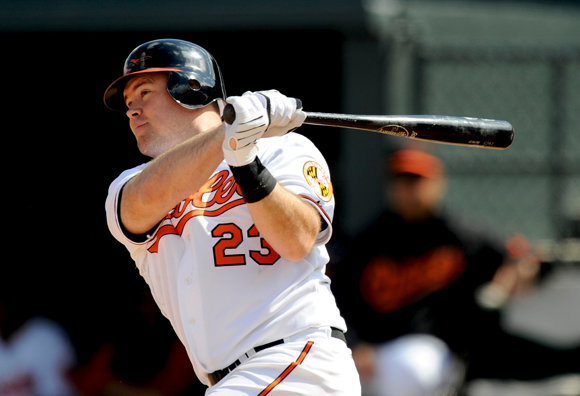 (February 23, 2009 - Photo by Rob Tringali/Getty Images Sport North America)

SUBSCRIBE AND FOLLOW
Get top stories and blog posts emailed to me each day. Newsletters may offer personalized content or advertisements.
Learn more