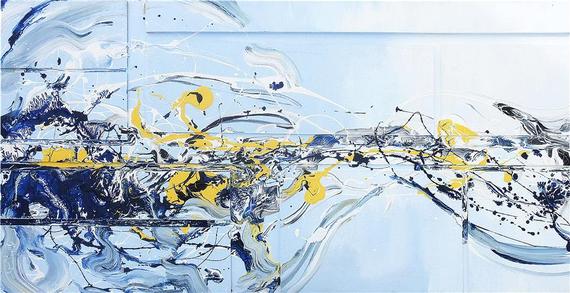 Piero Manrique's "Sea Breeze." Still from UGallery.
The online art market is exploding as more buyers are opting to browse, collect and shop artwork online. In fact, over 71 percent of art collectors have purchased art of some form online. We're at a crossroads where the traditional physical art experience is migrating toward a more web-based environment.
And as the online art category sees momentum, we'll soon be in the second stage of its development, the post-adoption period. We can expect the industry to mature beyond the initial move to the web, finding new ways to transform and scale to drive growth like never before.
But how? Here are five key developments we could see within the category this year alone.
1. Original Is King
When online art first entered the scene, many focused on a print-driven business model, which was less intimidating for buyers. Prints are a solid, safe entry point to an often overwhelming art space. That's no longer the case, though. That approach ultimately proved unsustainable as buyers have largely graduated from prints, opting for one-of-a-kind works and adopting a more artisanal approach to collecting. As a result, more online art companies are attempting to satisfy the demand by focusing on original, fully unique pieces.
2. Becoming Artist-Centric
This relates to my previous point, but it's become significant enough to stand alone. As buyers seek one-of-a-kind pieces, which tend to have a higher price point than a mass-produced print, they've become focused on the individual who created the work -- the artist. Feeling as if you know the artist and have a relationship with him/her has become part of the deliberation process when buying. We're already seeing some players embrace a "we work directly with the artist" message (many of the claims are, sadly, superficial), while those who've practiced this since inception are seeing even greater success.
3. Partnerships for Scale
Last year, a handful of online art galleries, including UGallery, partnered with Amazon for the debut of Amazon Art, now the web's biggest online art marketplace. From a business perspective, it was huge for reach. Amazon Art has provided galleries a unique opportunity to showcase original artwork at even greater scale, reaching new levels of exposure through the hundreds of millions of customers who shop at Amazon. I envision more galleries entering into creative partnerships to reach new customers and build leads.
4. Acquisition
Acquisitions are core to growth in any industry, whether it's publishing or digital mapping, with the online art category being no different. They occur for three reasons, primarily scale or customer acquisition, technology or IP, and talent. To this point, we haven't yet seen a game-changing acquisition in online art. But as mega players like Amazon, Google and even retailers like Restoration Hardware enter the field, the possibility of an acquisition for assets like scale, tech or talent becomes greater.
5. Greater Focus on Mobile
A core reason for the online art explosion is the rise of mobile. Its impact has only just begun in the category, as mobile commerce is set to make huge gains in shopping, with sales across mobile devices reaching $100 billion by 2017. We're seeing many in the online art category begin to take advantage of this opportunity in an effort to make buying art more accessible, flexible, and convenient via mobile. In 2014, more within our industry will emphasize mobile strategies to convert customers.
--
These are just a few developments I imagine we'll see in 2014 as online art galleries mainstream further and find new ways to grow into the billion-dollar art marketplace. What do you think?