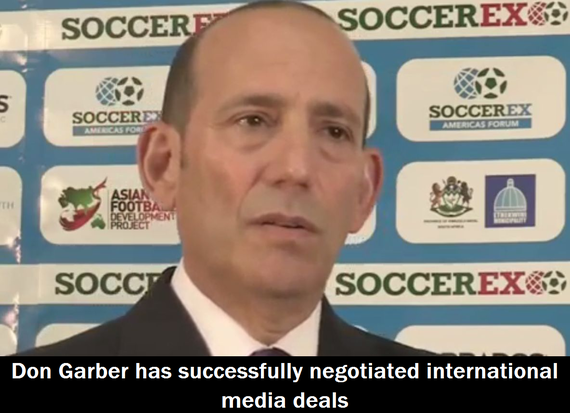 Don Garber doesn't need to be popular with MLS fans. But he should be.
His stewardship of Major League Soccer has led it to previously unimaginable achievements, and I say that as someone who has had occasional disputes with his staff, and whose stories have not always made Prost Amerika the toast of MLS HQ.
I also say that as someone who profoundly disagreed with his 2nd New York club fetish and wishes he would do the decent thing by the Sacramento Republic and give them the MLS place they so richly deserve.
But despite a couple of disagreements, Garber's record of achievement in growing the league and the sport is a story of many steps forward for each step back.
We should not cite the Chivas USA debacle as a failed attempt to reach out to the Hispanic audience without also remembering the Univision deal; or also that he has finally reeled in Fox and ESPN even if they were substantially in it for the USA matches.
See what I mean? Garber even reeled in U.S. Soccer to take a joint approach on TV rights. That is a success.
No one who has ever observed the football scene elsewhere should take such a harmonious relationship between a country's league and football association for granted. But Garber inked a joint approach with U.S. Soccer despite lingering tension with U.S. head coach Jurgen Klinsmann.
However what has been even more impressive in recent months is the string of international TV deals that will make the league available to viewers in places as diverse as UK, China, North Africa, the Middle East and Brazil.
In China, Letv will show at least two MLS regular season matches per week, as well as the MLS All-Star Game, at least two matches from the newly created Decision Day, all MLS Cup Playoff games and the MLS Cup. Sky Sports in the UK will telecast the same.
The deals were negotiated by MLS' new global media rights agent, IMG, who also struck a deal with the pan-European broadcaster Eurosport.
The commercial hope is that the draw of American culture and U.S. commercial brands in general will have a coattails effect and merchandise with our clubs' logos will become as de rigueur for young people as baseball hats with the Yankees logo or Dallas Cowboys branded anti-concussion protective headgear.
The popularity of American brands survives the highs and lows of U.S. foreign policy and there is always a market for U.S. branded stuff globally. Concurrently football jerseys such as Barcelona and Chelsea fly off the shelves of Marrakesh as they do in Malaysia.
Somewhere in that space in between, lies a potential niche market for MLS especially as the generally lower standard of the league compared to Spain and England might allow the odd Malaysian, Moroccan or Kuwaiti player where the EPL couldn't. If my knowledge of other sports was reliable, I might cite Yao Ming and Ichiro as examples where franchises hired talents who also had a marketing upside.
It is a potential treasure chest and it happened on Garber's watch.
But having millions of potential and foreign new eyeballs set to descend on MLS brings challenges.
Firstly those eyeballs observing are not connected to hearts that are already inherently fond of the product. Most North Americans watching are favorably inclined towards defending the league and explaining away any shortcomings.
"It happens in a growing league" is a perfectly valid argument to explain a flaw to other U.S. sports fans, but will carry no weight in China or India, where the sport is also still on that learning curve. And they don't have to watch it.
The product, and by that I include the players, referees, the fans, the journalists and the club employees, is set to be viewed and by implication judged by the world community.
American fans impressed the locals in Brazil last year.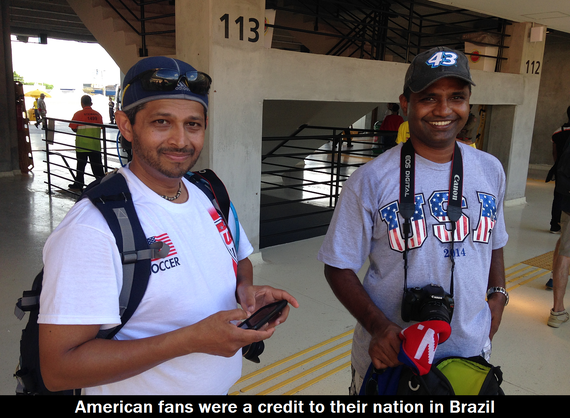 The U.S. fans even impressed the English tabloid hacks, who are generally not an easy audience for foreigners to secure good copy from.
The number of U.S. fans was second only perhaps to neighboring Argentina whose fans could travel by land. The enthusiasm was top notch. The behavior was immaculate, so much so that critics were reduced to picking on the "I believe" chant.
"Would you rather they sung '10 German bombers'?" I retorted to one snarky critic, in reference to some England fans obsession with World War 2.
The U.S. team performed as well, probably better than expected given the tough draw and the early injury to Jozy Altidore, probably the squad's least replaceable player. Klinsmann displayed a most un-Germanic sense of humor.
When asked, for the 100th time, if the USA and the Germans would agree to a mutually beneficial result as West Germany and Austria had in 1982, he told a German journalist: "That may be in their (the German) mentality. But it is not in ours (the American)."
Well, we all laughed; Americans old and new. The Germans -- less so.
However, Brazil 2014 showed the American soccer community all dressed up for the prom with our date Jurgen and ready for the show. We were spruced up to be on display.
What is about to happen with these TV deals though is a different matter.
What will the world see when the cameras and the eyes of the world look into our house and see us in our own natural environment? It will be a reality TV show for the North American soccer community.
Many will be wanting to poke fun at us, particularly those who remember shoot-outs and ads running during the game from previous league incarnations.
Others will just want it all to be the subject of ridicule because -- in some countries -- the idea of the U.S. being good at football will gall. I'm not going to mention any names but the pain of finishing behind the USMNT in the group stages in 2010 and being eliminated a round earlier in 2014 will probably cause angst beyond the previous 30 years of hurt.
Others will want us to fail for reasons not connected with sport. For whatever reason, MLS will be up there to be shot at.
So are we ready? Are we ready to be exposed to the critical and possibly predisposed to the hostile eye of the world?
My view is that we are not quite yet ready, but we are way readier than we were six years ago.
This article will appear in three parts. In Part 2 of this series, we will examine what MLS is doing well, but I'll sound the alarm bells about the rock behind which that PR disaster is hiding.
And where Part 1 of the series is relatively benign and full of praise, Part 2 will be the opposite and I will lift the lift on some of the comedic episodes that happen under the radar when you are covering Major League Soccer.
Steve Clare is President of the North American Soccer Reporters which represents soccer journalists in the USA and Canada. He writes on soccer media matters among other things for the Huffington Post.
Photos: Steve Clare. Garber photo courtesy of Simon Evans
SUBSCRIBE TO & FOLLOW THE MORNING EMAIL
The Morning Email helps you start your workday with everything you need to know: breaking news, entertainment and a dash of fun. Learn more