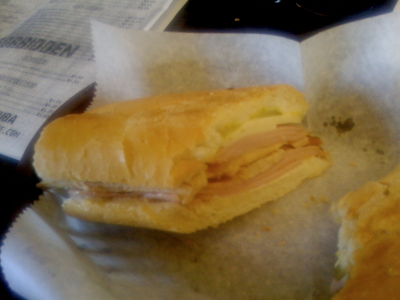 Chicago is home to all kinds of wonderful sandwiches. The mammoth subs at Bari in West Town, the juicy/sweet/hot/dipped beefs at Johnnie's in Elmwood Park and the crunchy French-inspired Vietnamese bahn mi at Bale Bakery in Uptown are a few of my faves. But it seems like a Cuban immigrant is muscling in on the sandwich front lately. It's called a Cubano, and I tried two decent versions last week that showed promise.
First, a definition: In its proper form, the Cubano contains sliced roast pork that's been rubbed with garlic and mojo, a slice or two of deli ham, a few tart pickles and a slice or two of Swiss cheese. The ingredients are held together by two slices of long, rectangular bread, usually of a sturdy Italian white variety that's been slathered with mayo and mustard. The exterior of the bread has to be somewhat fortified, as it will eventually be pressed between the hot, flat surface of an electric panini press, melting the cheese on the inside, and giving the outer edge a beautiful, toasty brown crunch.
Two new Cuban sandwich shops have opened in Chicago recently, and they couldn't be more different. Downtown, in the South Loop, Cafecito is located in the same building as a youth hostel, so many of the customers tend to wander in from next door, seeking a cheap, filling meal. Their Cubano contains the requisite ingredients, yet the pork lacked any kind of a garlicky jolt, although it did appear roasted on-site. The bread was nicely toasted, however, which aided in the proper melting of the Swiss inside. I typically order a cortado or Cuban coffee to go with my sandwich; it's just a strong shot of espresso with sugar, yet Cafecito's arrived almost lukewarm. At $4.99 for a sandwich though, this is a worthy mid-afternoon snack.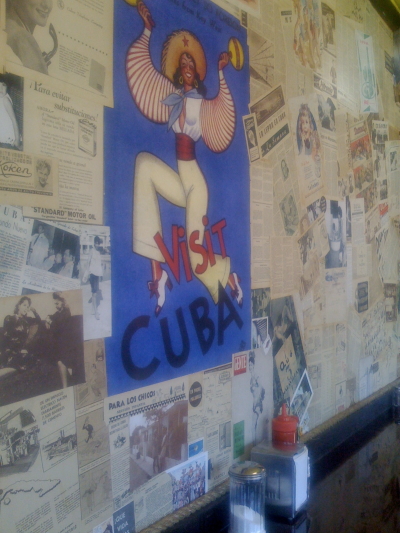 In Hamlin Park, a desolate, restaurant desert if there ever was one in Chicago, 90 Miles Cuban Cafe just opened, and the owners have clearly spent a bit more time decorating the place, making you feel as if you'd stumbled into some 1950's era cafe outside of Havana. The walls are lined with old newspaper clippings and photos, and a stack of Bustelo Coffee resides above the giant espresso machines, which churn out fantastic cups of Cuban coffee, by the way. A small case of homemade pasteles, little baked triangles filled with guava and cheese, was extremely tempting. It was the Cuban sandwich I had a harder time understanding. The ratio of ham to pork is way out of whack here - something like two-to-one - and my sandwich hadn't spent nearly enough time in the press; the cheese inside wasn't even melted yet. The owner told me their signature sandwich is the lechon, which consists of not only the roasted pork, but maduros (sweet, fried plantains), romaine lettuce and grilled onions. While I loved the maduros and onions, the pork had been chopped into hard-to-chew hunks that kept falling out. I'm hoping they get more feedback, and work on their sandwich pressing as well as pork slicing, because I'm sure the cops up the block on Belmont will become this cafe's best customers. As for me, next time I'm craving a Cubano, I'll still be heading over to West Logan Square to get the real deal at El Cubanito.
One more thing: Just the other day, Cafe Con Leche opened its doors in Bucktown; guess what they have on their menu...
SUBSCRIBE TO & FOLLOW THE MORNING EMAIL
The Morning Email helps you start your workday with everything you need to know: breaking news, entertainment and a dash of fun. Learn more