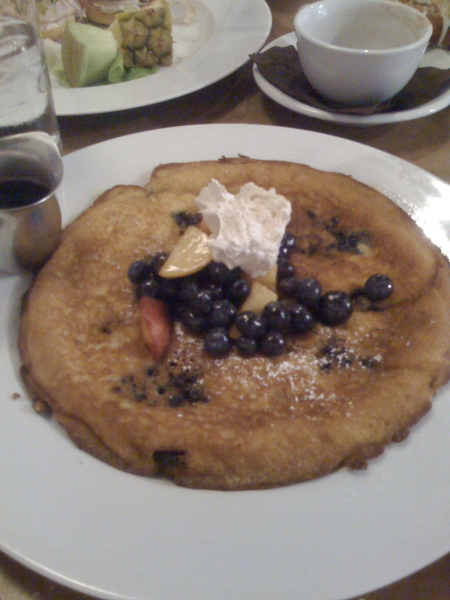 I tend to shy away from making proclamations about the "best" this or that on local menus. I mean, c'mon, how the hell do I know what the best version of something is? I certainly have my opinions, and I tend to defend them based on an accumulated taste memory bank, but I always get annoyed when I hear someone say they had the "best pizza" or the "best pad Thai" of his/her life, when they've only dined in one city - Chicago - and can't even base this claim on having had the real thing in Italy or Thailand. That said, I must say I had one of the best pancakes I've ever had yesterday at Hot Chocolate. Mindy Segal is a pastry chef, and her Bucktown restaurant is known for its wonderful selection of sweet treats - even on the brunch menu - where there are gooey, sticky, fruity snacks to munch on while you wait. I always love her riffs on milkshakes and smoothies too. But the other day we tried the buttermilk pancake with seasonal fruit. Where most pancakes arrive leaden, with too much flour, or just overcooked, Mindy's single pancake arrives like a giant, satisfying disc of sweet and savory goodness. A good quarter-inch high, this buttermilk beauty is not only embedded with local blueberries, but also topped with more berries, as well as pitch-perfect ripe peaches. A dollop of cinnamon-laced butter graces the top, but it's not even necessary. With a tiny drizzle of the accompanying maple syrup, this is the kind of pancake that puts all other imitators in Chicago to shame. It redefines the genre, and is, as one friend would call it, a "category killer." Bravo, Mindy. You've forever changed my opinion of what a pancake can, and should be.
SUBSCRIBE AND FOLLOW
Get top stories and blog posts emailed to me each day. Newsletters may offer personalized content or advertisements.
Learn more