A little time ago I got whiplash from two totally different lunches I ate on two consecutive days. Each was what I call a "food moment." And each is symbolic of the extremes of our food culture today.
I was invited to speak about my book and artificial food ingredients at both Illinois State and The University of Illinois, so I contacted a head researcher at food ingredient behemoth ADM (Archer Daniels Midland, one of the world's largest manufacturers of vegetable oil, high-fructose corn syrup, and hundreds of food additives) to see if I could stop by for an interview on the day in between my lectures; I also called the woman in charge of the farmers' market in Urbana for an interview the following day. Luckily for me, both invited me to lunch--and each represented vastly different but common approaches to food.
I drove for hours across flat, uninterrupted acres of soy and corn farmland to get there.
While a few years earlier the corporate ADM would not help me on my book research, this particular enthusiastic professional was eager to talk to me in a more general context. In fact, he wanted to show off some new products. He invited me to lunch at ADM's R&D headquarters in Decatur. Quite a score for a foodie, no?
Now you have to understand that as a food writer arriving at Decatur, I felt like a political journalist going to Washington DC for the first time. The juices flow, the adrenaline rushes. ADM made over $3 Billion last year, and with 28,000 employees in 230 plants in over 60 countries, is one of the largest and most influential corporations in the world. ADM can crush over 90,000 tons of oilseeds (mostly soybeans) from all over the world every DAY.
Everything I see has significance: the giant power plants, the endless trains and truck lines, the pipelines, the cops. That's right. Cops stopped and questioned me about industrial espionage while I was photographing a plant from a sidewalk; luckily I refrained from giving the tough guys a lecture on the first amendment and was released.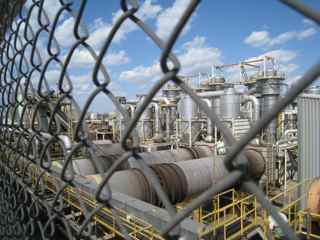 We sat in a plain conference room at a big table as a genteel, proud, CIA-trained chef in chef's served a salad with dressing enhanced with Vitamin E and Fibersol® -2 dietary soluble fiber along with his professional patter. These additives have no interfering taste or sweetness, he explained.
The main course, the chef announced and served, was fusilli with arugula, bell peppers, grilled asparagus, and an "enhanced" chicken breast on top; the breast was a "tumbled product"--that is, tumbled in a vacuum for at least a few hours with soy protein. The sauce, he went on, is a traditional lemon velouté made from chicken stock, lemons, capers, 100mg of phytosterols CardioAid™ and a touch of vitamin E--just 25 iu. Not the usual chef-patter I'm used to, I had to say. The sauce and food combo worked well, despite my having to furiously scribble my notes.

CardioAid is a brand of choleserol-lowering plant sterols that the ADM catalog lists as a bland, off-white powder that, if .8 gram of it is eaten twice a day, along with a proper diet, might lower your risk of heart disease.
Dessert was a rich, fab duo of chocolate/faux pumpkin pie made from navy bean powder and a black bean, flourless brownie with clove-caramel sauce, topped with whipped cream. The beans provide, the chef said, "all the fiber and protein and natural goodness of beans" despite being disguised in all that chocolate.
The only thing that I really couldn't handle was the sticky, chewy, bean-based, 100-calorie sample snack bar, tentatively named "Caramel Kick SNIX™ Flavored Snack Bar," really a candy bar that looks like a granola bar but is made from navy and pinto bean crisps (ADM's dried and extruded bean powders). Product idea: Get kids to eat more vegetables, especially those processed by ADM. The name, I'm told, is kind of a "texting thing." Of course, it comes out that edible beans are a rare growth area in the ingredient biz these days. ADM considers these among their minimally processed foods.
My hosts could not have been more gracious, sincere, and willing to share their knowledge, which included diagrams about the digestive process and a brief tour of their heretofore inaccessible perfectly clean test plant and laboratories.
The next day my equally gracious hosts were the couple that own the nearby, sustainable 39-acre Prairie Fruits Farm just outside of Urbana. I was introduced by name to several of the dozens of goats there. I also got to play with a mess of baby goats, a veritable tickle-fest.
Surrounded by soy and corn farmland (actually, more fields than farms, as so much of that land is rented out), this happy island has proven profitable by its mix of edible crops - fruits, vegetables, and lots of goat cheese. Seasonal, weekend farm breakfasts and whimsical dinners in the field (all sold out in advance) supplement market sales. With the valuable input of labor and skills of the owners and a handful of helpers, the income per acre dwarfs that of the low-input, low-return commodity crops that are now the norm in the area.
Their cheeses are served at Champaign's small and much acclaimed locavore restaurant, Bacaro, where I rushed off to lunch. We started off with some fresh-baked crostini with Prairie Fruits Farm goat cheese melting into the tender crust. It was not infused with fiber or made out of bean powder but it did seem to be pretty nutritious and was totally delicious.
Bacaro is the kind of place that has things like faro soup with rabbit confit and parsnip cream or spaghetti carbonara with [local] Moore Family Farm bacon and peas for only $8; on the higher end is pan-roasted sea bass with fennel, wild rice, caramelized onion purée, and smoked balsamic vinegar.
Chef Thad Morrow experiments with surprising uses of common ingredients as much as the ADM guys do with their beans by making things like fried watermelon or popcorn with truffle oil every now and then. And he spends hours tracking down and building relationships with the growers of his food.
Despite the rather complex combinations, all the Bacaro ingredients were recognizable, if not locally sourced. By contrast, if you wanted to know the sources of ADM's soybeans, you couldn't, by design. ADM's beans are a commodity product--the polar opposite of local. With extensive government support and cultural demand, ADM; the recent local and sustainable farming/whole food and restaurant world has skyrocketed as a popular alternative and has grown into a cultural pillar, too. Americans crave both, it seems.
In two days I managed to taste the widest difference in sources and processing possible. Synthetic to sustainable, totally processed to minimally processed, commodity to local.
Central Illinois - hotbed of culinary extremism! Who knew?

FOLLOW HUFFPOST