You know the song that just does it for you? It speaks to you. Maybe it's the beat or a lyric that strikes a cord. It gives you goosebumps. The song defines a moment. Your moment. Your history. Your life, both present and future. This is a strange comparison, but that is I how I felt when I met the young gentlemen in the picture.
You see, this group of guys is a small group of students in our STOKED Los Angeles program. They've committed to STOKED by participating in our afterschool and weekend mentoring programs.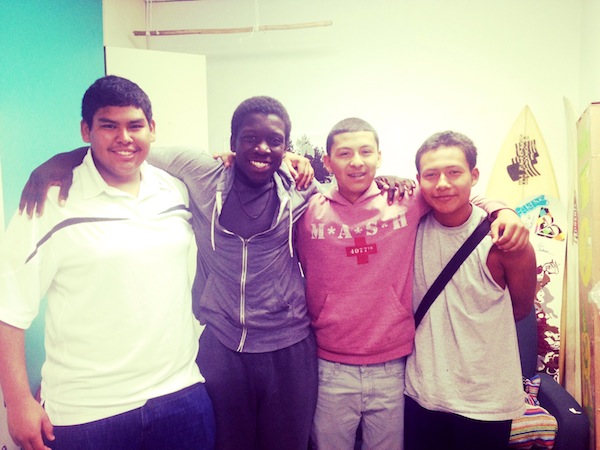 I visit Los Angeles about every three months, so when I get into town I'm pretty focused on meeting with staff, donors, supporters and doing my best to soak up as much energy from the kids as possible.
It was the end of the Trishredathon. It was an emotional day. Two students were injured and I had spent part of the day in the hospital with them. We pulled off a challenging event and got almost 70 people to snowboard, surf, and skateboard in one day while simultaneously raising over $20,000 for Los Angeles.
We arrived back at HQ and as the kids were packing up to leave, I saw a few students giving each other a weird handshake. My interest perked up. Are there gang kids in STOKED? Our neighborhood (MacArthur Park area) in LA has the highest concentration of gangs in Los Angeles, so this thought wasn't absurd.
I asked, "What's going on?" One of the students replies, "It's a secret handshake." I replied, "For what? You guys in a gang?" Another student chuckles, puts his head down and says, "No, it's our crew."
"What kind of crew?" I ask.
Another responds, "We push each other in school, sports, and life. We're The Wolf Pack!"
This was my 'I must have this song' moment. I wanted to learn more. I told the kids to meet me at the office the next day so we could talk.
So at the end of the following day, my staff and I sat with the kids and asked questions and listened to what they had to say.
I learned that these students don't have the fears of your average youth. They fear failure in school. They fear being overcome by negativity. They fear becoming a statistic. Their fears are substantiated by the fact that there are over 30 gangs in the neighborhood. Being jumped by a gang is a very real chance every day. It has nearly happened to them within a few blocks of the STOKED office.
The Wolf Pack started when one of the members was watching National Geographic Channel and saw how wolves take care of each other. He thought it would be a good name to use to form a crew and to combat the negativity in the neighborhood.
Not anyone can join The Wolf Pack. They recruit you. They have a strict code of 1) No alcohol or drugs, 2) Must be positive & respectful, 3) Have fun, and 4) Be healthy & exercise.
The members of The Wolf Pack all play sports and work out everyday. In fact when I first met them, as one of the members was leaving another member said, "TNDO" -- which means "Take No Days Off."
I asked them what more can STOKED do for them and they said that we give them a safe place to go after school, opportunities to expand their horizons, the chance to meet positive adults, and they are learning life lessons that they wouldn't get in school.
For all intents and purposes, we're doing what we set out to do. It was why we started STOKED. Give students who want a chance to succeed an opportunity to succeed.
However, I think we failed in one aspect. We didn't provide enough peer mentoring. These young mavericks saw that they needed something that their home, community, school, and STOKED didn't provide. They took it in their own hands and are using STOKED along with their organic and homegrown crew to uplift them out of their current surroundings. They are creating their future with motivation, support, and friendship.
As one Wolf Pack member says, "It's working. Our grades are improving, too." They're tutoring each other. So I did what any entrepreneur would do and asked them if we can take the concept and grow it. They seemed OK with the idea, but they're going to keep their core crew and slowly add members as they see fit.
For me, the lesson is that if you want to accomplish anything in life and you want to change your current circumstances, you form a mastermind or get a mentor. The only exception is that it took a group of 16 year olds to remind me of that.
Thank you, Wolf Pack. TNDO.