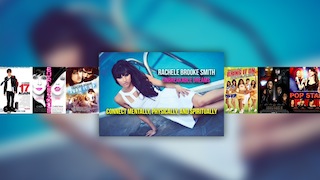 Rachele Brooke Smith plays the lead in Center Stage II, A Matter of Time, and Altered Reality. She's the antagonist in Bring It On: Fight to the Finish and Popstar!, and has appeared in Entourage, Glee, How I Met Your Mother, Anger Management, Burlesque, 17 Again, and Iron Man 2. Rachele is developing her personal brand as a fitness trainer, model, motivational speaker, educator, and producer. Today through her website and her youtube channel, Rachele provides her audience with mental, physical, & spiritual challenges to turn their own dreams into reality.
Like so many great stories do, this one started with a tragedy and a dream. Until she turned 13, Rachele was a top-rate competitive gymnast. She lived at the studio, and every hour out of school was spent perfecting her talent. But an injury tragically ended her young career.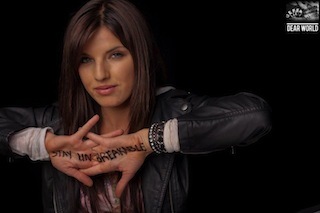 "I fell to the floor with a limp hand and tears in my eyes. My coach told me it was just a knuckle crack and that the team was depending on me to win. When I tried using my hand again, I fell flat on my face and only did more damage."
Rachele had shattered her left hand and needed surgery, forcing her out of gymnastics and into depression. "My mom's whole life had been my gymnastics. We struggled to connect when I stopped."
Soon after, she decided to go see Center Stage at a local theater. "After the movie ended, I stayed in the theater and just cried. I had this overwhelming feeling -- I knew what I was going to do with my life, I knew I was going to be that girl!"
And that she did -- Rachele auditioned and was accepted into a prestigious scholarship program at The Edge Performing Arts Center. Rachele moved to LA and began to learn the business.
One of the hardest things for most people when they're trying to build an acting career is that first step of getting an agent or manager. it's a catch-22. To work in the industry and to be taken seriously, you need a good agent-manager. However, in order to get one, they want to see work you've done. In order to get work, you need an agent/manager.
There is a common misperception that a successful acting career immediately leads to great wealth, but Rachele shares the insider's scoop:
Say I'm told I'm going to get -- just throwing out a number -- $10k for a film. Well, right away, just from taxes, especially in California, I reconsider that $10k into about $6k and then, from there, I give 10-percent of that $10k to my agent and 10-percent of that $10k to my manager.
She dances, she flips, she acts, she sings, and now, Rachele Brooke Smith has become the founder and CEO of Unbreakable Dreams, a company that brings motivational speeches, activities, and dreams to those devoid.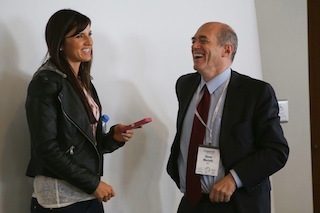 Rachele and me at the recent Empact100 Showcase.
"Recently, we brought karaoke to the homeless. Afterwards, a woman came up to me and told me it changed her life. 'I forgot what fun was,' she told me. 'I forgot what was good in life, and you reminded me. I'm quitting drinking and going to get my life back on track.'"
After that, Rachele realized the power of "Fun," and its potential to change the world. "Fun opens the doors to creativity, which then leads to inspiration, which then births passion, which all together equals both happiness and success!"
Currently, Rachele is traveling, teaching, speaking, as well as acting in commercials, television shows, and her next feature film. She is working to grow and increase the impact of Unbreakable Dreams. "What I've learned, after everything," Rachele concludes, "Is that, when a goal is planted, regardless of the circumstances, it is possible to achieve. We all have so much more power to make our dreams a reality -- and love life along the way -- than we think we do!
You have to know what you want, and want it bad, every day -- giving everything mentally, physically, and emotionally. Your belief has to be so deep that, in fact, it already seems real to you, and it's only a matter of time until the rest of the world knows it too. You've got to do whatever it takes, and refuse to let anyone tell you otherwise, until it's yours. This is a big reason I end every speech and episode of Unbreakable Dreams with, 'You can bend, but never break. Stay Unbreakable!'"
Special thanks to Maya Horgan for helping research, write, and edit this story, and to Lauren Bailey for researching and editing.
This Blogger's Books and Other Items from...
SUBSCRIBE AND FOLLOW
Get top stories and blog posts emailed to me each day. Newsletters may offer personalized content or advertisements.
Learn more