For the entire month of January, Generation Z youth were invited to compete in a new kind of contest. "Sing in the New Year" offered its winners coaching sessions by Steven Memel, who has helped Drew Barrymore, Sara Bareilles and Adam Levine -- among many others -- with their vocal talents. But what made this contest different wasn't the prize it offered, but its format: Participants were asked to upload a video of their singing to Rocket21, the only online network that safely connects kids to professional opportunities.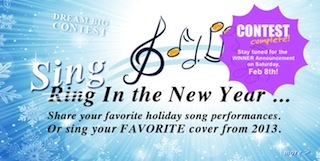 Rocket21.com, a social learning platform that engages nine to seventeen-year-old students in 21st century, web and app-based educational pursuits, was created by five innovators, including Mark Grayson. They have run about twenty of these kinds of contests in the past two years. Rocket21 provides access to world-class experts from a variety of fields and compelling applications for exploring interests in a fun way. Mark says:
Every kid on the planet has interests, work and dreams. But most kids have no easy way to engage with great resources to pursue their projects or explore their dreams. Rocket21 offers a secure social platform where kids under 18 can pursue their passions with leading experts (called Rocket21 PROs) and organizations from hundreds of industries and fields.
Through Rocket21, students are able to communicate with each other and adult experts, share their ideas, work on challenges and projects. To date, over 3,000 kids have participated in the build-measure-learn cycles group for beta testing. In order to ensure that the opportunities that Rocket21 offers are available and free to all kids, corporations are committing sponsorship packages, in addition to providing employees, content, contests and other activities for kids.
When I first met Mark, I was blown away by what he was doing for kids: Redefining how they learn so that they could build a portfolio in various fields. I wanted to know more about how Mark arrived at this idea and what makes his company work.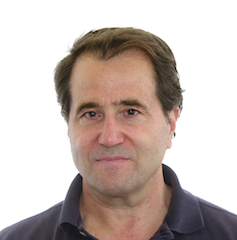 Mark Grayson, CEO, Rocket21
Steve Mariotti: Why did you choose the name Rocket21?
Mark Grayson: We wanted a name that communicated that Rocket21 is a platform that helps you move forward in life by connecting your current interests and projects to your future. For that same reason, one of our apps is also named "GPS" for Global Pursuit System. We wanted to convey that R21 helps you go places that you never dreamed possible, and that Rocket21 is powered by state-of-the-art technology. The "21" actually indicates our brand promise that we help kids develop the skills to compete in a global knowledge economy in the 21st Century.

SM: What inspired you to start this organization?
MG: Decades of experience in youth media and education have confirmed that there is an urgent need for a place where kids can preview their lives' possibilities, meet other kids with similar interest profiles and connect with adults who are willing to offer guidance as to how to acquire the skills and experience to become successful in their field.

SM: A key part of your platform is partnering with experts in various fields. What was the trial-and-error process of gaining access to interested professionals?
MG: In the beginning, the founders of Rocket21 recruited friends across a wide range of organizations to participate in the BETA of the platform. As we developed pilot programs with strategic partners -- such as NASA, West Coast Songwriters Organization, Nat Geo WILD, Roush Fenway Racing, Converse, Universal, Turner Endangered Species Fund -- our partner organizations began to provide PRO experts. We anticipate that Rocket21 will go to scale leveraging a broad range of similar relationships.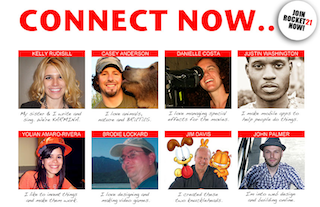 A sample of the PRO experts on R21
SM: What are some tips you have for young entrepreneurs raising capital and trying to get a project off the ground?
MG: This is a hard question to answer generically, as much depends on the type of product, program or service that is being created. It sounds like an old bromide, but it's been my experience that passion and persistence are essential, since every venture invariably enters a period where the evidence that there is viable business is amassing slower than the need for capital. It's just the nature of the beast. The trick is to stay alive and keep going.

SM: What is your perception on the power of networking?
MG: Rocket21 is trying to model the habits of minds that are necessary to be successful in the adult world -- forming ad hoc teams to accomplish a task, reaching out to peers and older mentors for expert advice, seeking solid sources of information online and in the real world, nurturing a curiosity and joy for lifelong learning, honoring the acquisition of new skills and knowledge. I think all these activities require that we become social learners or networkers.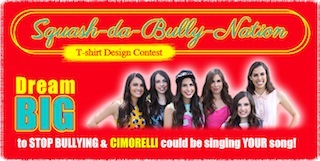 Rocket21's anti-bullying campaign empowering youth to change the world.
My years of experience in at-risk youth education has shown me just how important it is to engage kids in their futures and inspire them for success. With the opportunities afforded by Rocket21 and other innovators like it, I cant wait to see what Generation Z will achieve!
Special thanks to Lauren Bailey for her assistance on this article.
This Blogger's Books and Other Items from...
SUBSCRIBE AND FOLLOW
Get top stories and blog posts emailed to me each day. Newsletters may offer personalized content or advertisements.
Learn more