On the morning of October 3rd, 38 young entrepreneurs representing 34 businesses (all started before their founders were 18) started off the finals completion of the National Youth Entrepreneurship Challenge of the Network for Teaching Entrepreneurship (NFTE). After a long day of pitches, presentations, and breath-holding award announcements, it came down to the final three businesses. The stakes were high: the prize package included a $2,500 technology suite, $2,500 of business travel, and other business services along with $10,000 in cash.
Preceding the final round, the four young finalists (one business was a partnership) were led into a conference room where Sean "Diddy" Combs -- who had mentioned them all -- now inspired them with sound and inspiring advice. He also presented a $250,000 gift check to NFTE.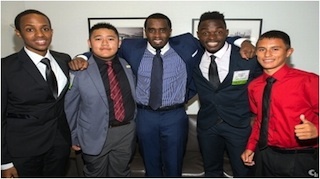 Photograph by ConcreteLoop
First-place winners Toheeb and Jesus, and runners-up Juny and Dagim with serial entrepreneur Sean "Diddy" Combs before presenting to a panel of professionals.
The contestants had skills ranging from programming code to culinary arts. They had produced customizable stained glass, crutches, and clothing. One developed a marketing site that caters to small businesses; another, interactive 3D personal-replicate avatars that try on virtual apparel, which will save app users a trip to the fitting room.
As if their sky-high ambition and talents weren't enough -- the start-ups also had a social aspect: from donating a portion of all sales to a charity to providing pro bono training courses, these contestants were giving back to their respective communities.
The competition included three rounds of pitching -- reducing the contestant pool from 38 CEOs to 12 to 4 -- in which the contestants discussed all aspects of their business plans. In two minutes, they covered marketing techniques, future modes of production, revenue and sales, customer segments, ROI, and potential for scaling. Then, their businesses were scrutinized by a panel of professionals, including executives from Microsoft and MasterCard. (MasterCard also made a gift to NFTE of $1.2 million!)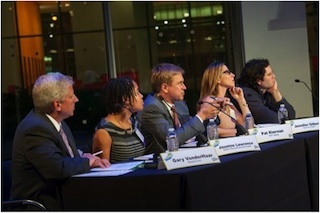 Photograph by Margaret Fox
The first prize went to Jesus and Toheeb, 17-year-olds from South Holland, Illinois. The boys created T&J Soccer, catering to soccer enthusiasts with a retail business that manufactures soccer socks containing small, open pockets to hold players' shin guards. Toheeb and Jesus stated that their next "pivot" might lead, as per the sound advice from Mr. Combs, to partner with a large company, and also to develop and scale their manufacturing process.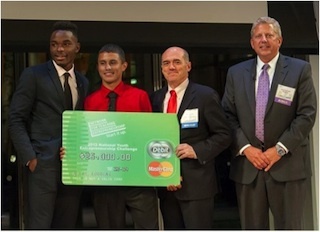 Photograph by Margaret Fox
In their pitch, complete with "knucks," high-fives, and a few laughs, the boys thoroughly explained the high propensity of soccer players to get injured -- roughly 3.1 million a year. Of this group, about 75 percent receive injury to their legs -- making shins the most fractured bone, thus demonstrating the product's potential market.
They leavened their expertise with humorous lines, such as, "Between the two of us, we've cumulatively had 26 years of experience playing soccer." They demonstrated the product's versatility by pulling up their trousers to expose T&J Soccer socks. Toheeb is 6'1'' and wears one size, while Jesus, considerably more compact, sports another. Jesus and Toheeb are in the process of patenting their product.
The runners-up were Juny of San Leandro, California, and Dagim, from Alexandria, Virginia.
Juny, the 15-year-old CEO and founder of Neckcessories, created a new line of fashionable clip-on ties, after failing to learn how to tie a tie from how-to's he found on Google and Youtube. "Have you ever tried learning from the step-by-step Youtube videos?" he inquired of the audience during his pitch. "Or Google images? Frankly, they're impossible."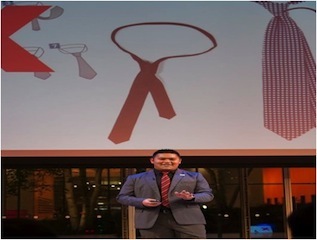 Photograph by Margaret Fox
He drew on observation to validate his product, "Some time ago -- as in yesterday -- I was eating lunch with my sister. I noticed a man wearing my competition -- a clip-on tie with a clip to keep it from falling off. Well, it did--and it was just flopping away, hanging by the clip in the middle of his shirt." As Juny pointed out, nobody wants to be that guy.
And he defined his market segment: "This is everyone's problem," he convinced the judges during his presentation, but Neckcessories will concentrate on targeted demographics: "Those 13 and under, and 65 and above -- those who don't know how to tie their tie, or no longer have the ability to."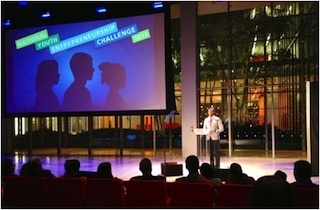 Photograph by Maya Horgan
Poised and articulate, Dagim took a more serious approach, impressing the judges with his accomplishments -- The Audible being his second venture -- and a concluding video, complete with a dramatic soundtrack like an ancient military triumph.
Dagim said he was inspired to create The Audible.net when his friend claimed to be able to report better than the newscasters on television. "Then we should do it," he thought, and the idea was born. The page provides a platform where sports enthusiasts can write. Users can follow teams, players, or journalists -- unlike other sports-writing pages. He has already attracted more than 5,000 monthly viewers, drawing revenue through SEM and brand paraphernalia.
How have these young entrepreneurs accomplished so much? With ambition, persistence, and help -- from NFTE, from their parents, from their communities. "The National Youth Entrepreneurship Challenge has taught us to believe that we can achieve our dreams. Now we are looking forward to scaling our business and taking it to the next level," stated Jesus from T&J Soccer.
Despite the fact that there were only three recognized winners, every participant received essential benefits that will help guarantee their future success.
Firstly, exposure -- there were hundreds of attendees at the competition. The audience included venture capitalists, business professionals, and successful entrepreneurs who witnessed every pitch. Both the contestants and the attendees brought their business cards, resulting in a blizzard of paper swapping -- the ultimate networking experience. This enthusiasm and persistence may have something to do with the fact that 88 percent of NFTE alumni had employment in 2013, as opposed to the 69 percent national average.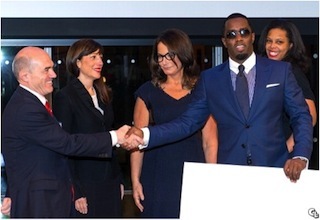 Photograph by Margaret Fox
Sean "Diddy" Combs summed up his impressions:
I was blown away by these students. Their passion for learning and desire to achieve reminded me of my early years when I made the decision to be my own boss. It is an honor for me to support NFTE and I applaud the work they do providing entrepreneurship education for these future CEOs. I fully expect to see these kids sitting across from me in a board room someday very soon.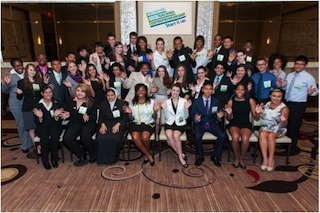 Photograph by Margaret Fox