With growing opportunities in the tech industry, it is no wonder that many young entrepreneurs focus their businesses in this sector. That is why the Network for Teaching Entrepreneurship (NFTE) partnered with the New York City Economic Development Corporation (NYCEDC) to create NYC Generation Tech (GenTech), a program that seeks to educate and inspire high school students from low-income communities to pursue careers in entrepreneurship and technology by providing hands-on learning experiences and mentorship opportunities.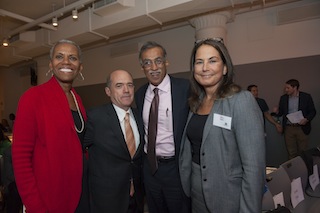 Amy, NFTE's CEO, and me with Andrea Taylor and Akhtar Badshah of Microsoft (Margaret Fox Photography).
As I mentioned a few weeks ago, participating students spent 11 weeks this summer, mastering coding and receiving an intensive introduction to the tech world. Their task this summer was not your typical assignment for New York City public school students: working in teams of 4-5 students each, create a functional mobile app prototype and business plan based on an idea that would improve the lives of New York City youth. Teams received guidance from tech mentors, who met twice a week with the students at the offices of companies like Google, Warby Parker, and AlleyNYC.
On September 19th, the three finalist teams out of the nine that competed at the Semi-Final Competition the week prior, brought their A-game to compete at the final Demo Night. Sponsored by Microsoft, MasterCard Worldwide, and Verizon Foundation, the event proved to be an exciting competition showcasing the three finalists that I profiled in my last article. Just like demo nights of true tech entrepreneurs, the finalist teams had 6 minutes to pitch their business idea and demo their app. With cameras everywhere and multiple projection screens showcasing their work to a packed audience at AppNexus, the high school students were unfazed during their pitches. In fact, I heard from seasoned members of the tech community that they thought the 14- to 18-year-olds pitched like they were pros - better than the scores of real investment pitches they've seen.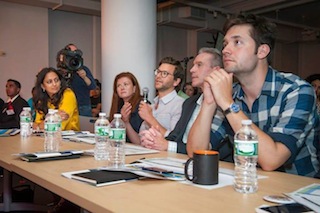 Judges ask questions about each finalist's app and business plan (Margaret Fox Photography).
The audience even got to tweet and text on their phones to vote for their favorite among the six semi-finalist teams who each had one minute to give their elevator pitch.
After the judges deliberated on their winner, and the NFTE staff tabulated the scores for the Audience Choice Award, the winners were announced!
SproutEd: SproutEd is an education app designed for students and their peers to collaborate, organize, and discuss school related topics and events. Through SproutEd's communication and organizational tools, students can work together to deepen their understanding of academic topics and effectively manage their time. Ultimately, SproutEd will create a student-friendly environment that fosters learning outside of the classroom.
The panel of expert judges included Alexis Ohanian, Founder of reddit; David Gilboa, Co-Founder of Warby Parker; Jalak Jobanputra, Managing Partner of FuturePerfect Ventures; Kara Goldin, CEO of hint, Inc.; Michael Donnelly, Senior Vice President of MasterCard Worldwide; and Cameron Evans, CTO of Microsoft.
The judges cited SproutEd's presentation, level of sophistication in their app, and capability to help students' learning in the real world as reasons behind their first place finish.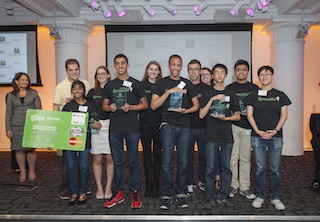 The night's winners, SproutEd with their tech mentors (Margaret Fox Photography).
SproutEd was awarded the first place prize of $5,000, the opportunity to pitch at the venture capital firm Union Square Ventures, and a logo and branding consultation with Harley & Co. You can read more about the demo night in Fast Company and watch a clip recently aired on PBS NewsHour about the summer journey of the GenTech students.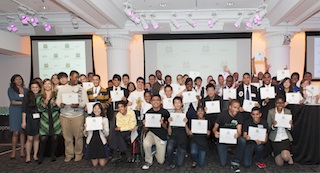 All of this year's 43 students, with the New York City Economic Development Corporation (Faiza Issa, Miquela Craytor, Julie Chan) and NFTE (Terry Bowman, Amy Rosen, Steve Mariotti, Jordan Runge, Jaimie Li, and Ron Summers) (Margaret Fox Photography).
The runners-up had excellent apps and business plans of their own and were recognized for their hard work and creativity:
InspyerU received a $2,000 prize for an engaging math preparatory game.
Mealr was awarded $1,000 prize for an app that promotes healthy living to young adults through social competition.
NYC Loop was awarded the Audience Choice Award of $500 for a mobile app platform for teenagers to create, share, and discover the best events around New York City.
Congratulations to all the GenTech students for their efforts and innovative products! Thanks to Deloitte's generous donation, all the students will be able to keep the laptops GenTech had lent them for the duration of the program - this news caused quite a buzz.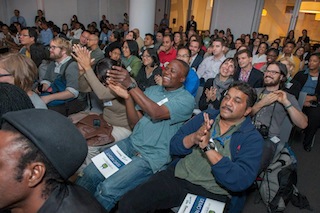 A packed audience of parents, mentors, and supporters at AppNexus (Margaret Fox Photography).
Luckily for the students, the road doesn't end here. The GenTech program includes a series of hackathons that put together programmers, developers and designers with high school students to create digital products during intensive weekends. At a recent hackathon sponsored by AT&T and held at AlleyNYC, at least one GenTech student was in the top three teams awarded prizes.
In the future, the GenTech students will participate in college and career planning sessions to further help them pursue careers in technology and entrepreneurship. This program, that not only incorporates experiential learning, access to mentors and innovative experiences within NYC's vibrant tech community, is on its way to creating a new generation of tech entrepreneurs.
SUBSCRIBE TO & FOLLOW MUST READS
The internet's best stories, and interviews with the people who tell them. Learn more