This is part two of a two-part post. Read part one here.
Each year, the NFTE National Youth Entrepreneurship Challenge (presented this time by MasterCard Worldwide) is a testament to the passion and creativity of our young entrepreneurs. Held on Thursday evening at the Hudson Theatre inside the Millennium Broadway Hotel in Manhattan, 31 extraordinary students representing 29 businesses from around the country made the trek to New York City and competed for $10,000 in startup funds. We are so proud that Hayley Hoverter from Los Angeles, CA whose business, Sweet (dis)SOLVE [LINK TO FIRST HUFF POST INSTALLMENT], was recognized by our panel of top judges from Ernst & Young, MasterCard Worldwide, FUBU, Bank of America and BET among others as this year's first place winner.
We are equally proud of our runners-up. First runner-up, Shomari Patterson of Port Huenme, CA, was commended with a $5000 prize for her jewelry-making business, Shamazzle's Dazzles. After a year volunteering at FOOD Share, she decided to donate ten percent of her sales from her business to them. Her vision has since come full circle in a Kids Farmer's Market pilot program co-sponsored by FOOD Share and the Boys & Girls Club where she took her first NFTE course. Shomari plans to attend college, major in business and continue to partner with a non-profit business (or perhaps start her own!)
The second runners-up and $3500 prize winners were John Novas and Anthony Defilippo of Providence, RI, whose business, Earth Custom Designs, captivated our judges. John and Anthony make bracelets that incorporate non-precious stones from developing countries and donate 25% of all net proceeds to nonprofit organizations that support the community where the stones originate. To overcome the challenges of gathering and importing stones from abroad, the pair is partnering with GoLongitude, a nonprofit that supports communities in Ghana and India.
These exemplary teenage entrepreneurs are just a few examples of the magnificent, driven and passionate young people who participated in this year's competition, and there are countless others who are taking control of their futures in the NFTE program, achieving success on their own terms. This leads me to one question I have asked before: If entrepreneurship education can create jobs, prevent students from dropping out and provide economic freedom for people in our low-income communities, why aren't we teaching it in every high school across the country?
As a nation, we are failing to give our children the tools they need to stay committed to their education, and breaking the cycle now is more important than ever.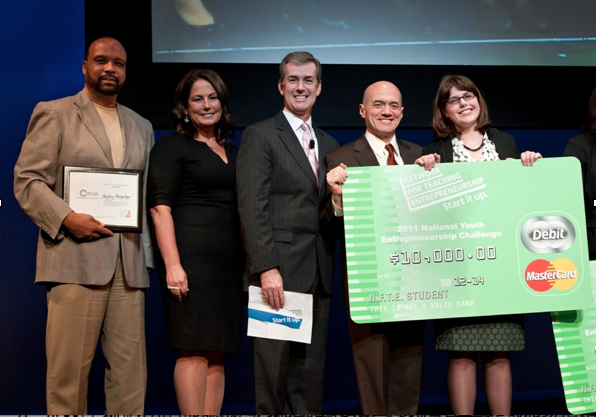 L to R: Don Coleman (Chairman & CEO, GlobalHue), Amy Rosen (Pres & CEO, NFTE), Ron Garrow (Global Head, Global Talent Acquisition Mngmt & Dev., MasterCard Worldwide), Steve Mariotti (Founder, NFTE), Hayley Hoverter (2011 National Youth Entrepreneurship Challenge Winner, Sweet (Dis)Solve)
This Blogger's Books and Other Items from...
FOLLOW HUFFPOST