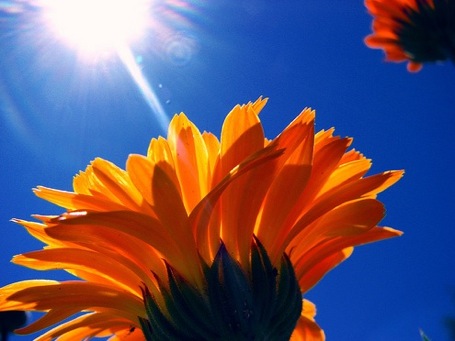 Benjamin Whichcote said, "The human soul is to God as a flower is to the sun; it opens at its approach; it shuts when it withdraws."
Today, I will approach the sun; I will open to all that is divine. And the approach? Well, it's just a simple acknowledgement, perhaps a thought, the awareness of desire, attention to a tiny inclination. It's like magic really. There is no effort whatsoever.
It was Jesus who purportedly said, "Look at the flowers of the field ... they neither toil nor spin ... and yet, your heavenly father sees them ... knows them" (Matthew 6).
No flower ever struggled to open to the sun. It simply turns and looks -- and then, it freely shares its color and fragrance with the world.
How beautiful. I think I'll be the same. Why must I make knowing God into a struggle? Why would I allow the religion within which I was raised continue to hound me inside my head with a catalogue of reminders of what I must do in order to be? No, instead, I'll lay aside that narrow conditioning and just do nothing but be. I feel such freedom when I'm doing less and being more -- more of who I am: a beautiful human flower, simply and effortlessly, opening to the sun.
Ah, that's it for me. Which reminds me of something Thomas Merton once whispered: "As soon as a person" -- that's me and perhaps you, too -- "As soon as a person is inclined to be with God" -- as I am and, again, perhaps you are, too -- "As soon as a person is inclined to be with God, they are ... no matter where they are ... in the monastery, in the city, in the woods."
"Furthermore," he continued, "Just when it would seem as if he (or, she) is in the middle of his journey" -- and, for me, that's like, most of the time -- "Know this: he has actually arrived at his destination already."
Already? You mean, I'm there now? In the sun? That this thought of God, this inclination for God that I feel from time to time, that's all it takes and I'm in full bloom already?
Wow! What a Divine thought! Thank you Thomas. Thank you Whichcote. How could I not thank you? Whisper more, my friends. And do so often, this and every day. I'll be listening for your reminders.
Will you, too? Yes, you, reading this. Can you lay aside the need to judge, to critique, to complain, to express your disapproval and so, temporarily suspend the insatiable need to evaluate the world -- to fix, as if you could, what's wrong with it? Can you release, at least for now, the impulsive need to see who's reading what you've written, commenting on what you've labored over? Can you stop doing long enough to simply be? To look? To listen? To blossom?
I have to remind myself of this often, driven as I am to produce, to please, to proclaim, to complain, to impress, to make certain I'm heard, read and, mostly, admired by somebody -- anybody. Even a critic and his criticism is better than nothing.
Today, however, I intend to do nothing. Instead, I plan to listen, to observe, to be open to perspectives other than my own, to watch for the divine reminders. They're everywhere. But they usually come as whispers and are easily missed.
The same is true for you. Know that the sun is shining and you, my friend, are blossoming into Life itself. You are the color on the canvas of creation that creates what's beautiful about this world. You are the fragrance that makes all things better. You are the flower that blooms and, in the end, what else could possibly matter more?
SUBSCRIBE TO & FOLLOW THE MORNING EMAIL
The Morning Email helps you start your workday with everything you need to know: breaking news, entertainment and a dash of fun. Learn more