Gas shortages through a major swath of the country? Stations running dry? Welcome Back, 1974! When does the rationing start ... again?
Americans are still being hurt by Hurricane Ike. Not surprisingly, there's been no noticeable response from the federal government.
Ike caused some damage to some of the massive oil drilling rigs in the Gulf of Mexico, but even more to refineries and pipelines along the Gulf Coast, and that's slowed - or stopped - the delivery of gas and diesel to several states in the Southeast.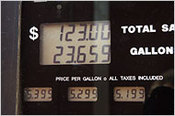 People are being forced to wait in lines as long as from 45 minutes to two hours to buy gasoline in some parts of the Southeast, according to customers interviewed at gas stations in the Atlanta area by CNN.
Never mind the wait; many stations are simply "out" of both gas and diesel and some analysts are warning this "Southeast shortage" could last for two more weeks.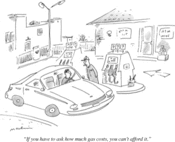 But there's also some good news for drivers: America's motorists drove less for the ninth-straight month in July (latest figures available) when retail gasoline prices peaked at more than $4 per gallon, according to government statistics reported by Reuters. Rah, rah! Go team!
But hang on! Let's control our naturally jingoistic excitement just this once, ok?
There's bad news, too: Less miles driven means less gas purchased, which all translates into fewer tax dollars keeping America's roads drivable, and a dearth of new interstate road construction.
Travel on all roads fell 3.6 percent or nearly 10 billion vehicle miles compared with the same period last year. The Transportation Department collects this data from more than 4,000 automatic traffic recorders operated around the clock by state agencies (as opposed to the Black Box recorder which may or may not be in your car; you find out if it has one only after you get into an accident - But that's for another posting). (Left, Senate Majority Leader Harry Reid (D-NV) at a prize fight in Las Vegas last year with major Detroit Three investor and Las Vegas hotel owner Kirk Kerkorian; just thought you'd be heartened to see that these important people are taking time-out to relax and enjoy life, too - Wouldn't want them working too hard, like last Saturday night when both political sides were whining about having to spend such long hours in the Capitol).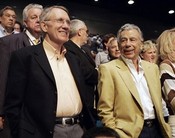 The miles-driven decline was the steepest since the 1970s, which also occurred during a period of economic and energy turmoil (yeah, yeah - we remember, we were there; others should Google those topics and get educated). And monthly declines have been the sharpest in rural areas, where people generally drive more and spend more on gasoline.
The problem is so bad that earlier this month Congress had to plug an $8 billion gap in the government trust account that funds U.S. highway projects when transportation planners warned it was close to running out of money.
In another words, another federal bailout. Sure, just a small one, comparatively speaking, when talking about real money, our economy's coming "Republican Rescue" ("Alfred, turn on the Bat-Signal!" shouted Commisssioner Gordon, "It will help Senator McCain find the drop zone!").
My wife and I are still waiting for our check ... We'd drive to our PO Box but can't find gas anywhere ...
SUBSCRIBE TO & FOLLOW LIFESTYLE
HuffPost Lifestyle is a daily newsletter that will make you happier and healthier — one email at a time. Learn more