Can General Motors survive? Not with its current leadership.
Friday morning, John McCain visited a GM factory and said if cars like the Volt, a plug-in gas/electric hybrid GM is developing, really do make it to market (still a question mark), "hundreds of thousands of jobs will be created."
He's wrong; if Volt and others like it do get built, there may be few new jobs, but hundreds of thousands of existing UAW jobs might be saved. (Robert Lutz introduced the Volt at the Detroit Auto Show)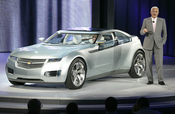 Almost all the new jobs in the US auto industry the past 20 years have come courtesy of the "captive imports," foreign-owned car-makers with factories in the US, almost always in "greenfield" areas of the Southeast. Not one of these plants has been unionized, and not for lack of trying on the UAW's part. These greenfield jobs pay well and offer good benefits, but every one of those workers could be on the street tomorrow, with no one to plead their case to the public or, especially, the corporation (especially when the corporate headquarters are in Tokyo, Munich, Seoul, Stuttgart and on and on; they're certainly not in Detroit, or even Atlanta or even Tupelo, where Toyota is building a plant for the next-generation Prius due in 2010).
Earlier this week, Rick Wagoner, the amiable, bean-counting, 53-year old, Virginia-bred, Duke and Harvard Business School-educated president, CEO and chairman of the board of directors of GM (a rare corporate trifecta!), announced a plan to cut 20% of the corporation's white-collar employees,
eliminate salaried employee's health care after age 65 and attempt to save $15 billion by the end of 2009.
Robert Lutz, GM's 76-year old vice president for North American products, had his own announcement later during a conference call with reporters. It couldn't have been easy to follow Wagoner, and what Lutz said doesn't bode well for GM. (Lutz in his natural habitat, surrounded by members of the press)

GM recently announced that the new, small and efficient Cruze, slated as a replacement for Chevy's Cobalt, and the Beat, made in Korea by GM subsidiary Daewoo, would both be available soon in the US. Cruze would be sold here as a 2011 model, right after its world debut at this October's Paris Auto Show.
But Lutz said during the teleconference that neither car will be in the US soon, and refused to make any predictions when they might, or even say if one or both are still on GM's schedule
Chevrolet sells the Corvette and soon the all-new 2010 Camaro will come to market, two models which would kill any car-maker's CAFE ratings. The addition of Beat and Cruze, two small cars with mileage ratings around 40mpg is an absolute no-brainer. (The 2009 Corvette ZR1, code-named Blue Devil during its development, produces 638 supercharger-assisted horsepower and will sell for around $80,000. Just what America so desperately needs!)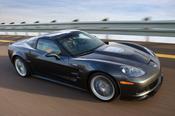 Wagoner is the epitome of the Detroit bean-counter, with little if any experience in engineering, design, manufacture or sales of cars and trucks, but with a laudable background in economics. Who knows if he even has a driver's license?
Detroit doesn't know what works anymore, and putting non-car people in charge of car companies has become popular, for reasons I don't understand. You can see this in the recent hiring of Alan Mulally at Ford, an ex-Boeing chief, and Robert Nardelli, who was fired by his own board of directors this past January from his job as CEO of Home Depot and is now running privately-held Chrysler.
Ex-Marine pilot Lutz (he buys, restores and flies surplus fighter jets as a hobby) is Rick Wagoner's polar opposite. Where Wagoner is friendly, collegial, even professorial, Lutz is a brash, tough, charismatic throwback to the days when GM's divisional vice-presidents ran their own empires, each division a separate car company. Those heads of Chevrolet, Pontiac, Oldsmobile, Buick and Cadillac had to fight for whatever they needed to keep their divisions successful. Being one of those divisional chiefs, especially of Chevrolet, the biggest division, was the last stop before entry to the top corporate-level director jobs.
Lutz is a guy at home with a prime rib lunch at Detroit's Rattlesnake Club, a Rob Roy with a sidecar to wash it all down and a huge heater fired-up after the meal. It's no mystery why his autobiography is called "Guts." (Pontiac's new G8 is a warmed-over Holden Commodore from GM's Australian division. Available with a V6 or V8, neither engine gets good mileage and this car is almost DOA)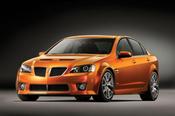 He had some famous successes at Ford of Europe, BMW and Chrysler, but the Swiss-born Lutz's last two big GM projects have not fared well. First, he took a car from GM's Australian division, Holden, and sold it in the US as the 'new' Pontiac GTO. That car bombed, and Lutz's new Pontiac G8 with, like the GTO, a Corvette V8 engine, is yet another Holden product. This unoriginal thinking by Lutz, looking for a fast fix with a seeming ability to completely mis-read what consumers want and the country needs, means his G8 is headed down the same road as his GTO. The original Pontiac GTO, incidentally, sold almost one million units during its 1964 to 1974 run.
Lutz being the one chosen to break the bad news about the Cruze and Beat could mean he may finally be on his way out of GM. It's not a bad idea. (Lutz introduced the 2005 Pontiac GTO at a Detroit Auto Show).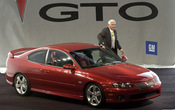 Once more, GM is caught with their pants down, its executives (and those at Chrysler and Ford) yet again missing the mark, and in a huge way. Today, the entry fee in the auto business is a small, proven safe, high-mileage, low-cost, and dare I say 'sensible' car. Only a year ago it was a huge, black SUV with 23" spinner rims and a 12-mpg engine.
Why Cruze and Beat aren't already in the US is a mystery, because versions of them have been made and sold successfully in other countries. Just more of that corporate lack of foresight problem which the US auto industry was first hit with about 1974 and still hasn't overcome. In too many ways, with all our futures now hanging in the balance, Detroit still doesn't "get it."
So, what do you think? Can GM survive? Can all of the Detroit Three? How?
SUBSCRIBE AND FOLLOW
Get top stories and blog posts emailed to me each day. Newsletters may offer personalized content or advertisements.
Learn more