We've written about the European car-makers being the first to bring the new "clean diesel" technology to the US in another post. Now, a look at the near-future of the Detroit Three and Japan's two biggest car-makers, Toyota and Nissan.
Ford has announced a new strategy for selling small cars profitably in the United States, relying on improved quality, comfort and new cutting-edge technologies and not so much on trucks. Ford's small Ka, very popular in Europe, is being shown in US TV spots from Ford. Ford's all-new 2009 F-series trucks will come to market two months later than planned.
(Ford's Expedition represents a cynical low-point of America's car-makers; Ford's production Flex station wagon is a good car, but it comes only with a V6 which does not produce the kind of high-mileage figures buyers are demanding).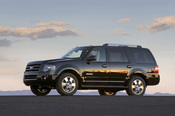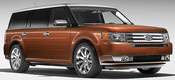 Alan Mulally, the executive brought in from Boeing to run Ford, now says the company will remain unprofitable through 2009. Ford has announced a new division to manage the development of cutting-edge electronics technologies in a bid to win over younger car buyers. Ford also said this week it will sell up to $500 million worth of new shares of stock to buy bonds from Ford Motor Credit.
At privately-held Chrysler, its next-generation Jeep Grand Cherokee in 2010 will be a unibody platform with a new fuel-efficient V6 engine codenamed Phoenix. This makes sense for a great crossover, but serious 4x4 users will balk at the use of unibody technology for the most off-road-worthy vehicle available at a reasonable price. And don't even get me started on the Jeep Compass, Jeep Patriot and Dodge Caliber ... All on the same platform, and all sorely needing separate personalities; haven't they learned anything from GM's 30-year experience selling the same cars and trucks under different names?
Bulletin: It doesn't work anymore.
Chrysler also will spend $1.8 billion to refit its old Jefferson North Assembly Plant to produce the Grand Cherokee and other undisclosed products. Chrysler worked with Mercedes jointly on development of the 4x4's platform, but execs point out that any products Mercedes would create from the development work would be distinctly its own. These two just went through a dirty divorce.
(Chrysler's 2006 Imperial concept car was, thankfully, not built; their Crossfire, built with Mercedes-Benz, is the kind of good-looking car the company needs today, but it has to achieve great mpg numbers).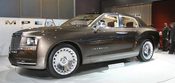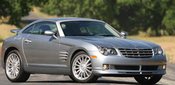 One advantage of private ownership, the company says, is they can sell non-earning assets to generate cash, and has identified over $1 billion in assets to sell. And the PT Cruiser is being trotted out again to be bit of a savior. This incarnation is the The PT Dream Cruiser Series 5, unveiled just ahead of this weekend's Woodward Dream Cruise, and is the 14th factory-customized PT Cruiser, or what we call in the business, whipped cream on sh*t, or a "paint and tape job." See: Any "Indy 500 pace car special edition."
This latest PT's engine choices are a standard 2.4-liter, four-cylinder engine with 150 horsepower or a turbocharged 2.4-liter, four-cylinder with 180 horsepower (and that's a lot for this little front-drive car). Finally, Chrysler is in serious talks with Fiat to build some Fiat models on Chrysler's slowed or closed assembly lines. Heck, years ago Lee Iacocca tried to work with Maserati, and looked how good that turned out! Right.
Finally, the all-new 2009 Dodge Ram pickup will be priced at $22,170, a drop from last year's model, and the company has already announced the light-duty Ram will add a clean diesel and hybrid powertrain choice.
General Motors is expanding their new XFE engine line to the Chevy Silverado, Chevy Tahoe, GMC Sierra and GMC Yukon starting in the fall. The company says XFE vehicles will deliver a modest 5 percent improvement in EPA-estimated highway fuel economy and a 7 percent improvement in city fuel economy, using a combination of mechanical, aerodynamic and mass-reducing enhancements (adding lightness, as they say). GM says all four XFE models will get 15 miles per gallon city and 21 highway, compared with 14 city and 20 highway for non-XFE models.
(Bob Lutz introduces the Chevy Volt concept at an auto show, and it's hard to not like it, if and when it ever comes to market; as for Mr. Lutz, well, that's another story).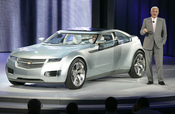 GM is heavily promoting the non-existent Chevrolet Volt, telling NBC's Olympics viewers that it is slated for manufacture in 2010, but that's not definite. Volt uses a plug-in gasoline/electric hybrid system which they once said would offer about 600 miles from 12 gallons of gasoline. The gasoline powers a "generator" (that's what GM calls it; does that mean their 5.3 liter XFE engines can be called "5.3 liter generators?") which keeps on-board batteries juiced-up. The car's wheels are moved by electric motors. It's like a green smorgasbord on wheels, with something, GM hopes, for everyone. The original driving capability of 600 miles has been cut to about 250 because GM wants to shrink the size of the car's gas tank. Right.
(Chevy's Malibu has been a home-run for the company, and it's available in a gas/electric hybrid version, too. Cars like the Volt and this Malibu represent a good look at the future of American driving).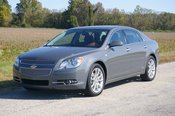 It's not just the Detroit Three who have problems. So does Toyota. First, the Lexus LF-A and GS-F high-performance models have been put on indefinite hold. The LF-A will be priced over $100,000 if it ever debuts. Toyota needs to stop spilling blood wherever possible. It's already been announced that the company's new plant in Texas will be building the new-generation Prius and not the planned-for pickup starting in late 2010.
(Toyota's next-generation Prius will be built in Texas starting late in 2010, at a plant the company built to produce trucks; 2004 model shown).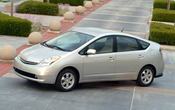 Toyota's 2009 Highlander SUV will offer an all-new 2.7-liter four-cylinder engine that will generate 187 horsepower on regular 87 octane fuel. Highlander's four-banger will be EPA-rated as an Ultra Low Emission Vehicle. No official EPA mpg numbers or sale prices as yet.
At Nissan, Carlos Ghosn, who runs both Renault and Nissan, is busy with his goal of skipping over what he calls the hybrid bandwagon by focusing on new, more efficient engines, clean diesels and developing pure EVs.
(Nissan's Altima, top, comes in a hybrid version and is one great-looking car; below, their new Maxima will offer a clean diesel engine).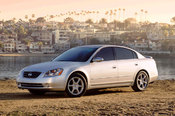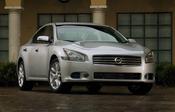 So, you ask, what about Nissan's Altima gas/electric hybrid? Ghosn, seeing the success of Toyota's Prius and other hybrids, did find a quick way to bring out a Nissan hybrid; Nissan simply bought the technology from Toyota. He's made it clear he feels hybrids are good only for the short-term. Ghosn's determined to see pure EVs wearing the Nissan badge. Nissan's new 2010 Maxima is available with a clean diesel powerplant, and we only hope they sell it with a standard manual transmission. An automatic or CVT won't make for very good launch during the inevitable "stop light grand prix."
So, what do you think? Am I missing something? Are these companies on the right track? What will it take for Americans to buy diesels, even if they are "clean" diesels? Would you buy a clean diesel? Will the Detroit Three be able to stay viable in the US, or have to rely completely on their overseas divisions to stay profitable? So many questions, questions ... Reminder: You can find another version of this post, and one which is probably longer with some more detail, at my website, www.SteveParker.com.
SUBSCRIBE TO & FOLLOW THE MORNING EMAIL
The Morning Email helps you start your workday with everything you need to know: breaking news, entertainment and a dash of fun. Learn more