Last week, General Motors rolled-out the latest version of their plug-in gas/electric hybrid Chevrolet Volt for the corporation's 100th anniversary celebration. Just a few days after, Chrysler showed-off three of their own "electric cars," two of them similar to the Volt with plug-in hybrid drivetrains hidden underneath the sheetmetal, one in a Jeep and another in a minivan. Chrysler's third is an all-electric EV rear-drive two-seat sports car based, like the Tesla EV, on a British-made Lotus sports car.
We'll have much more information for you on all these concepts in the next two days - As they say, "Watch this space."
There was no surprise on the timing of these very-early public introductions. This has been the week when the heads of the Detroit Three and Sen. Carl Levin (D-MI), having pounded on as many politicos as could be found at the recent political conventions, were making the rounds of the US Capitol, looking for money which had been placed into the revenue stream for them by a bill passed last December. They will get $25 billion in direct government loans to split among them and their supplier firms, the first installment of about $7.5 billion available in a few days. (Chrysler's rear-drive sporty two-seater EV concept is built with a frame and body panels from Lotus, similar to the Tesla EV).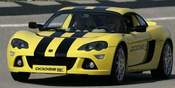 Yet in dealing with some car dealerships in the Santa Monica, CA, area today, I saw that Detroit still has serious work to do in reaching America's car-buyers.
In addition to my Huffington Post duties, and those at SteveParker.com and Whipnotic.com, I also write an automotive column each week for the Santa Monica Daily Press newspaper. It's a young, fun and often scrappy little paper. They print - yes, with ink on paper - five days a week, and put out a weekend edition, too (access it all at www.smdp.com; my column, "Tornante," runs every Tuesday).
A couple of weeks ago, my column reflected how the Detroit Three are dealing with our nearly-ruined economy. I thought a follow-up taking a look at some local dealerships was a good idea, and my editor agreed.
Detroit's carmakers, generally, don't trust the media.
Now, they do trust the "enthusiast media," the Hot Rods, Motor Trends, Car Crafts and all the other magazines and websites which are essentially owned by the carmakers, because their advertising dollars keep those magazines and websites thriving. They never, it is said, met a car they didn't like.
This "system" has car-buyers funding the enthusiast media, as part of the cost of every new car and truck helps pay for the company's advertising, whose job it is to sell even more cars and trucks. (Engine of the Chrysler plug-in gas/electric hybrid minivan concept; judging by appearances alone, this powerplant does not appear ready for production).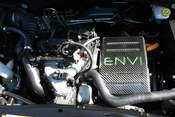 That said, here's what happened today while doing my legwork for the newspaper column:
I called a Toyota dealer in Santa Monica and spoke with a receptionist, told her my name, the publication I'm working with, why I was calling and the kind of questions I'd be asking. Within 30 seconds, I was speaking with the sales manager of the dealership, and we spent the next 20 minutes in conversation. And it was a good talk; no surprises, nothing earth-shaking in anything he said and he was even a bit self-deprecating. Having the information coming from a local dealer lends credibility to the column, the newspaper and perhaps most of all to the dealership.
I spent the next hour calling three other dealers in the West Los Angeles/Santa Monica are, each representing one of the Detroit Three.
In that hour, I was not able to get past a receptionist to speak with anyone able or willing to speak with a "newspaper reporter."
And I can understand why a call from the press is not always perceived as a great opportunity for a car dealer; we all can. Just yesterday, the largest Chevrolet dealer group in the world closed its doors, displacing some 2,700 employees from this company which last year sold $2.13 billion worth of Chevrolets. Who knows what lousy news I might be bringing? (Chrysler exec Thomas LaSorda introduces one pure EV and two gas/electric hybrid concepts; the Jeep behind him is a plug-in hybrid, the sporty car a battery-powered EV ).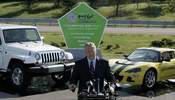 I mentioned to someone this evening that among the real winners in this economic mess are going to be the PR and advertising firms charged with making banks, investment management firms like Chrysler owner Cerberus and brokerage houses of all kinds and types ... making them all not even acceptable, but simply palatable to Americans once again.
That same job has to be done for GM, Ford and Chrysler. And a chunk of that $25 billion Detroit Three bailout will find its way to marketing, PR and advertising firms, as well as the many training companies which instruct dealership personnel on how to deal with the public ... and even, one hopes, the press.
SUBSCRIBE AND FOLLOW
Get top stories and blog posts emailed to me each day. Newsletters may offer personalized content or advertisements.
Learn more