In what may be one of the biggest scandals ever in motor racing, Flavio Briatore, flamboyant team principal of the ING Renault Formula 1 Grand Prix team and Pat Symonds, Renault F1's director of engineering, have both resigned their positions under a heavy, dark cloud of charges and suspicions.
This is following allegations that the pair were instrumental in "fixing" the September, 2008, Singapore Grand Prix by ordering their driver, Nelson Piquet, Jr., to crash near the end of the race to bring the safety car on the track in order to make it easier for the team's #1 driver, Fernando Alonso, to win the race. We Americans know the "safety car" situation as the pace car on-track and slowing the cars in a yellow flag situation.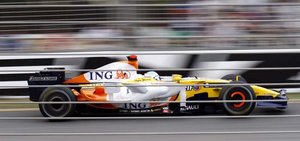 Fernando Alonso in his office; his Renault team is accused of ordering his fellow team driver to crash near the end of a race to make it easier for Alonso, a former World Driving Champion, to win the race
Several entities have filed or threatened to file civil and criminal complaints against the two and Piquet, who was fired from Renault at the end of July and is believed to be the source of the charges against Briatore and Symonds.
Briatore is often pointed-out as the man who most enjoys F1's jet-set lifestyle. He worked in the financial world before coming to F1, and has investments around the world, including in partnership with F1's chieftain, Bernie Ecclestone. That's the man who would normally have the final word on Briatore, Symonds and Piquet, and the Renault team's future in F1.
Briatore didn't go to his first F1 race until 1988, but through friends in the finance world met fashion magnate and F1 team-owner Luciano Benetton, who eventually appointed Briatore principal of Benetton F1, and the team enjoyed great success. Michael Schumacher won the World Driving Championship in 1994 and 1995 for Benetton and the team won the coveted Manufacturer's Championship in 1995.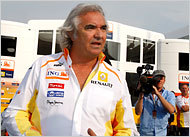 He's also been involved with F1 teams including Ligier and Minardi and in 2000 was hired by Renault to run their operation.
He created the Billionaire fashion brand in 1998 and owns a club in Sardinia under that name. There's also a Billionaire high-end line called Billionaire Italian Couture.
In addition to that he opened Cipriani's restaurant in London in 2004 and owns the pharmaceuticals company Pierrel. He also operates a Tuscan beach club and Lion in the Sun, a resort in Kenya.
He purchased the gigantic super yacht Force Blue from Home Shopping Network investor Roy Speer. She now has a refitted interior designed by Celeste dell`Anna, and got a new, blue exterior.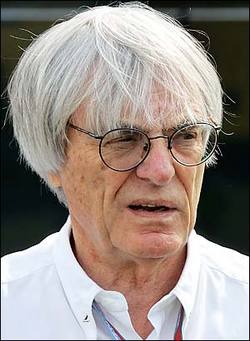 Briatore, along with Bernie Ecclestone, has bought the Queens Park Rangers (QPR) Football Club.
It's reported today that those involved from the Renault F1 team are scheduled to appear before the FIA's International Motor Sport Council in Paris next Monday to answer Piquet's claims. If the team is found guilty of fixing the race, it could be expelled from Formula One.
FOLLOW HUFFPOST