General Motors' appearance as a confused corporation gained new steam Tuesday when Fritz Henderson was "resigned" from his CEO position after just eight months on the job.
Frederick "Fritz" Henderson, 51, was "resigned" by the corporation's board of directors that day, one day before his planned keynote opening address to the world automotive, environment and business media at the Los Angeles Auto Show.
Apparently GM's board was so tired of Henderson that they dealt with him before he addressed the press at the US' first major auto show of the season.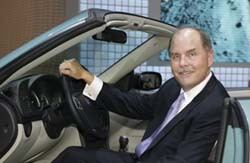 Fritz Henderson in happier times
At that show, GM is presenting a near-production version of the Chevrolet Volt, giving show-goers their first look at what the car will look like. Now Henderson doesn't even get his chance to front that car.
Ed Whiteacre, 68, current board chairman, is taking over Henderson's responsibilities while an international search begins for a new CEO --- a search GM has acknowledged could take months. Whiteacre was formerly chief executive of AT&T and admitted when taking the GM position that he had little knowledge about the auto industry.
But that seems to be what the board of directors wants, insiders saying that Henderson was moving too slowly and the corporation needed more changes happening faster than under Henderson. Henderson's long history with GM and its staid, sometimes paranoid corporate culture, was certainly a large part of what was his own board's decision.
Henderson has overseen a series of failures at GM in recent weeks. These include: inability to find a buyer for Saturn, canceling the planned sale of Opel and, just in the past few days, the Swedish company Koenigsegg Automotive abruptly halted their efforts to buy Saab from GM. Soon before these failures, all three projects were considered sure bets by GM, Wall Street and the worldwide auto press and industry in general.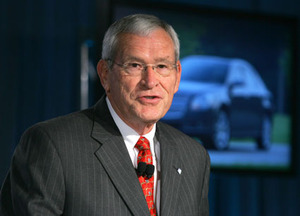 GM's board chairman Ed Whiteacre will take over Henderson's duties while a worldwide search begins for a new CEO
Henderson got the job when his mentor, Rick Wagoner, was fired last July from his position as GM CEO by the White House's automotive overseers and GM's board - groups made-up mostly of auto industry outsiders. Ironically, Henderson, with the corporation since 1984, mostly as a bean-counter, has met a very similar fate (though the White House says they were not involved - this time).
There was a hastily called press conference at GM headquarters in Detroit on Tuesday, made even more unusual because it was taking place at 4:30pm (usually companies want to make news in the mornings to get coverage that day from TV, the Internet and newspapers). Whiteacre took to the podium, made a short statement, thanked Henderson for his service (still mandatory in US business) and refused to take questions, striding out of the room.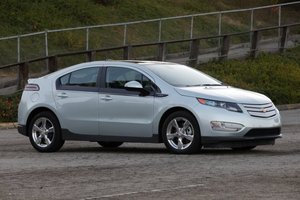 The public can get their first in-person look at a close-to-production version of the Chevrolet Volt extended-range hybrid at the LA Auto Show later this week
The Los Angeles Auto Show opens to the public this Friday, and Wednesday and Thursday the show is previewed for the media, where they attend press conferences at various manufacturers' displays, eat and drink for free as much as possible and have to pay $12 each day to park at the Los Angeles Convention Center just like their readers, viewers and listeners.
Wednesday morning's keynote address, opening the show for the media, is a long-standing tradition. The speech is usually presented by an industry leader to an audience of press, which is in the midst of eating breakfast or slightly dozing in one of the convention center's cavernous halls.
So who did GM send at the last second to fill-in for Henderson?
You might've guessed right - it was Bob Lutz, 77 year old vice chairman and workhorse of GM who announced his own retirement from GM last February, a retirement he said would begin April 1, 2009.
However, with Wagoner's fate then seriously in question and his forced retirement in March, 2009, Lutz found his career revived - he canceled his retirement - and was placed in charge of marketing, advertising and even design at the corporation. Also, some feel the White House auto task force, which had engineered Wagoner's "resignation," might have encouraged Lutz to stay on because of his long and usually successful career as a top executive at GM of Europe, Ford, BMW, Chrysler and battery-maker Exide, rejoining GM in 2002.
Lutz has had his share of problems while back at GM. Both the "new" Pontiac GTO and Pontiac G8, based on cars built by GM's Australian division, Holden, were sales disasters in the US. As recently as February, 2008, he said, "Global warming is a total crock of shit" and "Hybrids don't make economic sense." Yet, ever the adaptable warrior (he was a Navy fighter pilot), he has also been the driving force behind the Chevrolet Volt, an extended-range hybrid going on-sale in late 2010.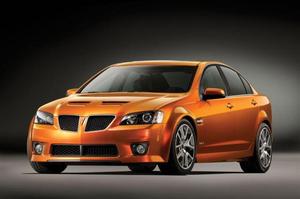 Pontiac's G8 sedan, made in Australia, was a sales failure for the corporation; the project was initiated and managed by vice-chairman Bob Lutz
Lutz is also a lightning rod, loved by the media because he's so quotable (best industry interview since Lee Iacocca) and certainly not afraid to speak his mind.
Until his keynote yesterday at the LA Auto Show.
Joking throughout his presentation of how he would not get into any details about Henderson's "resignation," he said he'd save that story for his next book, which, he said, "I'll write when I retire."
True to his word, Lutz skipped that topic and would not answer any related questions from reporters after his speech. In his prepared remarks, according to the NY Times, "(Lutz) stressed that the industry was moving into the age of the electrification of the automobile and was poised at "a tipping point -- as great as the one 100 years ago, when we transitioned from horses to horsepower."
Will Lutz wind up with the top job after all? So far, GM chairman Whiteacre hasn't mentioned Lutz as a possible successor for Henderson and his age and many years with the corporation probably will work against him in that regard.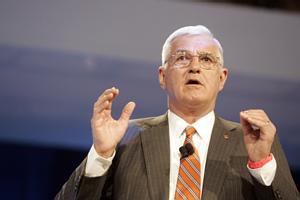 Bob Lutz is a publicly emotional top executive, rare in the cold world of business
However, to serve as an interim CEO? Lutz is only nine years older than Ed Whiteacre, who has taken that CEO position for himself. No one understands GM's entrenched corporate culture yet has a proven ability to develop and support new ideas and welcomes press coverage more than Lutz - and maybe he should be involved in the headhunting for a new CEO while making some changes on his own, if the board sees fit.