Another "Hail Mary" from GM? Or the real thing?
Starting today and running through November, General Motors is offering buyers of their Core Four brands, Cadillac, Chevrolet, Buick and GMC, a 60-day money-back guarantee on their new car and truck purchases. It's called the "60-day Satisfaction Guarantee."
The campaign marks GM's efforts to rebound after a 39-day bankruptcy and a $50 billion federal bailout. GM, which is shedding half of its US brands (Pontiac, Saturn, Saab, and Hummer) will try to boost their US market share that has fallen to 19.5% this year from a peak of 50.1% in 1962.
It's the second radical marketing move in just a few weeks by GM to try and resurrect consumer confidence in the company since the bankruptcy ended.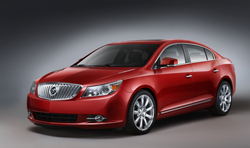 Could 60 days in a 2010 Buick LaCrosse convince import-buyers to make Detroit their car-maker of preference?
The first was begun last month in conjunction with online buying service Ebay. In that program, which has had only modest success but will continue for the time being, some 250 GM dealers in California are posting their new-car inventories for California-only buyers, some cars and trucks up for bid in a traditional auction environment, some marked with a no-haggle "buy it now" price.
Here are the details of the new money-back plan:
• Covers Chevrolet, Buick, GMC and Cadillac models for the 2009 and 2010 model years.
• Allows customers to return their cars after 31 days and before 4,000 miles.
• Does not cover leased vehicles.
It's thought this program is the first of its kind for any major car-maker, though it does bear some philosophical resemblance to Chrysler's, "If you can find a better car, buy it!" sales program headed by then-company chief Lee Iacocca in the early 1980s.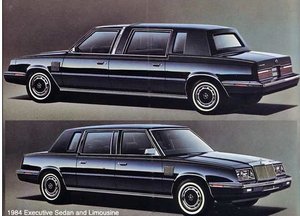 This 1984 Chrysler K-car limousine was made during the time of the company's, "If you can find a better car, buy it!" campaign
While the GM campaign will be fronted by the company's new chairman, Ed Whiteacre, former chief of AT&T appointed to the GM post by the Obama Administration, it's thought that Bob Lutz, GM's powerful and outspoken vice-president with strong influence in the corporation's styling, marketing, public relations and advertising, is the "man with the plan" in this case.
We're at a happy stage in the automotive industry where, essentially, in the various price brackets, most things are equal between brands and makes and models.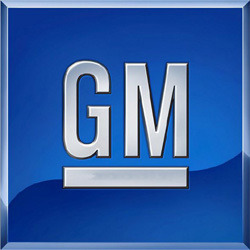 For instance, the average price of a new car in the US is right around $32,000; driving all the cars in that price bracket will yield a lot of good experiences and very few negatives. Objectively, cars and trucks in each major price bracket reflect most of the same positives and quite few negatives.
Here's what we think of the new GM program:
Apart from price, safety, performance, appearance and fuel mileage, the most important part of the car-buying decision comes from the test drive. Many shoppers make the mistake of being timid during this critical part of the process, often allowing themselves to be "muscled" into driving the car only on certain roads (which will show-off the car's strengths) and for a specific period of time "recommended" by the salesperson.
But if buyers test-drove the new car in their own real-world situations, it would have a huge influence on which car they'd buy. In a very real sense, isn't this what GM is offering potential buyers with this new money-back scheme?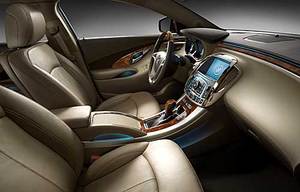 Buick's 2010 LaCrosse could do a lot to convince US buyers that US cars are up to import quality and even in some cases beyond
Even with objective things about the various cars being shopped very similar to most buyers, it's those subjective items --- how the switchgear feels, adjustability of the seats, rear seat room (which most buyers never check), how bright or dim the instrument panel can be made, if reflected sun makes the gauges hard to see in the daytime, if wide A-pillars make front/side vision difficult --- which can turn the buyer one way or another.
I usually drive one or more new cars a week to stay familiar with each car-maker's offerings and be able to answer your questions and make recommendations.
Recently, I spent a week in a 2010 Buick LaCrosse, and even though the early "pilot" model I drove was not off the actual assembly line (so some glitches are expected), this LaCrosse was more than a rival for its target: the Lexus entry-level luxury sedan, ES350.
LaCrosse's fit-and-finish, performance, appearance inside and out and styling are all impressive and even outdo the Lexus on many accounts.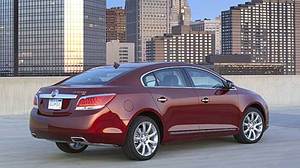 GM used the Lexus ES350 as their target car for the 2010 LaCrosse; they've come close to hitting a bull's eye
Could 60-days-or-less in a LaCrosse convince a die-hard Toyota/Lexus/Asian-only buyer to go with an American car for perhaps the first time in several generations of his or her family?
In my opinion, absolutely.
The only problem, as always, is getting those buyers into GM dealerships in the first place. If Ed Whiteacre, Bob Lutz and what is hopefully a newly-invigorated GM marketing team succeed in that undertaking, they might get that US market share up over 20% again ... at least for a start.
SUBSCRIBE TO & FOLLOW THE MORNING EMAIL
Start your workday the right way with the news that matters most. Learn more