In yet another sign of these perilous automotive times, General Motors has closed its High Performance Vehicle Operations unit (HPVO), which created such products as the V-Series Cadillacs, the Chevrolet Cobalt SS and the HHR SS small panel truck.
Now, I don't mind these kinds of high-po street cars; relatively few are sold and their environmental impact is negligible.
Ferrari, for instance, sold just over 5,300 cars in 2008, and sister make Maserati, which I insultingly refer to as "the poor man's Ferrari" (insulting mostly to people who work for Maserati; they're helluva cars in their own right) moved 8,286 of their street-legal luxury performance cars in 2008. BMW's Rolls-Royce sold 1,212 models in 2008; VW's Bentley shipped 7,604 units out the door last year.
Domestically, just under 27,000 Corvettes were sold last year, Dodge moved 1,272 Vipers and 91,000 Mustangs were sold - George Pipas, Ford's long-time and near-legendary Manager of Sales Analysis and Reporting (every business and auto writer in the world has for many years participated in the Gospel According to Pipas, aka, his monthly sales report teleconferences), told me the Mustang mix is usually 60%/30%, with V6 sales the larger number (this original post had some errant figures; I updated them today, 2-24).
All the hot cars in the world just don't add up to a hill of beans when it comes to global warming and pollution, but their mpg figures are uniformly bad. Not very politically-correct, or smart, these days. And in fact, performance and race cars are the way they are because they are efficient; but that's another posting entirely, having to do with "improving the breed" and developing appropriate muffling, catalytic converters and engine emissions controls for those engines to make them right for the street.
According to the EPA, Lamborghini has held the world's worst-mpg rating for several years.
But maybe not all these cool GM cars are going away.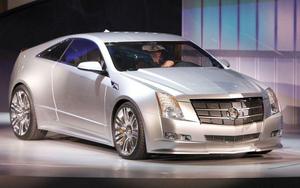 (This Cadillac CTS concept car, rolled-out at the 2008 Detroit Auto Show, gives a glimpse of GM's future design direction - If they can remain in business).
"The Cadillac CTS-V is a regular part of the CTS lineup, and that will stay for the foreseeable future," says GM spokes-squid Vince Muniga, according to Inside Line.
"The CTS-V will continue through the life cycle of the product. If they are regular production cars, they will continue through the model run, whether it's an SS Cobalt or an SS HHR."
He would not give a timetable for when such vehicles would be eliminated or when the regular production run is scheduled to end.
HPVO was made up of approximately 60 engineers working out of GM's Warren (MI) Tech Center, a place with security rivaling CIA headquarters. Muniga said none of them have been laid off. Instead, they have been placed "in other areas of the organization."
That's not great news. In the mid-1970s, Detroit was hit by a double-whammy. First was the creation of the Environmental Protection Administration, when for the first time in history car makers were being told what mileage and emissions figures their cars and trucks must achieve. Second was the first of the oil embargos, which killed new car sales. In answer to all this, many of the best tech people in Detroit were pulled-off all sorts of future projects and put to work developing the computers we now find in every car.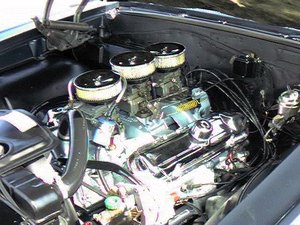 (Top, a 1964 Pontiac GTO, the car which inspired the two other Detroit car makers to build their own muscle cars, like Ford using Carroll Shelby's name on high-performance versions of the Mustang and Chrysler coming up with cars like Dodge's Barracuda and Plymouth's Road Runner; bottom, a V8 displacing 389 cubic inches and three two-barrel carburetors in a '64 GTO's engine bay - John Z. DeLorean, who headed Pontiac at the time, and his right-hand man at Pontiac's ad agency, Jim Wangers, dubbed the engine "Tri-Power").
Those computers didn't come easy; one major reason Detroit cars of the 1970s and '80s were almost uniformly lousy. Because so many Detroit execs were taken off their usual jobs and put to work on making these computers work with the engines, that helped open the door to Euro and Asian imports.
A cross-town rival to GM's HPVO, Ford's Special Vehicle Operations, was created in 1981 and developed the 1984 to 1986 2.3 liter turbo-charged 4 cylinder Mustang SVO, of which fewer than 10,000 were sold (car collectors not having unlimited cash, take note), as well as marketed performance parts through dealer networks, which is called Ford Racing Performance Parts, or FRPP.
In 1991, Ford morphed the group into something new, the Special Vehicle Team, SVT.
Some SVT-made vehicles include the $150,000 Ford GT (built along with Saleen Performance) sold from 2004 through 2007; 4,028 cars were produced, with just 3,596 sold, so there are some unsold GTs floating around out there. Those approximately 420 GTs are probably covered, drained of gasoline and some other fluids, wheels removed and on blocks and being kept in storage by some wily Ford dealers and a few company executives, many hoping to get big money for their GTs at auto auctions some years from now.
Also from SVT, the 1999 through 2004 380-horsepower supercharged SVT Lightning F-series street truck, and the 2010 SVT Raptor F-series off-road race-oriented truck and the race track-oriented 500-horsepower Shelby Cobra GT500 and GT500KR "King of the Road" with 540-horsepower, both seriously-upgraded versions of the Mustang.
In the early 1960s, Ford tried to buy Ferrari but Enzo Ferrari turned down Henry Ford II. Instead, Ford gave Shelby a budget of $40 million, an astronomical sum at the time (still is) to build a car and team which could win the 24 Hours of LeMans.
Shelby and company came through in a big way. Shelby's GT40 won the 24 Hours of Lemans four times for Ford, from 1966 through 1969. The Shelby name eventually became a brand and is still with us. Shelby , after heart and liver transplants, is still going strong as he approaches the age of 80.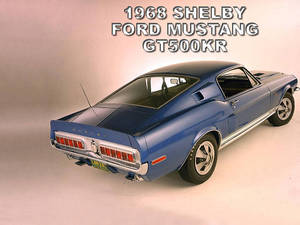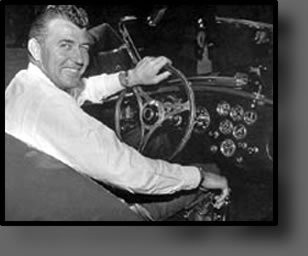 (Top, a magazine ad for Ford's 1968 Shelby GT500KR "King of the Road" Mustang; below, a young Carroll Shelby at the wheel of one of his 1960-era street-legal Cobras, equipped with 427-cubic inch Ford V8s; trivia time - Shelby's personal Cobra has an automatic transmission).
They're basically race cars top to bottom, front to rear, engine power dialed down a bit to make them street legal. They're throwbacks to a time when people drove their race cars to the track, and raced that same car, then drove it home.
Beginning in the 1950s, GM marketed performance parts, like their Super Duty Pontiac parts operations for NASCAR teams, through the factory and dealers. After Detroit car makers made a gentleman's agreement, in response to government pressure, to ban factory participation in racing, they sold consumers and race teams products through some of their dealers, like the famous Royal Pontiac dealership in Royal Oak, MI, and the CPO cars from Yenko Chevrolet in Pennsylvania.
Across town in Highland Park, MI, Chrysler's MOPAR performance division remains alive and, we hope, well. MOPAR (which stands for MOtor PARts - and didn't you always wonder about that?) currently supports professional race teams in NHRA drag racing, World of Outlaws sprint cars, SCORE off-road racing, USAC sprint cars and midgets and SCCA's sports car road racing and Formula Drift. Their consumer parts operation is also still open and more eager than ever for your business.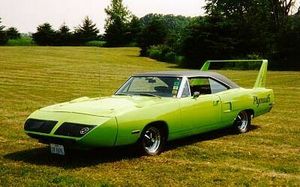 (The 1970 Plymouth Road Runner "Superbird" was Chrysler's answer to Pontiac's GTO Judge edition).
MOPAR is one of Chrysler's most valuable brand names, on the level of Jeep and the Dodge Viper; don't be surprised if MOPAR is sold in the coming months.