Chrysler kills Hemi hybrids; High-mileage Chevy Cruze on-sale in Korea; Ford's new hybrids; GMAC wants bail-out.
Chrysler has ended production of its first two gas/electric hybrids, only about two months after they started arriving in dealerships.
Production of the Chrysler Aspen/Dodge Durango Hemi hybrid SUVs began this August. But the two were pre-doomed to a short lifespan, having been made at Chrysler's Newark, DE, plant. The plant was originally scheduled to close at the end of 2009, the closure now moved forward to the end of 2008, along with 1,000 lay-offs -- just in time for the holiday season. How thoughtful of management.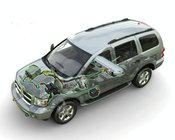 (Cutaway view of the Dodge Durango hybrid; actually, the proper term for this kind of artwork is "ghost view," which is entirely appropriate since Chrysler's just killed their only two Hemi hybrids - Remember to click on any photo to see it in a larger format, sometimes muchlarger).
It wasn't hard to predict the demise of these "Hemi hybrids," but the end came a lot faster than even we had expected. We think that at least they should have given them a full year of production before, literally, pulling the plug.
Chrysler's hybrid system was very similar to that in the large GM SUVs and pickups; what was then DaimlerChrysler along with BMW and GM developed the "dual mode hybrid" system which involves electric motors in the transmission and large storage batteries. Most of the R&D was done in Europe; similar systems have been used on medium to large buses for several years, and engineers "shrunk" it all small enough to fit full-size trucks, and we hope cars are next.
News from GM has the South Korean market version of what someday will be the Chevrolet Cruze going on-sale in its home market.
There, the car's name is the Daewoo Lacetti. Lacetti's 1.6-liter engine produces a veritably throbbing 114 horsepower and is available with a five-speed manual or six-speed automatic transmission. Korean pricing starts at about $7,948 at current exchange rates.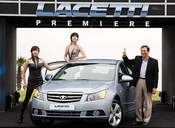 (Michael Grimaldi, head of Daewoo since GM bought them, and two models all showing that when it comes to women, South Korea has a long, long way to go, baby ... And by the way, that's the Daewoo Lacetti, Korean version of the Chevy Cruze, and Grimaldi is on your right).
Mileage for the Cruze, if and when it gets here, according to Chevrolet General Manager Ed Pepper, will be "north of 40 mpg." European mpg figures for the 1.6 liter Lacetti sold there is 39.8 mpg. Chevy officials have said the US version Cruze will have a 1.4 liter turbocharged direct injection four-banger. But Cruze itself might be delayed until 2011 due to a lack of the cash needed to start North American production.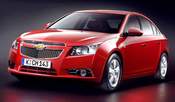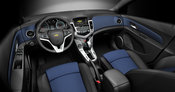 (Chevrolet's Cruze shown in an artist's rendering; if that interior is really as spacious as it looks, they might have a winner on their hands - and not a minute too soon. All that and 40 mpg? Sounds good to us - But we might not get it in the US until 2011).
Ford is making some good news by planning to debut all-new gas/electric hybrid versions of their Ford Fusion/Mercury Milan models at the Los Angeles Auto Show (which runs November 21st to the 30th at the Los Angeles Convention Center). According to a website run by Ford employees, "the 2009 Fusion Hybrid is rumored to run on a brand new system dubbed Gen II -- which is modeled after the Escape hybrid, but offers more US-sourced technology, better packaging flexibility, and better fuel efficiency."
The sedans, Ford says, will reach a top speed of 47 mph on electric power alone -- twice as fast the current Ford Escape and Mercury Mariner hybrid crossovers -- and can travel as far as eight miles on battery power before the gasoline engine engages, which is really not something to crow about for a second-generation hybrid.
Their engine is a 155 horsepower, 2.5 liter four-cylinder mated to a continuously variable transmission (and how I hate those things!). That's actually a pretty big four-cylinder engine. The company hopes for annual production (and sales) of up to 50,000 total.


(When they start touting the dashboard, as Ford is with their new hybrids, it makes us think the rest of the car might not be too exciting; but Ford says their all-new Fusion and twin Mercury Milan hybrids will use these gauges to "coach" drivers into getting the best mileage possible. I just hope you can turn them off, too! This is a cool photo to enlarge, by the way).
Ford says their new battery pack uses 17 percent fewer cells yet is 20 percent more powerful than the batteries in Escape/Mariner. It also is 23 percent lighter and uses 30 percent less space than the current battery. Ford says the lower cost of the new batteries, more local sourcing and other savings, specifically those found from mass production, aka "economy of scale," will enable them to turn a profit on hybrids for the first time.
When it comes to a GM/Chrysler merger, both companies are asking Washington for $10 billion - right now - to finance such a move. Analysts say that even in a best-case scenario, the merger is likely to result in the loss of up to 70,000 jobs in the US, including as many as 35,000 blue- and white-collar jobs lost in Michigan alone.
We're still calling for a merger of the Detroit Three into the Detroit One. There are many positives associated with a move like that, and we've spelled them out in previous posts. We still don't understand why there has to be a "loser" among the three extant US car-makers.
In another comment on the possible tie-up between the two, Peter Flaherty, President of the National Legal and Policy Center (NLPC), criticized efforts by Chrysler CEO Robert Nardelli to secure a taxpayer bailout for Chrysler and General Motors. Flaherty said:
"Robert Nardelli walked away from Home Depot with $210 million despite his failures as the company's CEO. Now as Chrysler CEO, he is lobbying for a taxpayer bailout of Chrysler's finance unit, and the carmaker itself.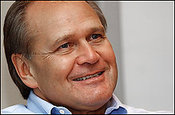 ("Smilin' Bob Nardelli, the working man's friend;" President Peter Flaherty of the National Legal and Policy Center calls Nardelli a "pirate" and that he should not get yet another golden parachute from Chrysler like he got after running Home Depot into the ground, also getting himself fired as that company's CEO by his own board of directors at the start of 2008 - His reward? Running Chrysler for Cerberus).
"Chrysler is not even a public company. It is 80% owned by private equity firm Cerberus. Do billionaires now have a taxpayer guarantee that they are insulated from the marketplace?
"How can we expect Chrysler to rebound as a strong company if it demonstrates the same kind of bad decisions that got it into problems in the first place? Nardelli is the public face of everything that's wrong with corporate America. Sending this pirate up to Capitol Hill is a ludicrous idea."
We couldn't have said it better ourselves; actually, we've been saying the same basic thing online and on WebRadio and WebTV for some time now.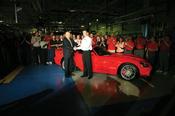 (Bob Nardelli, Chrysler CEO, left, hands the keys to the #25,000 Dodge Viper to NASCAR star Kurt Busch, who drives the #2 Dodge Charger in Sprint Cup for Roger Penske's race team; now all of the Dodge Viper brand, from store signs to machine tools to media kits to piston sleeves are up for sale; Nardelli says they have some good offers, we guess from China and/or India).
Finally, just a day after announcing they will not provide new car financing in the Czech Republic, Finland, Greece, Norway, Portugal, the Slovak Republic and Spain effective Nov. 1, GMAC, the auto finance and mortgage company, is seeking to become a bank holding company in order to gain access to the government's $700 billion financial rescue plan, the Wall Street Journal reported yesterday.
Markets in Hungary and Denmark will also be reassessed.
GMAC was founded by General Motors in 1919 to provide a loan source for its dealers. It is now controlled by a group of investors led by Cerberus Capital Management. It has evolved (though some say it's been more of a de-evolution) to include real estate, insurance and commercial banking.
FOLLOW HUFFPOST