THE BLOG
Hybrid, alt-fuel, clean-diesel taxis in NYC? Maybe not ...
Cleaning-up the air is always in everyone's best interest, and one big way to make an impact on air quality is for a community or city (or nation) to mandate the use of alternative fuels or gas/electric hybrids for public transportation and taxis.
A battle involving these kinds of vehicles is shaping-up in New York City, and what comes of it will have far-reaching consequences for cities around the world - and air quality.
Back in the 1960s, I remember Life Magazine cover stories about the growing air pollution problem in the world's big cities, including and especially Tokyo. Japan's largest city had what was then some of the world's worst air.
According to cleanairnet.org, in Japan, 260,000 taxis, 94 percent of the total number of taxis in the country, use LPG as their fuel. The mandated use of propane resulted in cleaner air and freed Japan's taxis from having to rely on imported oil and gasoline. These days, Mount Fuji, about 80 miles south of Tokyo, is often visible from the capital, a big change there from the '60s and '70s.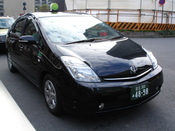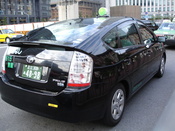 (Toyota Prius taxi in line at Tokyo Station; Steve Parker photo)
What's at stake in a battle between all the principals involved - carmakers, a powerful NYC commission and other varied and interested parties - is the use of alt fuel and hybrid cars and trucks as taxis there, home to the biggest fleet of cabs in the US. In fact, There are 13,087 taxis operating in New York City, not including over 40,000 other for-hire vehicles.
The fight is over the bulletproof plastic partition, mandated by law in NYC, which separate the driver from his or her fares, and its possible effect on airbags and other passive and active safety devices to rear seat passengers.
Toyota and Honda have issued outright warnings against using their hybrid vehicles as commercial cabs. In addition, Ford, General Motors and Nissan have refused to certify the crashworthiness of their hybrid taxis, modified with mandatory partitions.
Instead, the automakers shifted that responsibility to the New York City Taxi and Limousine Commission (TLC), which has shifted it to the federal government -- which does not require automakers to crash test vehicles modified with the hard, bulletproof taxi partitions.
This seems a real good dose of avoiding responsibility. Teams of lawyers from all sides of this issue are in the fight, which involves, potentially, tens or maybe hundreds of millions of dollars in car purchases; a lot of fleets would rather buy from one of the Detroit Three, and this is a great opportunity to put Detroit's best alt fuel and hybrids on display in greatest city on earth, NYC.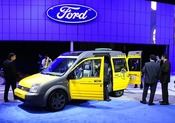 (People get up close and personal with a Ford Escape gas/electric hybrid concept set-up for taxi work at the 2008 NY Auto Show).
An agreement must be reached, otherwise, hybrids and alt fuel cars and trucks may not be used as taxis in the city with more taxis than any other in the country. Every city in the US is following this closely.
In late 2007, the New York City Taxi and Limousine Commission (TLC) mandated that all new taxis, the vast majority of which are required to have partitions, be hybrids or other vehicles that can achieve 25 miles-per-gallon. This meant that the old "king of the streets," the stretched Ford Crown Victoria, was out of the taxi game.
The Metropolitan Taxicab Board of Trade has mounted a legal challenge, citing a 2008 engineer's report that finds hybrids to be unsafe and unfit as New York City taxicabs.
Having visited Japan many times over the past 30 years, I was impressed during my most recent visit (November, 2007) with how many taxis - in Tokyo and small country towns alike - were hybrids, mostly Prius sedans. They were easy to spot waiting for fares in the long queues at Tokyo Station and the Imperial Hotel, for instance, as well as at train stations in smaller, out of the way places like Fuji-no-miya.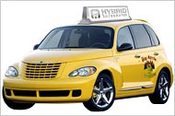 (Small cars, like this Chrysler PT Cruiser, have small, fuel-sipping engines, but I don't know about stuffing 5 or 6 people and all their luggage into one of these and expect to go more than 40 mph!).
Partitions - especially thick, bulletproof ones - between cab drivers and their passengers would seem grossly out of place in Japan, where violent crime and muggings are barely a blip on any measureable scale. But I'd bet that out of the hundreds of cab rides I've taken in Japan, a good 75 percent of the drivers were chain smokers, so maybe some kind of partition between the driver and passengers would be a good, even healthy, idea.
The gist of a lengthy PR release about this fight says that GM (Malibu hybrid), Toyota (Prius, Highlander hybrids), Ford (Escape hybrid), Nissan (Altima hybrid) and other hybrid-makers refuse to certify or approve their hybrids for use as NYC taxis; that if a city wants to allow their use, the carmakers won't take any responsibility for injuries and accidents involving the bulletproof partitions which NYC (and other cities in the US and around the world) demands.
It seems the worst that can happen is these partitions could somehow block or deflect side airbags, rear airbags and side curtain airbags. Certainly there's the chance of injury from someone being thrown into the partition itself, their seat belt being used or not.
None of these alleged potential problems seem insurmountable, however, and it would be to everyone's benefit to overcome these purported problems and allow the use of hybrid - and clean-diesel and other alt fuel - cars and trucks in as many places and for as many reasons as possible.