Join us Saturday at 11am Pacific /2pm Eastern for THE CAR NUT SHOW and Sunday at 5pm Pacific/8pm Eastern for WORLD RACING ROUNDUP on www.TalkRadioOne.com! It's just us and it's all LIVE!
Steve Parker's The Car Nut Show
Saturday starting at 11am PST/2pm EST
It's an all-LA Times weekend for www.TalkRadioOne.com listeners! Special guest: Ken Bensinger, staff writer for the LA Times, who, months ago, broke the original story on Toyota's unintended acceleration and other problems throughout the Toyota and Lexus line. Join us for an exclusive one-on-one with YOU and all Car Nut Show listeners! Please join in! The call-in number is: 213-291-9410.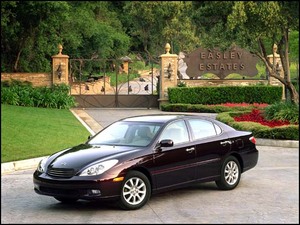 Lexus ES300 sedans from 2002 to 2006 are the latest problem childs from Toyota
Steve Parker's World Racing Roundup
Sunday starting at 5pm PST/8pm EST
Sunday, Sunday, Sunday! World's best-known race - The Indianapolis 500 at 10am (PST) on ABC! Sprint Cup Coca-Cola 600 at Charlotte, NASCAR's home town, starting at noon (PST). The day before, Saturday, the Nationwide Series at Charlotte, the Tech-Net Auto Service 300 starting at 11am PST on ABC! And, last but certainly not least, the F1 Grand Prix race in Istanbul, Turkey this weekend brings us to the middle of the GP season as the circus revs-up for its traditional swing through North America...which now consists of ONE race, the Canadian GP. Very special guest James Peltz, motorsports writer for the Los Angeles Times, joins us LIVE from the Indianapolis Motor Speedway right after the 500! Join us! The call-in number is: 213-291-9410. Join in!
Podcasts of the shows are available one-hour-or-so after the live programs' conclusion. That's this Saturday at 11am Pacific and 2pm Eastern and Sunday at 5pm Pacific/8pm Eastern on www.TalkRadioOne.com!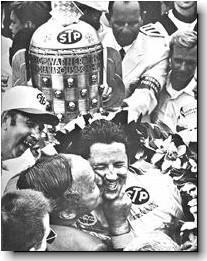 Mario Andretti wins the 1969 Indy 500 and gets the kiss-slurped-round-the-world from STP's Andy Granatelli
Follow Steve Parker on Twitter: www.twitter.com/autojourno

Follow Steve Parker on Twitter: www.twitter.com/autojourno