Question: Can Harley-Davidson survive the world economic disaster?
The company itself paints a bleak picture of its present and future. To quote from an October 15 corporate press release:
Worldwide retail sales of new Harley-Davidson motorcycles declined 21.3 percent in the third quarter compared to last year's third quarter, an improvement from the 30.1 percent decline in this year's second quarter. An 84.1 percent decline in net income and an 84.5 percent decline in diluted earnings per share from the year-ago quarter reflected lower motorcycle shipments and the effects of the economy on retail and wholesale loan performance at Harley-Davidson Financial Services.
Hummer, which became an iconic brand in just a few years, has been sold to a Chinese industrial manufacturing company. Now H-D, which is for many a Hummer-like example of housing bubble-fueled consumer product overkill, seems in danger of going down a similar road.
This past week H-D shut down the East Troy, Wisconsin, factory where their Buell sport bikes are built, putting about 180 people out of work, and announced they're looking for a buyer for their MV Agusta brand (which also builds Cagiva bikes), based in Italy.
Harley bought Agusta in 2008 for $109 million, just before the Bush Depression hit the world economy.
In 1993, Harley-Davidson bought a minority interest in Erik Buell's bike-making company, which used H-D XL 883 and 1200 engines in sportier, racier chassis. In '98, H-D bought the remaining 49% of Buell.
And Buell just last month won the American Motorcyclist Association's SportBike championship -- the first for an American motorcycle maker since 1986. MV Agusta is perhaps the world's most-storied name in two-wheel racing, with a history of one world championship title after another in road racing.
H-D itself laid-off 1,100 factory workers this past January.
And in another instance of what would turn-out to be bad timing, Harley opened their 130,000 sq ft museum in downtown Milwaukee in July, 2008; the next few years would not prove to be the best time to say "Welcome!" to tourists.
Until the downturn, H-D had been enjoying the best years of their long, long existence. Their Harley Owners Group (known as HOG) remains the biggest motorcycle club in the world and the machines were sought-after everywhere, especially popular in Japan during that nation's awash-in-cash housing bubble in the 1980s and '90s.
Japanese bike enthusiasts considered Harleys acceptable symbols of American high technology and they represented a very different lifestyle from what one would experience in Tokyo or Osaka.
Harley-Davidsons, like Hummers, are overpriced, overweight and overwrought. Buyers who wanted a Harley would accept nothing less, though, similar to Hummer buyers, and with fast and easy cash pouring through the economy starting in the 1980s and continuing through the end of 2008, the bikes sold in record numbers.
The company even established a modern image while still considered ruffian and gangster-like, something H-D does little to downplay in its advertising or even on its website.
Many recent owners probably would never have bought a H-D if "bigger is better" vehicles didn't become a symbol of success in those phony mortgage-backed security years.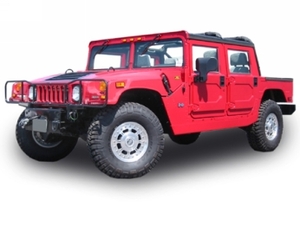 Is a Harley-Davidson nothing but a two-wheel Hummer? And is that necessarily a bad thing?
Doctors, lawyers and celebrities of all sorts were financing new Harleys, earning these buyers the derisive nickname Rubbies, short for "rich, urban bikers," considered by "real bikers" as mere poseurs who didn't really understand what made a Harley a Harley (which, after years of study, I consider to be the bone-rattling noise they produce; in fact, that sound has been trademarked by the company).
And Jay Leno, who posed with his Harley in front of the Hollywood sign for an article I wrote about him and his bike collection for Popular Mechanics magazine in 1986, saw his growing popularity encourage more sales of these loud, boisterous and often chrome-laden machines.
But in the past 18 months, since the economy began its tanking maneuver, Harleys, like Hummers, became representative of obnoxious excess to more and more Americans.
And this past week there was yet another "sign o' the times" when it comes to the economy and involving Harley-Davidson.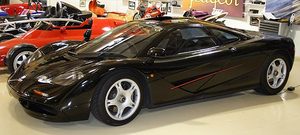 Seen in Jay Leno's garage -- along with mere motorcycles, here's an over-$1 million McLaren
The Love Ride, an annual biker extravaganza in southern California staged and sponsored by Glendale Harley-Davidson, was to celebrate its 26th anniversary this year. Started in 1984 with 600 riders as a fundraising event for the Muscular Dystrophy Association, it now benefits more than a dozen children's charities and raises over $1 million a year.
The event morphed over the years into one of the largest single-day motorcycle events in the world, attracting 20,000 riders including celebrities like Jay Leno (there he is again!), Peter Fonda, Lorenzo Lamas (well, they can't all be big-time), Robert Patrick (of "Terminator" fame) and Willie G. Davidson, grandson of company co-founder Arthur Davidson (those celebrity-watchers wanting to catch Guvernator Schwarzenegger on his H-D should stake-out San Vicente Boulevard in Santa Monica, CA, on a nice, warm weekend afternoon).
Last year, ZZ Top and Foo Fighters entertained the Love Ride-rs at the Los Angeles County Fairgrounds in Pomona, about a 40 mile ride from the Glendale Harley store. This thing is a big deal (and all motorcycles are welcome, not just H-D machines).
But this year, the Love Ride was canceled, due not only to a dearth of bikers willing (or able) to pay the $70 minimum entry fee, but also because local businesses, which normally pick-up some of the tab for the festival, bowed out, ending their sponsorships and support.
Many of the Love Ride participants (and I've been one several times) are some of the most highly-visible Rubbies/Harley owners in the Los Angeles area; if $70 is a big hit for them, then what's the possibility of their buying a new $20,000 motorcycle anytime soon?
Of the hundreds, more likely thousands of motorcycle companies which have existed in the US in the past 110-or-so years, only Harley-Davidson, that icon of Milwaukee, biker gangs and those Rubbies, has been an ongoing success.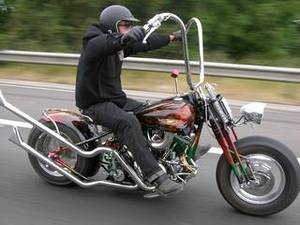 This is what many people see in their mind's eye when someone says, "Hey! Check-out that Harley!"
H-D has been a dominating presence on race tracks made of wood, concrete and dirt since the company's inception up until right now. While it also innovated and perfected many bike powerplant and chassis features which have become standard throughout the industry, the company's motorcycles were never able to really overcome a reputation for poor reliability.
Until 2001, that is, when the VRSCA V-Rod was introduced for the 2002 model year. Designed with help from Porsche Engineering, the V-Rod was Harley's first bike to combine fuel injection, overhead cams and liquid cooling, and delivers 115 horsepower. Plus, it was a great-looking machine and quickly became known for its dependability.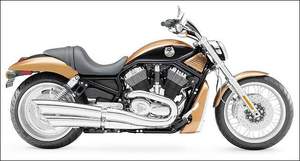 Harley's VRSCAW V-Rod has changed the image of the company, with help from the folks at Porsche when it came to engineering and design
H-D started selling bikes in 1903, two years after William Harley, then age 21, designed the machine to be a track racer. Arthur Davidson was his partner and in 1904 the first H-D dealership opened in Chicago, selling one of the first three H-D bikes ever produced.
1909 saw the six-year-old company introduce what would become its signature "look," its first V-twin motorcycle, with a displacement of 49.5 cubic inches. Two cylinders in a 45-degree configuration would fast become one of the most enduring icons of Harley-Davidson (and world motorcycling) history. Also available this year for the first time from H-D were spare parts for motorcycles.
Seeing both success and tough times through the years, H-D produced machines for the war efforts in both WWI and WWII and became part of the American psyche. Biker gangs like the Hells Angels and Mongols admitted new members only if they rode Harleys, and the bikes became representative of a "Buy America" feeling among motorcycle purists as reliable Japanese motorcycles began pouring into the US in the 1960s, hurting H-D sales and supplanting Euro-made machines for most buyers, too.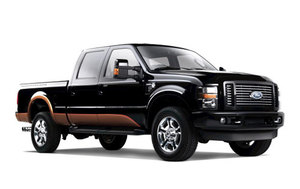 Ford sells a pricey "Harley-Davidson"-themed version of their Super Duty F-series truck ... and it's damn popular
It was also in the '60s that H-D formed a single-cylinder, small-displacement bike-building division in Europe (Aermacchi Harley-Davidson), bought 60 percent of the stock in the Tomahawk Boat Manufacturing Company and, in 1969, became part of AMF, American Machine and Foundry Company, a longtime producer of leisure products. H-D eventually would make everything from small off-road motorcycles to snowmobiles, diluting the company's image and whatever engineering prowess the company could claim.
In 1981, the company's senior executives began the buy-back of Harley-Davidson from AMF. By mid-June, the deal was official and H-D was once again in-charge of its own destiny.
And almost instantly, corporately-speaking, in 1983, Harley-Davidson successfully got an import tariff tacked on all imported Japanese motorcycles 700cc or larger. This tax on American buyers was to last five years.
The tariff worked, "encouraging" Americans to buy H-D bikes, and by 1987, the company was doing well enough to ask for the tariff to be ended a year early. By this time, H-D had opened a new assembly plant in York, Pennsylvania along with new R&D and engineering facilities in their Milwaukee HQ and various other warehouses, R&D, manufacturing and assembly facilities in the US and, in 1998, even in Brazil.
H-D was listed on the American Stock Exchange in 1986. Many, though, questioned the company's choice to further diversify its holdings, purchasing Holiday Rambler Corporation, a motor home manufacturer. A decade later, the motorcycle maker sold Holiday Rambler to Monaco Coach Corp., a manufacturer of luxury Class A motor homes near Eugene, Oregon.
But as it has for Hummer and other American motoring products including Plymouth and Saturn, the economy seems ready to come down on Harley-Davidson.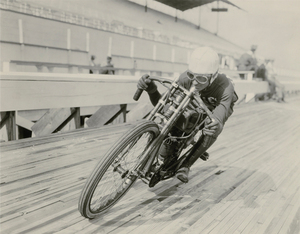 Harley's first competition venue was in board track racing ... yes, the tracks were made out of wooden boards, and the first one in the country was in Playa del Rey, CA; falling down resulted in splinters the size of, well, boards
Has Harley made deadly mistakes by too often diversifying in what appears to be to some a wild attempt to build a gigantic, world-dominating multi-faceted "leisure products" company?
Which image, the biker gang or the Rubbie, should H-D cultivate as it tries to pull out of its sales spiral? (But don't expect an H-D version of the famous "You meet the nicest people on a Honda" ad campaign which established that company's two-wheelers in this country).
Has Harley-Davidson established their credentials as a dependable, reliable and common-sense machine which appeals to a wide-range of buyers, or would that be anathema to the company's heritage?
What must H-D do now to stem the bleeding of red ink?
FOLLOW HUFFPOST