Dario Franchitti dedicated his victory to his wife, Ashley Judd, whose 41st birthday they celebrated together at Long Beach - kind of a boring proposition in Long Beach, especially if Parker's Lighthouse is full, unless you do win

It was a weekend of record-hot temperatures, so they threw a hell of a car race this past Sunday in Long Beach, CA.
After a dozen years, two angry, disparate and heading-downhill-into-obscurity-fast open-wheel racing series, the Indy Racing League and Champ Car (aka CART) had been combined this past year into IndyCar, one American open-wheel series featuring the country's most familiar drivers, sponsors and teams.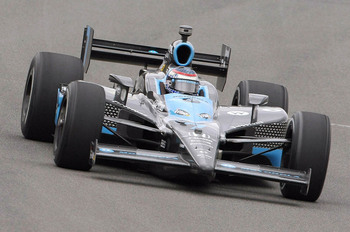 Danica Patrick, under the tutelage of team principal Michael Andretti, qualified terribly but then ran one of the best races of her career, finishing fourth in her first IndyCar race at Long Beach; here she's on her way to her win at Motegi, Japan, a year and a day before this year's Long Beach event
Long Beach, 2009, would be IndyCar's first big showcase (and we won't go into the other series which ran at Long Beach, the American LeMans Series, IndyLites and etc; there's time to cover those in the future).
Raymond Chandler's most famous character, private detective Philip Marlowe, frequently has a portion of his adventures in a place called "Bay City", modeled on depression-era Santa Monica, about 20 miles north of Long Beach.
Given its description by Marlowe as "a wide-open town", where gambling and other crimes thrive due to a massively corrupt and ineffective police force, Long Beach could serve as the modern model for Chandler's Bay City (no e-mails from cops, please; Chandler wrote it over 50 years ago, and the LBPD doesn't have the best reputation in So Cal).
Through the race, the world sees the results of the notoriety and money the race has brought to Long Beach; the city's high-rise condos, semi-trendy yet expensive restaurants, cruise ships, the Queen Mary (and adjoining Russian submarine) and an aquarium, convention center and performing arts center which all sit smack in the middle of the race circuit, along with disguised oil wells which after 100 years still pump money into the general fund and the mid-high office towers and hotels along Ocean Boulevard just off the race track.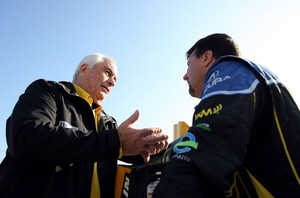 Penske driver Helio Castroneves beat an IRS federal rap Friday night in a Miami courtroom, flew to Long Beach, qualified eighth, then beat Penske teammate Will Power out of the sorted-out car Power drive to the pole; Power got back at his boss and his co-driver in the Penske tradition, by not giving in, and finishing second in his poorly set-up car and - most important - beating Castroneves. Here Roger Penske and Michael Andretti pretend to like each other at last year's 12 Hours of Sebring
One block from the track area, though, Long Beach remains one of So Cal's toughest towns, kind of a big-league, tougher Torrance, which local readers might appreciate.
Long Beach has been known as "Iowa by the Sea" and the "Land of the Nearly Dead and Newly Wed" for its Midwest transplants and heavily-skewed young/old population. And for all the good the race has done a small part of the downtown area, the city still has one of the largest and most-unused airports in Southern California, Disney pulled out of a planned "major ocean attraction" with the city years ago and hasn't come back, the huge, attractive dome which housed Howard Hughes' Spruce Goose, the gigantic balsa-wood aircraft built as a concept to ferry WWII troops, whose only powered flight was in Long Beach Harbor, is now a cruise chip terminal and the So Cal airplane itself is in some private museum in the northwest and the boondoggle of the Queen Mary is forced to reinvent nearly every year in desperate bids to bring-in tourists.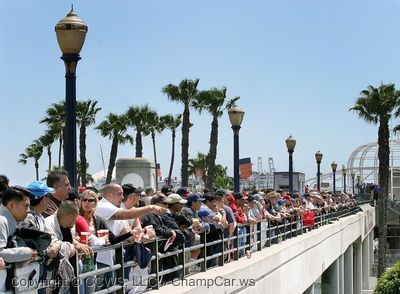 You can't have a Long Beach Grand Prix story without running a crowd-watches-race-with-Queen-Mary-in-the-background-photo, so here it is; I think it's a law, actually
If not for the race, some might call Bay City, uh, Long Beach, something of a loser. (Before So Cal readers get too angry, Long Beach neighborhoods like Bixby Knolls, Naples and Belmont Shore are among the finest anywhere - but Long Beach is more the size of an average county, not a mere large city, so the "less desirable" neighborhoods, to some, seem to stretch long and far).
Thanks to the small race crowds this year, we were able to park -- legal and free and on city streets -- barely four blocks from the track, but the thought of coming back to a broken-into car was with us much of the day (though things turned out fine; a heavy police presence around the track area, to put it mildly, certainly helps keep crime down - one weekend a year).
And not just the LB cops were on-the-job. This may or may not have been ranked a "national security event" by the Department of Department of Homeland Security, like the Super Bowl, Indy 500, Daytona 500 and the Masters (check out those two "kids" walking every hole with Tiger) but we spotted too many buff young men and women with windbreakers (even in 100 degree heat, got to hide those guns and cuffs, and look nonthreatening and college-age while doing it), backpacks and earpieces to think the local cops were the only ones in town.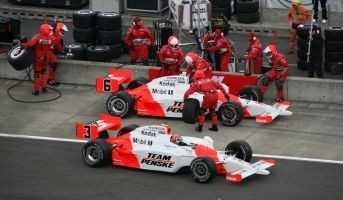 Helio Castroneves and teammate Ryan Briscoe in the pits during the Indy 500 in 2007
Read the entire story (and get the shocking truth behind Linda Vaughn's broken left foot) and see lots more photos (it's really too long to post here); then post your comments here, especially if you went to or watched the race - or boycotted! Toyota Grand Prix of Long Beach Finally Resurrected - But for what?
SUBSCRIBE TO & FOLLOW LIFESTYLE
We're basically your best friend… with better taste. Learn more