Good news for car collectors - Your pride and joy may not be a clunker, thanks to the Specialty Equipment Market Association (SEMA).
But was was originally supposed to be a one-year program has now been shortened by Congress to only four months (see update at end of post).
SEMA has managed to inject an addition to the clunker law wending its way through Congress which will limit clunker vouchers, ranging in value from $3,500 to $4,500 and given to owners turning-in older cars and trucks for new, cleaner and higher-mileage models, to cars and trucks of 1984 and newer vintage.
Vehicles older than 25 years will be exempt from the program. This is a godsend to the car-collecting community.

President Obama has backed the clunker plan and passage in the Senate is expected soon. Proponents claim that the so-called "Consumer Assistance to Recycle and Save Act (CARS)" may spur an estimated 625,000 vehicle sales. The program will last for one year (but that was the plan for the original federal income tax, too). The vehicle scrappage legislation was passed by the US House of Representatives by a 298-119 vote last week.
SEMA is a professional/lobbying group representing many of the world's car-makers and especially thousands of "aftermarket" companies, those outfits which dream-up, design, build and sell performance and appearance products for cars and trucks. It's a huge, near-$30 billion annual business in the US alone and thousands of Americans depend on the automotive aftermarket for their livelihoods.
You buy anything lately at AutoZone, Pep Boys or a Goodyear store? You bought it from a SEMA member. I'm a SEMA member, for cryin' out loud (media division).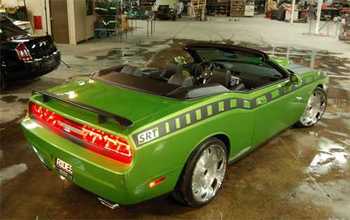 A custom Dodge Challenger at last year's SEMA Show (all photos by www.SteveParker.com)
From roof racks on the top to way down below, where the rubber meets the road, and literally every other part in-between --- from audio to lighting to wheels to seating to vintage AC systems, NOS parts (and nitrous oxide systems for "instant liquid horsepower") and all else --- SEMA companies make it all.
Originally called the Speed Equipment Market Association, such performance icons as engineer/racer/promoter Mickey Thompson (my old boss), founders of So Cal Speed Shop Alex Xydias and Dean Batchelor (my great friends), HOT ROD, MOTOR TREND and CAR CRAFT magazine publisher Robert E. Petersen (also my old boss) and NHRA founder Wally Parks (the man, the legend) all had a hand in SEMA's formation. But never let it be said that I'm a name-dropper ...
The group might be best-known to automotive enthusiasts through its annual SEMA Show each November in Las Vegas. The four-day orgy of high-performance and high-style is open "to the trade only" yet is the second-best attended event in that convention city, drawing over 100,000 car nuts from around the world (COMDEX gets more people, but the public can get in). SEMA, the one word title which means "SEMA Show" to "us," is considered by some aficionados (like me) as the best car show in the world, on a par with Tokyo, Stuttgart and Los Angeles ...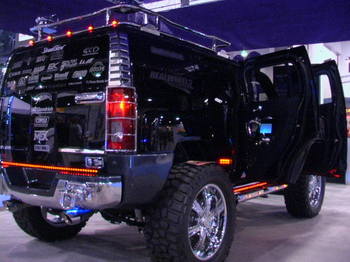 A SEMA-ized --- and SEMA-sized --- Hummer from their 2008 show in Las Vegas ...
The first SEMA Shows were held at Anaheim, CA's Disneyland Hotel, the Anaheim Convention Center and under the bleachers at Dodger Stadium. Today, the Aqua Velva/testosterone-fueled extravaganza fills two Vegas convention centers.
With clunker laws having appeared in other countries, SEMA and its members and car collectors and enthusiasts in general are most fearful of clunker laws mandating, 1) expensive annual inspections of cars and trucks "of a certain age," (a strategy already used in Japan to "encourage" car-owners to buy new cars rather than keep older ones), and, 2) though a remote possibility, the chance that confiscation of "clunkers" might become a reality.
Collectors will tell you that their cars, frequently tuned and restored to much better condition than they day they left the factory, are often cleaner and get better mileage than many of today's modern vehicles.
That being true or not, millions of Americans have billions of dollars invested in their vintage "babies" and view government interference in the "old car hobby" with the same or even more trepidation Second Amendment fans have when they look at even modest gun registration schemes, much less confiscation.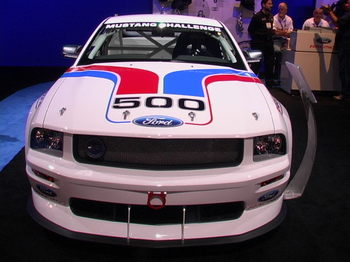 This Mustang comes straight from the Ford factory ready for drag racing, road racing, what-have-you; it was naturally intro'd at the 2008 SEMA Show; the new 2010 production Camaro was first seen at SEMA, too
If SEMA never does another thing for their members, collectors and enthusiasts, they've earned the millions they make with this one action. I say: Serious kudos. Yes, I'm that rare breed: a progressive auto enthusiast (if you haven't figured that out already --- how many EV proponents wax rhapsodic about F1, musclecars and NASCAR?).
Thanks to our friends at the Detroit News, use this cool little link to find out if your car or truck is officially a "clunker" - http://www.detnews.com/article/20090616/SPECIAL01/90615001/1148/rss25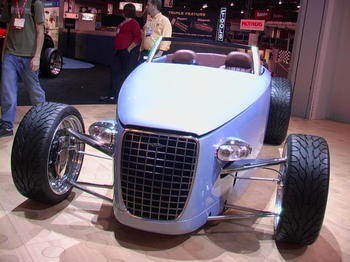 Wrap your brain around this one: a Volvo hot rod ---- a Volvo hot rod --- from the 2007 SEMA Show; well, Volvo is Ford and Ford sort-of "invented' the hot rod with their V8-equipped 1932 (the proverbial LIttle Duece Coupe) so why not?
Latest update from Automotive News:
The U.S. House on Tuesday narrowly passed a scaled-back version of a bill that would give consumers cash vouchers of between $3,500 and $4,500 if they trade in their cars for newer, more fuel-efficient vehicles.
The $1 billion cash-for-guzzlers proposal, modeled after successful programs in Germany and other European countries, is part of a $106 billion supplemental spending measure designed mostly to fund the wars in Iraq and Afghanistan. It also extends billions in new credit to the International Monetary Fund.
Fleet modernization legislation approved by the House last week contained between $3.5 billion and $4.5 billion in federal consumer incentives in an attempt to spur car and light-truck sales and increase the fuel economy of vehicles driven by Americans. The program was to last a year.
The scaled-back version approved late Tuesday, inserted last week in conference between House and Senate leaders, would provide funding for less than four months, said Nichole Francis Reynolds, chief of staff for Rep. Betty Sutton, D-Ohio, who sponsored the original cash-for-guzzlers bill.
"There was concern among some senators that the original legislation's fuel economy standards for eligible new cars were too weak," a spokeswoman for Sen. Dianne Feinstein, D-Calif., said in an interview. "There was also some concern that the bill passed without any hearings, without adequate review."
President Barack Obama and his fellow Democrats, who control both chambers, had to fight hard for the bill. But in the 226-202 vote, they managed only to get five Republican votes and saw 32 Democrats vote against it.
The shrinkage of the cash-for-guzzlers program means that the issue will be taken up anew in fiscal 2010, with possible hearings convened, the Feinstein spokeswoman said.
The Congressional Budget Office has estimated that 600,000 cars would be sold with $4 billion provided in the Sutton bill initially approved by the House, Reynolds said. About 150,000 would be sold if the scaled-back version ultimately is enacted, she said.
In a live Web chat with journalists today, General Motors CEO Fritz Henderson said he is expecting a 10 percent lift in retail sales from such a measure. GM has benefited from similar programs in Europe, he said.