Just go to www.TalkRadioOne.com at 5pm Pacific every Saturday and Sunday to hear our live broadcasts. Podcasts of previous shows are available on the site, too, for downloading or real-time listening. And podcasts of this weekend's shows are available within ½-hour of the live shows' conclusions (that is, if my computer is working okay ...).
SATURDAY, THE CAR NUT SHOW
Join me, Steve Parker, live and worldwide Saturday at 5pm (Pacific) for THE CAR NUT, our weekly talk show where the issues affecting all drivers are brought to the fore. This week: Is the hydrogen craze over? Recently the Obama Administration quietly ended a government program begun under George W. Bush to develop hydrogen-fueled fuel cell EVs. The news didn't get a lot of publicity, but there's more than one car-maker and environmental group angry over this apparent change in government focus on these once highly-touted future vehicles, especially when Washington has unprecedented power over Detroit. Ron Cogan, editor/publisher of Green Car Journal joins us with the facts. Plus a review of a remarkable value, the all-new 2009 Volkswagen Jetta SportWagen TDI with the revolutionary high-mileage clean diesel engine, and of course your phone calls at 213-341-4353.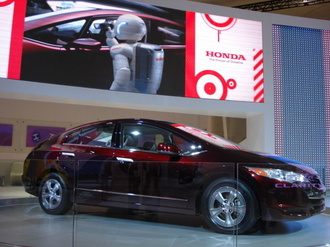 Honda has reportedly spent over $100 million developing their FCX Clarity hydrogen-fueled fuel cell EV, currently undergoing real world trials in the US as "members" of average families participating in the testing. What happens to the car - and the technology worldwide - now that Washington's focus is off using hydrogen as a fuel? (www.SteveParker.com photo)
SUNDAY, WORLD RACING ROUND-UP
Sunday it's our weekly STEVE PARKER'S WORLD RACING ROUND-UP, the latest from the world of motor racing. On last week's show we spoke with Stanton Barrett, a successful NASCAR driver making his debut as a rookie in this year's Indianapolis 500, about his efforts to get into next week's race. Yesterday was Stanton's last shot at making the 33-car field and we'll find out from him how he and his Curb/Agajanian/3G motorsports team has fared. Did they make the show in their Honda-powered Dallara ... or not? Plus the new Brawn Mercedes Grand Prix Formula 1 team juggernaut keeps rolling along, decimating their still-shocked competition (next weekend is the Monaco Grand Prix, F1's signature event) and NASCAR's Camping World Truck Series, the Nationwide Series cars and Sprint Cup all ran this weekend at Charlotte. In fact, for the Sprint drivers it was the annual NASCAR All-Star Race. I enjoy this weekend because it includes the Pit Crew Competition held in an indoor arena in Charlotte, one of the strangest "sporting" events in the world. We'll talk about all that and more, with your calls at 213-341-4353.
It's all at www.TalkradioOne.com! See you there!