Please join us this weekend for our live WebRadio shows on www.TalkRadioOne.com.
Saturday, it's The Car Nut Show, a live, general-interest automotive call-in show focusing on new technologies and the latest cars and trucks coming down the road, as well as the current trials and tribulations of Detroit, Tokyo, Stuttgart and etc...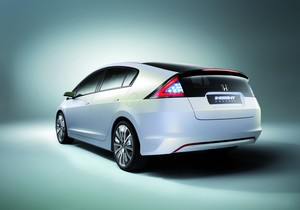 Honda's all-new Insight is preparing the company for a hybrid war with Toyota
What's up with the all-new, under-$20,000 Honda Insight gas/electric hybrid? Toyota is taking up the challenge, and will do battle with Honda by introducing an all-new hybrid priced lower than the popular Prius. To straighten it all out for us, our Saturday guest is Richard Truett, engineering editor of industry journal Automotive News. So the talk will be all "green;" the automotive kind and that other, more familiar, kind, too.
Each Sunday brings World Racing Roundup (which is pretty self-explanatory). Most all the major series have started their new seasons, from IndyCar to NHRA drag racing, ALMS endurance cars, World Rally, Formula One, NASCAR and all the rest.
A hot new racing series is A1 Grand Prix (www.A1GP.com), and we take you to London for a cup'a tea and a nice chat with Ann Bradshaw, one of the top executives of A1GP.
Both shows are LIVE Saturday and Sunday at 5pm Pacific/9pm Eastern. Everyone worldwide is welcome to ring us at 213-341-4353. Free podcasts are available anytime at www.TalkRadioOne.com.
And thanks for tuning-in.