Join us LIVE Saturday and Sunday at 5pm Pacific time on www.TalkRadioOne.com for our exclusive LIVE motoring and motorsports talk shows!
Steve Parker's The Car Nut Show
Saturday starting at 5pm Pacific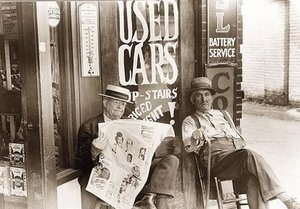 Bailey Wood of the National Automobile Dealers Association, naturally one of the prime movers behind the Clunker Program, is our guest. We'll get the latest on Friday's US Senate vote to fund and extend the program, go over the program's details to understand how it works and what to expect at the dealer, and cover the objections some have to the program. And Steve gives his "Sixty-Second Road Tests" of some of the many 2009 and 2010 cars he's driven recently ... and a report on the Nissan Leaf EV, introduced this week in Japan and due for-sale worldwide in late 2010. Plus all your calls!
Be sure to join-in the conversation: The call-in number is: 213-341-4353.
Steve Parker's World Racing Roundup
Sunday starting at 5pm
Award-winning radio and TV motorsports host Kurt Hansen joins us as he does every month-or-so to talk racin' ... he knows whereof he speaks! The Indy Racing League held a race last weekend and the Penske and Ganassi teams did NOT finish 1-2-3! And that's big news! Are technical and aerodynamic changes and additions the IRL has made to the race cars and their engines working in favor of the fans by making for better, closer racing? NASCAR begins to seriously address all those fans coming to races dressed as empty seats and Ron Hornaday keeps setting records in the truck series. Michael Schumacher readies for his return to Formula 1, filling-in for the injured Ferrari driver Felipe Massa beginning this month at the European Grand Prix ... plus your calls and emails!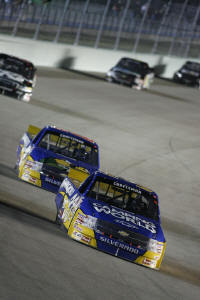 Ron Hornaday in front of a NASCAR truck race earlier this year, his normal habitat
The call-in number is: 213-341-4353. Podcasts of the shows are available one hour after the live shows' conclusions. That's this Saturday and Sunday at 5pm USA Pacific time on www.TalkRadioOne.com!