According to the Detroit News, Senate Minority Leader Mitch McConnell, R-KY, is attacking the allocation of money from the proposed $900 billion stimulus bill to allow the federal government to replace older and less efficient vehicles with newer, cleaner cars and trucks as "wasteful spending," and further deriding the plan as "$600 million to buy new cars for government workers."
And the newspaper reports that, privately, auto industry lobbyists have said they expect the section to be pulled from the bill.
As President Barack Obama finally went on the offensive yesterday in the realpolitik world of Washington, DC, News Corp, Fox News, the Wall Street Journal and hate radio, Republican legislators continue to demonstrate that Rush Limbaugh is their party's leader, snarky labels and talking points repeated ad nauseum are the key to all victories and some of the world's largest, most important corporations - and their workers; especially the workers - can go to hell.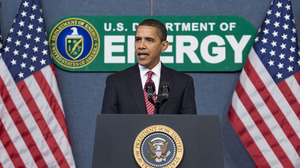 (President Obama spoke at the Department of Energy yesterday in support of $600 million to buy new, fuel-efficient cars and trucks for the government; it's called "priming the pump" for an important industry, and it works).
"Critics of this plan ridiculed our notion that we should use part of the money to modernize the entire fleet of federal vehicles to take advantage of state of the art fuel efficiency. This is what they call pork," Obama said at a speech at the US Energy Department in Washington, the paper reported. "You know the truth. It will not only save the government significant money over time, it will not only create manufacturing jobs for folks who are making these cars, it will set a standard for private industry to match.
"When you hear these attacks deriding something of such obvious importance as this, you have to ask yourself -- are these folks serious? Is it any wonder that we haven't had a real energy policy in this country?" Obama said.
McConnell's office, the Detroit News said, "didn't immediately return a request for comment."
The fleet, leasing and daily rental industries buy about 20% of all the cars and trucks sold in America. That's down from 33% 25 years ago, when I was editor of that industry's magazine, Automotive Fleet. And it's important to know that, especially now, these numbers include vehicles made by the Detroit Three and at the foreign-owned manufacturers, the so-called "captive imports," doing business in the US.
And how many cars and trucks will $600 million buy, with the average price of a 2009 vehicle almost $28,000? About 30,000 of them, that's how many. Not enough to fill the Pentagon parking lot, but enough to keep some assembly lines running and people earning paychecks.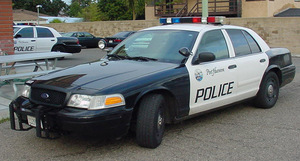 (Ford sells about 40,000 Crown Victoria-based police cars annually in the US, and all Crown Vic sales became for "fleets only" in the 2008 model year; when Chevrolet still made the Impala, the two companies combined to sell as many as 100,000 cars to police departments in a good year).
US factories run by Honda, Toyota, Mercedes-Benz, BMW, Nissan, several others and soon, Volkswagen and perhaps Fiat, have kept the United Auto Workers union out of their plants by opening in "greenfield" areas, generally in the Southeast and with high local unemployment. A very real part of the car industry's bottom-line is that these companies have, at least, provided jobs for thousands of Americans, but the George Bush economy is forcing all carmakers to cut workers across the board; one of the benefits of union membership is some form of job security, continuing health care and retirement funding, so today's economic realities may get those non-union workers thinking seriously about organizing.
With many of the First Depression-era Smoot-Hawley style protectionist "Buy USA" provisions wisely being pulled from the stimulus bill, companies, private and public utilities and municipalities throughout America will still have the freedom to buy cars and trucks from whichever manufacturer they chose. This is how we know McConnell and his toadies are not just attacking the United Auto Workers and Detroit Three management, but also corporate officers and workers in Stuttgart, Tokyo, Seoul, Shanghai and Turin, supplier and factory employees and executives throughout the US, Mexico and Canada, and all those non-union American workers at foreign-owned supplier companies and auto assembly factories.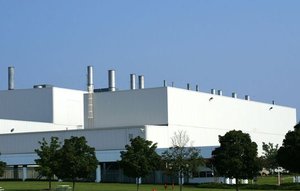 (BMW's assembly plant in Greenville, SC).
This time, they're after everyone, including many of their own constituents. Heck, if they really don't want to win another election for a generation or two, that's fine with us.
In a rare political double-double (with apologies to Kobe Bryant and my Lakers), Bill Clinton and Barack Obama both garnered not only the expected support from unionized men and women working Detroit Three assembly lines, but also many of the carmaker executives. Polls (and election results) have shown that a large number of the white- and blue-collar workers at the foreign-owned carmakers also supported those Democratic candidates.
For his troubles, energy and dreams, Clinton wound-up being impeached by Republicans, his wife called a swindler and murderer, his brother tagged as a major cocaine dealer and, on his several-times-failed TV show, Rush Limbaugh spoke about the "White House dog" while showing a photo of the Clintons' daughter, Chelsea.
And look at what Barack Obama's preternatural desire to build consensus and hear from all sides has gotten him: so far, not one Republican vote to support the stimulus plan, and Senators from that same party bragging about doing the same thing today, when the bill may come up for a vote.
For the sake of just 30,000 cars and trucks, Republicans are willing to give up whatever resonance they may still have with voters.