Many news reports the past two days have been about Toyota's intention to build the next-generation gas/electric hybrid Prius at a factory now under construction in Mississippi, scheduled to open in late 2010, and originally intended for making the company's Highlander SUV.
A lot of this reportage included the news that Toyota will use photovoltaic solar cells on the car's roof to power the new Prius' air conditioning system, making Toyota the world's first car-maker to announce an intention to use solar cells to power an auto's on-board system. In fact, while writing my own first draft of the Toyota/karoshi posting included that information, but when I fell into bed after posting, I asked my wife if she remembered something about Mazda using solar cells on one of their cars.
My memory is not as bad as I thought, at least my long-term memory, because when I got up today and logged onto the Web, I immediately did a search for "Mazda solar cells power" and sure enough, the company's excellent but short-lived Millenia sedan was the first production car to utilize sun-power to run any on-board system. (The new Prius might have solar cells as early as 2010 when the car goes into production for the first time in the US).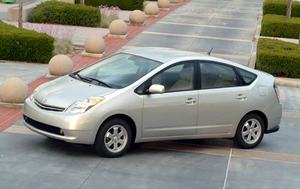 I've always liked Mazdas and have owned several through the years, from an early RX2 coupe to a RX4 station wagon and a sporty Cosmo coupe (anyone remember that one?), all rotary-powered and tons of fun to drive, except when you pulled into a gas station.
I also drove one of the first, original RX7 coupes in the US, picking it up at an Oxnard, CA, shipping dock, fresh off the boat, and drove it south on Pacific Coast Highway towards Los Angeles for a photo session using the Pacific Ocean as a backdrop.
Those little, round and oh-so-very-smooth engines perform like a race car's, just modified slightly for the street, but they used fuel much like a race car, too. Meaning a lot of it. And the news wasn't so good on the other end of the cars, either, because rotary engine emissions have always been on the higher end of the allowable scale.
President Richard Nixon established the Environmental Protection Agency in 1970, just as Mazda had begun selling cars in the US. The company and the EPA didn't get along from the start.
For the first time in history, companies selling cars were being told how many miles per gallons their cars and trucks had to achieve and the amount and what kind of emissions a car produced were also now limited by law. To say this was a big change for car-makers doesn't do the word "change" justice; this was absolutely the worst news possible for them, because they were going to have to invest billions in research and development and put all their engineers to work meeting the new rules if they wanted to sell cars in the US. This is the major reason US cars were so uniformly bad in so many ways from the end of the 1970s through almost the late-'90s. (Mazda's Millenia was first production car to use solar cells).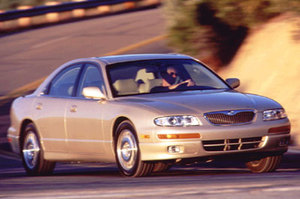 And the bad publicity Mazda was getting from their EPA battles didn't do that company any good among American consumers, especially when the first oil embargo hit in 1973, and sales for the company nearly stopped. Eventually, they weren't even able to afford the move into the buildings they'd hope were going to be their US national headquarters in Orange County, CA.
But they eventually developed some winners for the US, and a general audience started buying their cars and trucks, along with a small, enthusiastic group of Mazda-lovers (including me), akin in many ways to the folks who love Saabs and Subarus. "Quirky" fits the bill. (Mazda's RX rotary-powered sports cars have always been a favorite for racers).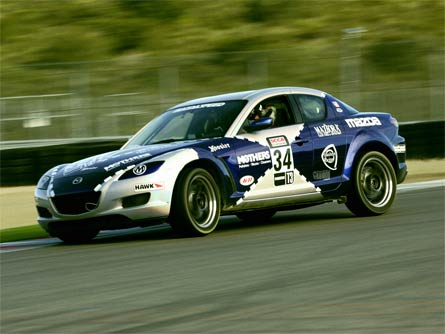 The company had big financial problems in Japan, too, poor US sales being not a small reason for the troubles. Mazda closed factories and executive offices, and assembly line workers, execs, stylists, engineers, maintenance crews, secretaries and more were formed into sales teams which literally were spread throughout Japan, sometimes far from home for months, and they went door-to-door, telling people about their products, about their confidence in their company, and asking them to please consider buying one of their cars or trucks. And it worked. The company also started looking for partners, and that's when Ford stepped in.
Ford's 15% 1979 initial investment in Mazda (they now own 33.9%) resulted in many joint-venture products which aided both companies (Mazda engineers even helped with the best-selling Explorer) and they share a factory in Flat Rick, MI. In 2000, Ford sent a young executive with international experience named Mark Fields to run Mazda from 2000 to 2002, and that further helped turn the company around, helping Mazda take advantage of their improved home market and export sales. Fields became something of a celebrity in that country. He joined Ford in 1989 and today is executive vice president, Ford Motor Company, and president, The Americas, a position he assumed in October, 2005. He's responsible for all operations involved in the development, manufacturing, marketing and sales of Ford, Mercury and Lincoln vehicles in the United States, Canada, Mexico and South America. Maybe Fields should shut-down some Ford factories and close some executive offices, and send sales teams around the country to ask people to consider buying their products ... Hey, it worked once!
Mazda's 1995 through 2002 Millenia sedan, launched in the autumn of 1993 in Europe as the Xedos 9 and in Japan was called the Eunos 800, two of the stranger model names in the car world, used photovoltaic cells on their roofs to power interior fans which could keep the cabin cool when the car was empty, automatically. That's the first automotive application of solar cells we could find.
Millenia was originally slated to be the smaller of two Mazda-built cars which were planned to be sold in the US under a new brand channel name, Amati. This was all based on the successes of Honda's Acura, Toyota's Lexus and Nissan's Infiniti luxury marques. The company never had the money for a proper launch, though, and dealers didn't want to invest in new stores, so Millenia replaced Mazda's 929 in the US as their topline car, and no new model replaced Millenia when it ended its run. (Mazda won the 24 Hours of Lemans in 1991 with this rotary-powered race car).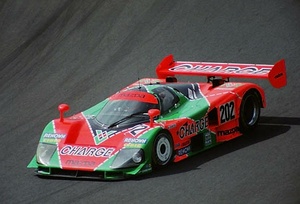 Millenia also was the world's only production car using a V6 Miller cycle engine, an old concept brought modern by Mazda, which I consider as good a pure engineering company as Honda, and that's high praise. Miller engines allow the powerplant to produce more power without working as hard as a standard internal combustion engine, theoretically making for a longer-lasting engine, too.
Mazda was the only car company in the world making internal combustion gas and diesel engines, Miller cycle engines, and of course their signature rotary engines.
Mazda won the 24 Hours of LeMans in 1991 using a rotary-powered race car dubbed 787b, the first and still only Japanese company to win that most prestigious sports car race, with the only rotary engine to ever win that race, too. For reasons still not well-explained, Mazda did practically no advertising about that win, missing out on letting consumers know about a remarkable, important and exciting victory. (Audi's R10 was the first diesel car to win the 24 Hours of LeMans in 2006; they won in 2007 and 2008, also, using a 5.5 Liter V12 turbo-diesel engine).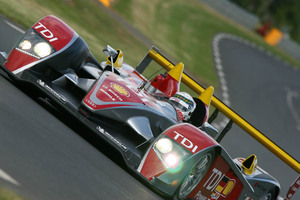 Audi has won the LeMans event the past three years using turbo-diesel engines, their 2006 win the first time diesel power had won that race. Peugeot finished second behind Audi in this year's LeMans, using their own version of a 5.5 Liter V12 turbo-diesel powerplant. Audi is expected to be selling all-new and clean diesel engines in their vehicles in the US this year, first in their Q7 SUV.
BMW also recently publicly expressed their intention to use solar cells on the roofs of some of their cars. The company said "the energy from the sun would be used to top up the car's battery or else pre-warm liquids in the engine to make cold starts less wearing on mechanical parts and also more fuel-efficient." The solar panels were showcased on a BMW X5 diesel hybrid SUV (Sports Utility Vehicle) at the Geneva Show earlier this year, but there was no word from Munich on when they might be ready for production cars.
According to BMW, a square meter of solar paneling is sufficient to generate enough electrical power to run or charge onboard systems such as navigation devices and cell phones. It could also be used to pre-warm air-conditioning systems.
Several companies have talked of using solar panels to pre-heat catalytic converters and other parts of a car's emissions system.
So Mazda was the first car-maker to use solar cells to help power a production car. We can't wait for enough car-makers to place orders for photovoltaic solar panels that their prices drop and they become much more efficient, suppliers using the money from improved sales to further their development until we see them on cars and trucks everywhere, and of course houses, too.

SUBSCRIBE TO & FOLLOW THE MORNING EMAIL
Start your workday the right way with the news that matters most. Learn more