Really wish there were better news to post about, but the auto industry is reeling worldwide, and there's no better example than Toyota. The world's biggest carmaker said Wednesday its global vehicle sales plunged 21.8% in November, the biggest drop in eight years.
But stick with us through this post; we'll try to inject a little fun for this holiday week and next's.
Even bedraggled Toyota (see above), unaccustomed to losing at anything, has some good news to report for racing fans. In spite of not winning a single race after seven years in Formula 1, Toyota will continue to support their F1 team, with an annual budget estimated at $445 million.


(Toyota thinks the $445-million annual cost to support their F1 team is worth the money and effort; they haven't won a race after seven years in the sport).
General Motors and Chrysler received their year-end gifts early this year, with Washington approving $17.4 billion in loans to those companies. Also, the Detroit Three now have access to DC's Troubled Assets Relief Program (TARP).
And there's more good news for GM and, by extension, American car-buyers.
The US Federal Reserve has granted General Motors Acceptance Corporation's application to become a bank holding company, giving GMAC, too, access to what's left of the $700 billion TARP fund. GMAC can use the money to help their dealers with floorplanning (financing cars and trucks dealers buy from GM) and, it's hoped, with loans to consumers to buy new - and even used, depending on the dealer - GM cars and trucks.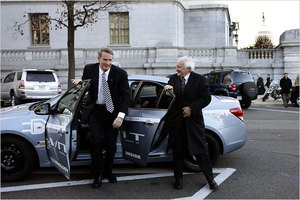 (GM CEO Rick Wagoner arrived in Washington last week driving what looked like the high-mileage Chevrolet Cruze, due for the US in 2010, but GM PR-types said it was a "test mule," outfitted with the drivetrain from their Volt "extended-range EV" [that's what the company calls it]; among Wagoner's passengers were the Levin boys from Michigan, Senator Carl and Representative Sandy).
This year's Rose Parade in Pasadena, CA, will mark its 120th running. About 1990, I was doing PR for the gigantic RV group, the Good Sam Club, which stages an annual "Sam-boree" in a Pasadena Junior College parking lot, and Good Sam members fill one entire grandstand along the parade route. A Sam-boree, as you've probably figured out, is a huge gathering of club members and their motorhomes and travel trailers, most tending towards the 32' and longer size. Big rigs, all.
My single trip to the Rose Parade was due to my work for Good Sam, and afterwards I came to one big conclusion: Everyone should go to the Rose Parade - once.
This year, the parade will be led by a hydrogen-fueled fuel-cell EV Honda FCX Clarity and a Super Cub motorcycle, a scooter which Honda has sold over 60 million of since its introduction; the Cub first came to the US in 1959.
American Honda's float this year is a 49-foot-tall animated Asimo robot wearing a top hat. Perhaps this particular Asimo wants a job as a headwaiter.

(American Honda's Rose Parade floats are eagerly awaited, always on the cutting-edge; this year, it's a 49-foot tall Asimo which will get all the attention, and just check-out those hip dancers; crazy man! This is the float before it gets its covering of seeds, flowers, bamboo and who-knows-what-else which the all-powerful Rose Parade Committee demands. While watching the parade, be on the look-out for the folks in white jackets accompanying each float and band; they are committee members, considered minor gods in conservative Pasadena year-round).
An event press release says the parade will be watched by millions of people on both television and, as Pasadena always claims, more than one-million in person. Take that estimate with a grain of salt; it has about the same credibility as the film industry saying more than one-billion people watch the Oscars.
In 1985, Nobuhiko Kawamoto, Honda's president at the time, told me over lunch, after our small group of American journalists had just been introduced to the original Asimo, "We need robots like Asimo to work on our assembly lines, because young Japanese people don't want to do such work anymore."
He told me this while Japan was still enjoying a strong economy; it seemed there was nothing the Japanese car industry couldn't do. Today there are probably many Japanese, young and old, who wouldn't mind pushing aside an assembly line Asimo and take its place.
Subaru lovers, rejoice! The company, reports Automotive News, expects to post a sales increase for their American division, albeit a small one, for 2008, and says they will set records for three of its vehicles.
A Hawaiian Chevrolet dealer jacked-up a Suburban with monster truck-style tires ($5,000 apiece) to crush a vintage Honda Accord to "send a message to anyone buying Japanese cars." Whatever that "message" might be was forgotten when the Chevy truck blew a hydraulic hose and started leaking fluid after its first pass over the Accord. A few hours later the truck was repaired and the Accord was replaced with a Hyundai Excel. No word yet on the outcome.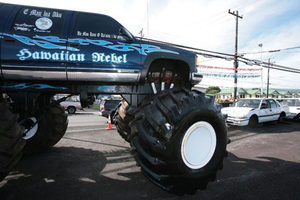 (It was Accord vs. Suburban at a Hawaii car dealership; after the Chevy failed, the Honda was removed, replaced by a Hyundai).
Indian carmaker Tata, which this year bought Jaguar and Land Rover from Ford, are said to be readying an investment of up to $1-billion to improve the quality of their new acquisitions.
Also in India, reports www.team-bhp.com, a new-generation Rolls Royce Phantom has been turned into a cell phone store. This Roller can visit small towns and villages which don't have landline service but do have cell sites, and there are thousands of them throughout the subcontinent.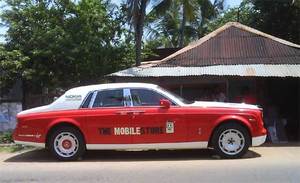 (Thought we were kidding, didn't you?).
And in the spirit of the late and much-lamented Jean Shepherd, radio host, author and screenwriter of the 1983 film, the now-classic "A Christmas Story," which involves a First Depression-era kid trying to convince his parents, teachers and even Santa Claus that a Daisy Red Ryder BB gun "with a compass in the stock" would be the perfect Christmas present ever. And he got one, too.


(Thanks to the enormous popularity of Jean Shepherd's "A Christmas Story," Daisy is making this replica of their 1938 Red Ryder BB gun; one can be yours for about $55, and be careful not to shoot your eye out).
With that, we ask your indulgence and contribution to the following:
Please tell us: What was the best car, truck, train or plane - anything with an engine or motor - holiday gift you ever received - or gave?
Told you this would be fun.
SUBSCRIBE TO & FOLLOW THE MORNING EMAIL
Start your workday the right way with the news that matters most. Learn more