And now, with Chrysler in bankruptcy and General Motors probably in it in another week or so, the other shoe drops. The one that's really about Main Street.
This week, General Motors is expected to tell between 1,000 and 1,500 of their 6,200 dealers nationwide that the corporation will not renew their franchise agreements, and Chrysler will notify 25% of their US dealers -- 800 out of 3,200 total -- that their days as new car dealers are over, too.
As Ken Bensinger, who has been following the dealer crisis for the Los Angeles Times, wrote this weekend, "... it amounts to a blood bath for dealers, who employ hundreds of thousands of people nationwide and pump billions of dollars into their area economies. With dealers unsure whether their names will be called, a pervasive sense of dread has crept into showrooms."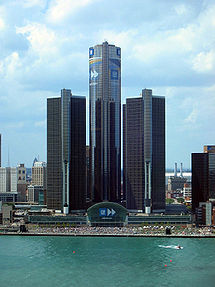 GM is said to be considering moving their corporate headquarters out of the iconic Renaissance Center in downtown Detroit (GM bought "The Tubes" from Ford) and out to Warren, MI, where GM has their huge technical center.
The National Automobile Dealers Association (NADA) and groups of Chrysler and GM dealers are taking various steps to try and stem the tide of forced closings, many involving complicated and expensive legal challenges to the car-makers but some aimed at the general public, too. NADA is taking out advertisements in major publications urging President Obama "to choose Main Street over Wall Street."
The strong state franchise laws which govern the sales ballet and love/hate relationship between car-makers and their dealers (most all written with dealer-only input) are from the same eras when Detroit was concerned with only five things: 1) Making enough cars to fill demand, 2) Avoiding any trouble with unions or dealers which could slow sales, 3) Spending all the money they were making, 4) Protecting executives' annual bonuses, and, in GM's case, especially, 5) Avoiding being labeled a monopoly by Washington and being split into separate companies.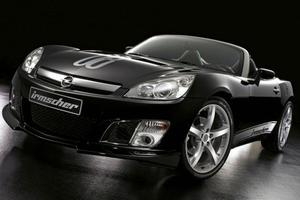 This is a V8-powered custom 2009 Opel GT, cousin to the Saturn Sky and Pontiac Solstice; GM announced this weekend that the Delaware factory where the Solstice and Sky are built might be put up for sale, like what Dodge is doing with their Viper brand sports car -- just selling off as much of it as possible including all the factory tooling.; the GM sports cars became the best-selling two seat convertibles in America, surpassing even the fabled Mazda Miata (MX5); Opel's GT remains a-building in Europe
So when things went south in the car business starting in the mid-'70s with the first oil and gas shortages, who were the first targets of the car-makers? Not OPEC or the markets where oil and gasoline were traded, but the United Auto Workers and Detroit's own dealers. And Detroit's non-stop multi-billion dollar lobbying campaigns have convinced millions of Americans that, yes, the union and those rotten dealers are ruining the car industry.
The UAW and the dealers have made the billion-dollar profits for Detroit over the past 60 years.
Yet Detroit, with the encouragement of the Obama Administration (by pushing GM and Chrysler into bankruptcy court), has created a strange reality where more than the imports (none of which are unionized in their US facilities), more than OPEC, more than any other enemy or adversary ... dealers and the UAW are the sick, weak, evil links in getting cars to the public.
Not that dealers have done themselves many favors over the years. Too many people know too many bad dealer stories, and even if many of them are apocryphal, car dealers remain among the lowest-ranked businesspeople in the country.
But the sales taxes the dealerships produce for their communities, their support of Little League and the like and perhaps most important, their employing scores of local residents who take their paychecks to local merchants and banks --- believe me, cities and towns which lose dealerships are going to try anything to get them back or get new ones.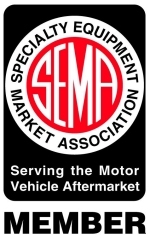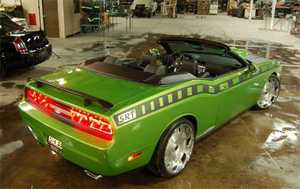 SEMA, the Specialty Equipment Marketing Association, which lobbies for companies which make aftermarket performance and appearance car and truck parts, announced that Nissan will have only a small presence at their annual SEMA Show and convention in Las Vegas the first week of November. If car- and parts-makers start laying low or dropping out of the biggest annual convention in Las Vegas, whether the show itself does indeed go on remains to be seen.
And the UAW (and related unions in the industry; sometimes they're aerospace unions) has been in trouble, as most unions, since Ronald Reagan took the White House in 1981. Remember one of his first big actions as president was to fire all 12,000 members of the air traffic controllers' union which was on-strike and replace them with 12,000 scabs (and air safety continues to suffer to this day for Reagan's actions).
These thousands of dealers, and more, are going to be 'fired' by Detroit the next year or two, starting this week.
The people losing their jobs and paychecks are not fantasies, the owners who can't find a place nearby to get their cars serviced are being ignored, the thousands of dealerships which will soon turn into empty lots or "attractive nuisances" where kids can play and get hurt and the cities and towns losing, in many cases, a majority of the tax dollars they need for their budgets -- these are all those "other shoes" which are just beginning to drop.
UPDATE and COMMENT
From SEMA head Peter McGillvray:
"I just read your story titled "The Reckoning" published in The Huffington Post.
I've often claimed that the SEMA Show is a reflection of the industry. Based on the early registration for attendance and booth space I am extremely pleased with the outlook for the upcoming show in November. We've already signed up over a thousand exhibitors and several thousand attendees. I think this is particularly important as the SEMA Show is the largest gathering of small to mid sized American businesses. Included in our growing list of participants are a dozen automakers - testament to the strength of our members (incidentally our membership has never been higher)."