Join us LIVE Saturday and Sunday at 5pm Pacific time on www.TalkRadioOne.com for our exclusive LIVE motoring and motorsports talk shows!
Steve Parker's The Car Nut Show
Saturday starting at 5pm Pacific
GM is offering an unprecedented deal for new car buyers --- a money-back, 60-day guarantee on whatever GM car or truck you buy. The corporation's new CEO, Ed Whiteacre, is doing the TV ads ala Lee Iacocca, but the reviews so far have not been too kind. Plus Steve gives his "Sixty-Second Road Tests" of some of the many 2009 and 2010 cars he's driven recently. Plus all your calls!
Be sure to join-in the conversation: The call-in number is: 213-341-4353.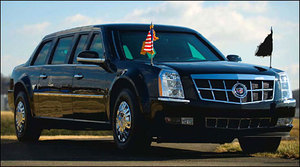 Not even Barack Obama got a 60-day, money-back guarantee on his new GM car!
Steve Parker's World Racing Roundup
Sunday starting at 5pm
The big news in motor racing is the scandal involving Formula 1 and the Renault team. People are being fired, charged, indicted and have quit the team because the Renault apparently ordered their driver, Nelson Piquet, Jr., to crash at the 2008 Singapore GP, in order for their other driver, Fernando Alonso, to win the race. We'll cover it from every angle. NASCAR starts their 10-race Chase for the Championship this weekend; we'll have the full report. Also an interview with Dave Rockwell, one of the engineers who created and ran the legendary Ramchargers NHRA drag racing team for Dodge in the '60s.
The call-in number is: 213-341-4353. Podcasts of the shows are available one hour after the live shows' conclusions. That's this Saturday and Sunday at 5pm USA Pacific time on www.TalkRadioOne.com!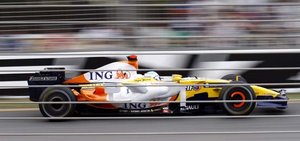 Was "the fix in" when Fernando Alonso won the 2008 Singapore Grand Prix for Renault?