Join us LIVE Saturday and Sunday at 5pm Pacific time on www.TalkRadioOne.com for our exclusive LIVE motoring and motorsports talk shows!

Steve Parker's, The Car Nut Show: Saturday starting at 5pm Pacific
Some of the topics we'll cover...
Road test week! Steve gives quick reviews of many of the cars and trucks he's been testing these past few weeks including, from one extreme to the other, the 2009 Toyota Camry hybrid and the 2009 Dodge Dakota V8-equipped mid-size pickup.
Big shake-ups in GM's executive suites -- and at Porsche, too.
And YOUR opinions and offerings -- Be sure to call-in and join the action at 213-341-4353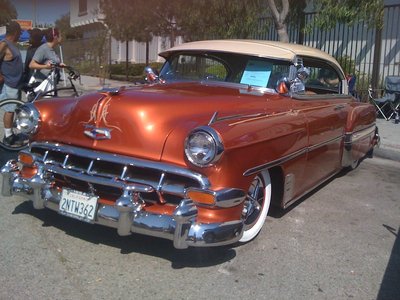 Seen at last Sunday's Venice Car Show by the beach in Southern California.

Steve Parker's, World Racing Roundup: Sunday starting at 5pm
TV's "Jesse James" claims to have a Land Speed Record but many in the racing community beg to differ; we have the story from the award-winning journalist who first broke it
Every major racing series is in action this weekend and we'll have the latest news and results
Major announcement: Honda is getting into "grassroots" racing in a big way
How are the teams, big and small worldwide, handling the recession? Be sure to call- in and join-in and let us know what you think!
The call-in number is: 213-341-4353. Podcasts of the shows are available one hour after the live shows' conclusions. That's this Saturday and Sunday at 5pm USA Pacific time on www.TalkRadioOne.com!

SUBSCRIBE TO & FOLLOW THE MORNING EMAIL
The Morning Email helps you start your workday with everything you need to know: breaking news, entertainment and a dash of fun. Learn more