This post has the latest news on the billions in subsidies which off-shore transplant carmakers have received from state and local governments. Also, press releases from several unions supportive of the UAW and comments from Ralph Nader. We're running the first release, from Good Jobs First, in its entirety and have shortened those below it for space considerations. All quotes are verbatim.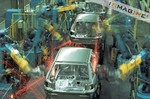 (Working on an automotive assembly line is inherently dangerous and tiring, especially when sharing the work with powerful robots).
Responding to many queries, Good Jobs First today released its summary of state and local subsidies given to foreign-owned auto assembly plants, totaling $3.6 billion.
"As elected officials debate aid for the Big 3, taxpayers have the right to know the full extent of government involvement in America's auto industry," said Greg LeRoy, GJF's executive director.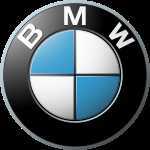 (The BMW logo is modeled after ... what? If you said an airplane propeller, you're right).
"And while proposed federal aid to the Big 3 would take the form of a loan, the vast majority of subsidies to foreign auto plants were taxpayer gifts such as property and sales tax exemptions, income tax credits, infrastructure aid, land discounts, and training grants," he said.
Honda, Marysville OH, 1980, $27 million*
Nissan, Smyrna, TN, 1980, $233 million**
Toyota, Georgetown, KY, 1985, $147 million
Honda, Anna, OH, 1985, $27 million*
Subaru, Lafayette, IN, 1986, $94 million
Honda, East Liberty, OH, 1987, $27 million*
BMW, Spartanburg, SC, 1992, $150 million
Mercedes-Benz, Vance, AL, 1993, $258 million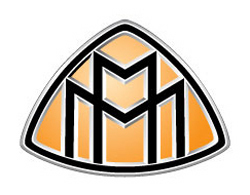 (This is the logo for Maybach, a name resurrected by Mercedes-Benz a few years ago for a ridiculously long and powerful version of their S-class sedan, M-B's top of the line, their version of BMW's Bentley cars. Maybach's large "62" model has a base price well over $400,000 ).
Toyota, Princeton, IN, 1995, $30 million
Nissan, Decherd, TN, 1995, $200 million**
Toyota, Buffalo, WV, 1996, more than $15 million
Honda, Lincoln, AL, 1999, $248 million
Nissan, Canton, MS, 2000, $295 million
Toyota, Huntsville, AL, 2001, $30 million
Hyundai, Montgomery, AL, 2002, $252 million
Kia, West Point, GA, 2006, $400 million
Honda, Greensburg, IN, 2006, $141 million
Toyota, Blue Springs, MS, 2007, $300 million
Volkswagen, Chattanooga, TN, 2008, $577 million
Total: more than $3.58 billion
* total of direct subsidies to all Honda facilities in Ohio
** includes about $200 million for expansions of Smyrna and Decherd plants
List does not include joint ventures with U.S. companies
These data, drawn primarily from contemporary media accounts, are very conservative. They do not account for inflation; some would be worth far more in today's dollars.
They do not include any estimate of subsidies granted to hundreds of foreign-owned auto supplier companies that have located in the same areas, virtually all of which were also heavily subsidized. Finally, they do not reflect later news accounts, which often place higher subsidy values.



Machinists Union Blames McConnell, Shelby and Corker for Killing Auto Rescue Plan
"In a move worthy of Benedict Arnold, a handful of Senate Republicans this week successfully conspired to deny federal aid to U.S. automakers," said IAM International President Tom Buffenbarger. "It ranks second only to their attempt to blame autoworkers themselves for failing to provide sufficient concessions to satisfy GOP demands."
An Attack on the American Dream
The following is from Change to Win executive director Chris Chafe regarding the Senate Republicans' obstruction of legislation to provide emergency financial support for the auto industry.
"The ghost of Herbert Hoover must be whispering in the ears of the Republican minority. The Republican Senate Caucus in an ideological fit threatens our entire economy as well as the hopes of working families with demands to immediately reduce wages and to effectively void the workers' union contract in the auto industry.


"Hoover took a Wall Street collapse and turned it into a national calamity that lasted more than a decade. Today's Republicans seem determined to do the same. Driving down wages in the face of faltering consumption is not a recipe for recovery, but a shortcut to a prolonged crisis. We need policies to promote and expand good jobs, not obstructionism that will destroy the jobs that have been the backbone of the working middle class."
USW Condemns GOP U.S. Senate Leaders for Auto Loan Rejection
'Thousands of steel, rubber, glass, auto parts and mine workers impacted too'
Leo W. Gerard, President of the United Steelworkers (USW), condemned Thursday night's U.S. Senate vote that rejected the proposed auto industry bridge loan being supported by the UAW, the White House and the Democratic leadership.
Nader Comment on Auto Bailout
The following is a statement from consumer advocate Ralph Nader and Robert Weissman, director of the advocacy group Essential Action:
"In an effort to break the United Auto Workers -- a union that historically has been responsible for raising wages and benefits not just for unionized auto workers but for all working Americans -- Senate Republicans are apparently willing to permit the collapse of the U.S. auto industry.

"Unionized auto workers have made steady concessions over the last quarter century, including in the 2007 contract, which will have many new workers start jobs at $14 an hour. These employees will be making about half of what their co-workers earn.


"It is both an outrage and illogical for the Senate Republicans to suggest UAW worker wages and benefits should be driven down to the levels at non-unionized Japanese plants in the United States. It is an outrage because it disrespects the hard and dangerous work done by auto workers, explicitly aims to undermine the benefits of workers joining together to exercise their right to bargain collectively, and accelerates the United States' trajectory to ever-descending wages and benefits. It is illogical, too. Although the Japanese plants keep wages close to UAW rates as an anti-union strategy, they can always lower their wages further, on a unilateral basis, in a never-ending race-to-the-bottom.

"The action by the Senate Republicans is extraordinarily reckless, challenging the most important institution for advancing working peoples' living standards -- unions -- and threatening to worsen drastically an already severe recession."
FOLLOW HUFFPOST