Summer is car show season, no doubt about it. From the 100-point classics of exclusive Concours d'Elegance to local shows raising money for the Kiwanis or YWCA, Americans love to trot-out their "babies" and have the fun of watching others enjoy the results of untold hours in the garage, uncounted late-night six-packs and often decades of learning automotive engineering through trial and error.
Last Sunday, the eclecticism of Venice, CA and the Kar Kulture around that area were combined for the annual Venice Car Show, and we were there, shooting photos and naturally have put-together a photo album for your enjoyment.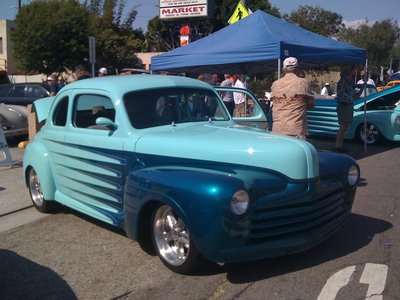 But it wasn't just cars on the runways. Custom bicycles and motorcycles are a huge part of the wheeled-beauties surrounding Southern California Beach Culture, and of course the people of Venice were there en masse' -- always a treat in itself!
Many visitors to Southern California often wonder why Chevrolets are clearly the favorite collectible car of Hispanics. The reason goes back to WWII, when many of So Cal's Hispanics got their first middle-class jobs -- in the car factories which then dotted the southern part of the Golden State.
Over the years, GM plants dominated, from Van Nuys in the south to Oakland in the north, and it was natural that cars from Chevy, GM's biggest division (then as now), became the car of choice for the families of many of those factory workers, and the tradition continues until now. The low rider culture is pure Hispanic culture, driving "low and slow" the preferred style.
Even though the factories where these workers were producing not cars but war matériel, beginning in 1942, at war's end, the jobs remained, and cars started rolling off the lines as fast as they could build them.
Today's low riders have all the bells and whistles of modern cars, with sophisticated hydraulic suspensions, huge sound systems (many car shows award a "loudest car" prize car among those exhibited), small wheels and tires and the owners are as strict about authenticity as those who own $1 million Bugattis.
But it ain't about Bugatti -- check the photo album and you'll get the idea -- it's all about Chevrolet.
A beautiful 73 degree day on the middle of July, with temps over 100 just 20 miles to the east, well over 100 cars, trucks, bikes and motorcycles and the nostalgic feel of Venice, the only part of the City of Los Angeles which actually touches the Pacific Ocean, added-up to a great day of vehicle- and people-watching. Once again, click on this line to go to the photo album of the 2009 Venice (CA) Car Show ... and enjoy!