When USAJOBS -- the online portal for federal jobs -- shut down for a few days in October to launch it's new website, government job seekers and recruiters had high expectations for the potential features and functionality. With fresh updates that included the ability to upload several resumes, determine an applicant's hiring eligibility and conduct a more advanced search, users were excited to test out "USAJOBS 3.0."
Unfortunately, the honeymoon period was short-lived. Users were faced with several frustrating issues and, at times, applications were not being successfully delivered to the agencies -- partially due to the unprecedented number of visitors that bogged down servers and hindered optimal site functionality.
The response to these issues has been strong, and mostly negative. Ed O'Keefe of the Washington Post reported last week that the USAJOBS launch was the focus of a House hearing which examined whether OPM is "properly equipped to handle an increasing number of federal job applications and the timely payment of retirement benefits." Despite the largely critical commentary, Wyatt Kash of AOL Government pointed out in a piece titled "Bright Side to OPM's Handling of Troubled USAJOBS Launch" that OPM Director John Berry has demonstrated sound leadership in the midst of the agency's crisis.
In fact, what has been lost in the chorus of criticism is the fact that OPM mounted a proactive, responsive crisis communications campaign that included social media and other forms of web-based feedback. USAJOBS leveraged its presence on several key social networking websites -- GovLoop, Facebook, Twitter, and YouTube -- to resolve visitor issues as quickly as possible.
Below is a summary of OPM's activity via social media:
GovLoop: In the months leading up to the launch, USAJOBS used GovLoop (the social network I created for government employees three years ago) to share resources and inform stakeholders of progress. USAJOBS created two different groups -- one called USAJOBS Agency Collaboration Group to create a space for two-way collaboration between USAJOBS and its agency customers and another named USAJOBS Integration Services to coordinate the technical migration of contractors. After the launch, USAJOBS also monitored a GovLoop forum that asked for user feedback and generated over 100 comments that helped the agency pinpoint common issues. In fact, GovLoop summarized the core challenges and sent a briefing that OPM reviewed and incorporated into their problem-solving approach.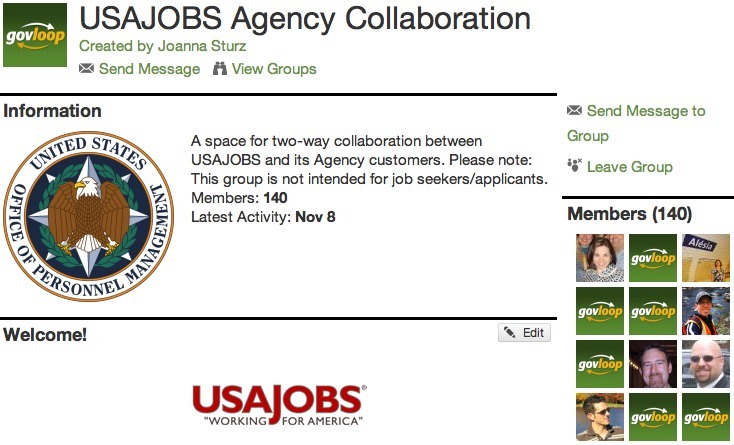 Facebook: The official USAJOBS Facebook page is by far the most personal and interactive form of communication that USAJOBS deployed with users. The team at USAJOBS indicated that while "all of the tools have been useful in their own ways, Facebook has been particularly helpful for allowing users to see our updates, FAQs, and tips as well as reach out to us directly." Visitors to the group have posted comments and the team has provided personal responses to most questions. "We also recognized that interacting with users on Facebook was a great way to feed clues to our engineers," said the USAJOBS team. In addition, Facebook visitors helped each other, sharing ideas and tips if they were experiencing similar problems.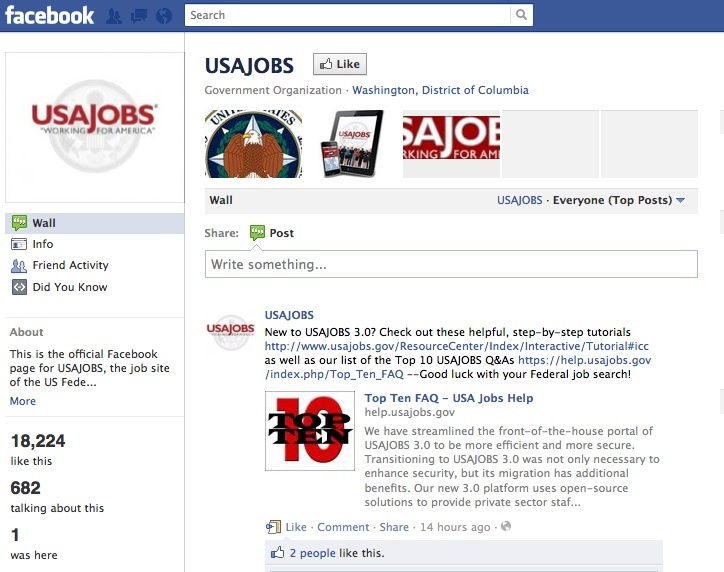 Twitter: USAJOBS used Twitter to publish announcements regarding changes to the site and other updates on the situation. For instance, USAJOBS announced maintenance hours, shared links to resources, and offered other helpful hints to its followers.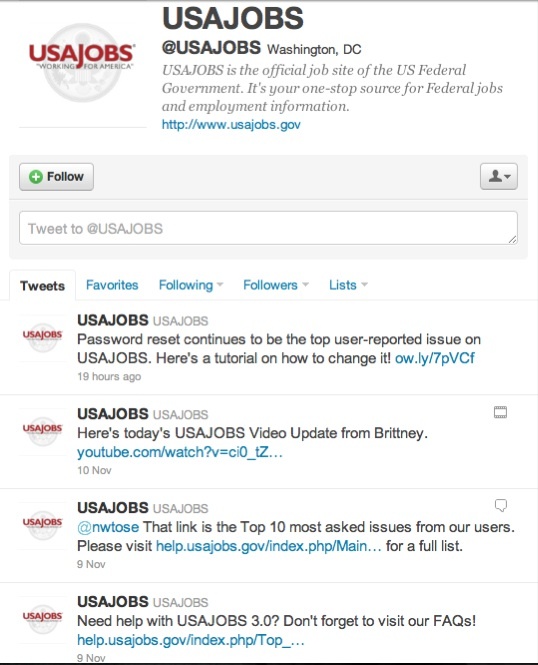 YouTube: USAJOBS also produced several videos that it uploaded to YouTube. Topics vary among the 27 videos posted to date, but the most noteworthy aspect is that the videos have featured several USAJOBS employees giving updates and "How To's" for the website -- real people that humanize the USAJOBS response. The YouTube videos have been featured as embeds on other websites as well. Here is the most recent video update, which was posted on November 10, which you can view below:
In order to ensure that every user's problems were addressed as quickly and efficiently as possible, USAJOBS assigned a rotating team that was on call as often as necessary. "We had a social media war room set up at OPM that was being staffed from 8am to midnight on some days," said the team. "After things calmed down -- and after our core group were comfortable with our approach -- we moved to a virtual model and had folks on duty from home and while on the go."
The social media staff not only responded to posts quickly, but also answered thoroughly and did their best to interact with all legitimate questions. In the end, users appreciated USAJOBS for harnessing social media to personally address any shortcomings of the new technology.
"Recognizing the human side of this -- that people need jobs -- we set out early on to provide a high-touch experience through social media interactions," said a USAJOBS representative. "Our social media team found that they made many new friends as we helped to address issues."

FOLLOW HUFFPOST