Some people have told me they've received an email that appears to contain only a single PDF file called 2014.pdf.
If you get an email like that from someone you don't know, don't open the attached PDF. Just delete the entire email.
Scam Message People Are Getting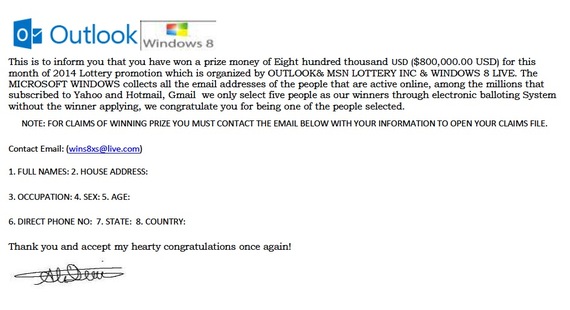 It is always surprising how many people fall for similar scams. The claims and sales pitch made in the emails is simply not true.
A quick tipoff of the questionable nature of the email can be found in the first line. "This is to inform you that you have won a prize money of..." While we are certainly not one to cast the first stone on a typo there can be no glimmer of hope Microsoft is going to give you $800,000 with a poorly worded email like that.
The scam email is an attempt to get personal information from you and either solicit you to pay a winners fee or give up your bank account information so they can withdraw money from your account. If you bite on this offer you will get financially burned.
While it is nice to see the scammer keeping up with the time by upgrading their attempt to Windows 8 the pitch is just a variation of the old Nigerian Oil Scam. Since Windows 9 is not scheduled for release till 2015, this gem should linger for a while longer.
SUBSCRIBE AND FOLLOW
Get top stories and blog posts emailed to me each day. Newsletters may offer personalized content or advertisements.
Learn more