In full disclosure, I'm a bit of a conference-a-holic...
I travel a lot, speak on panels often, and have gotten used to the various frustrations and indignities of the tech panel space.
So when a west coast blogger decides it's time to plant the flag in NYC, you have to wonder if the world really needs another tech conference.
The judges have spoken, and the answer is an unqualified YES.
TechCrunch Disrupt deserves a serious recap, because it's possible that it will quickly be the gold standard for tech conferences.
Here's the key ways that TCdisrupt had an impact:
First and foremost, conferences are about content. And TCdisrupt had terrific big-name interviews. Of course it doesn't hurt that Arrington is both a very influential blogger and a great interviewer. His 'aw-shucks' style and casual demeanor can catch you by surprise. But he wants the scoop. And he has a thick skin. He took on Yahoo's Carol Bartz and didn't let up. When she finally told him to "Fuck Off" it wasn't without provocation, but it was newsworthy none-the-less. How often does the CEO of a public company tell a reporter what's really on their mind on stage? Not often.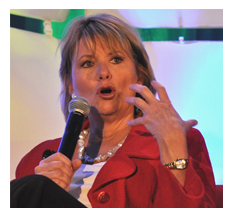 But that wasn't the only big name, far from it. Steve Case, Mayor Bloomberg, Tim Armstrong, John Doerr, Mike Jones And Jason Hirschhorn, Charlie Rose, Frank Quattrone and many more valley and alley CEO's were on stage.
Content is more than interviews and data, there's the need to make news and learn new things. Far too often conference panels are papered with sponsors who trot out old powerpoints to hawk their service. At TCd there was plenty of new things to see - both product launches from established local tech stars like Scott Heiferman of MeetUp and their brand new 'MeetUp Everywhere' offering, or David Kidder's 'Clickable new Master Campaign' offering. The panels were probably the weakest - just because they're panels. 'Funny or Die' wasn't funny - though the business model was eye opening. Basically "folks who think they're funny will do anything for exposure." Sounds about right.
But the big surprise was the quality of the companies in the Startup Battlefield. Sure, there were some tech snafus, and folks like Art.sy got treated a bit too rough in my opinion. There were even a few companies that didn't entirely make sense. But seeing demos like uJam - and the surprise singing debut of West Coast entrepreneur and angel investor Chris Sacca more than made up for it.
The thing about TCd was that it was really three events in one. The start-ups that presented were well vetted and serious. The 'fireside chats' where serious, newsworthy, and pulled no punches. And the panels had smart real folks, even if they didn't break any news. Oh, and the product launches too.
Among the odd choice that worked was the venue, a great big open floor at 570 Washington in an almost empty building that TC managed grab on a short term lease. Easy to find, easy to navigate, and no frills. Food was good - and coffee didn't run out. And, most importantly - the WiFi ROCKED. Yes, everyone was multi-tasking -its what we do.
Ok, the only bad thing I heard was the restrooms were kinda gross. I've seen worse.
So, overall the last point is - at conferences the thing you care most about is the people mix. The number of frequent flier miles that were earned at this show was stunning. VC's, Startups, Reporters, Tech Leaders. A varied mix of men and women, young and old, established and emerging. Quite a mix.
This was the first big conference that brought the West Coast tech scene east. It won't be the last.
This Blogger's Books and Other Items from...
SUBSCRIBE AND FOLLOW
Get top stories and blog posts emailed to me each day. Newsletters may offer personalized content or advertisements.
Learn more