If you've ever volunteered in a soup kitchen, or spent a Sunday helping a community group get a local baseball field ready for the season, then you know how good it feels to lend a hand.
The problem, as it turns out, is that finding the places that need you and matching them to your skills and schedule can be somewhat daunting.
That's left volunteerism to the retired, the unemployed, and a handful of weekend warriors.
But on a sunny Saturday afternoon, I watched the internet change the way people both ask for and find spare hands. And I watched New York City Government once again use technology to fundamentally change the way real folks can help each other with city government acting as the central meeting point.
The solution is a centerpiece to Mike Bloomberg's whole Government 2.0 initiative, NYC Service.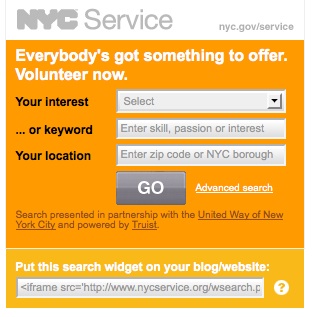 I put NYC Service to the test, or more to the point, watched as my college-aged son used the service. The idea was pretty straight-forward: he's home from school and has some free time other than work. He wanted to volunteer but wasn't sure who needed him or how his skills would fit with the programs in our area.
In the past -- before Service NYC -- it would have been walking around the neighborhood, knocking on doors, asking if local soup kitchens or museums had a place for local volunteers. A daunting and labor-intensive process.
But NYC Service changes all that.
He simply put in his zip code, specified the distance he was willing to travel, and listed some of his skills. The site is surprisingly functional for a government-run operation. The design is clean and functional, and most importantly there are a HUGE number of organizations looking for you to lend a hand.
The site quickly presented a list of interesting volunteer opportunities including a local museum looking for volunteer greeters, a senior citizen group asking for help shopping for groceries, and an animal welfare group looking for folks to help socialize cats.
One click away was a calendar listing the times and dates that the volunteer opportunity exists for, and a contact name and phone number. The site even hands you a pre-written email that you can click to send. Good stuff.
It's not perfect, of course -- it's the first version. The overall registration for the site is a bit buggy, and the implementation of the login (an iframe in a window) could use to be a hover-over form. But minor quibbles, to be sure.
What Bloomberg and his technology team seem to understand is that things like 311 and NYC Service are more than simple add-ons: they fundamentally rethink the role of government, connecting citizens to their community and labor to the needy.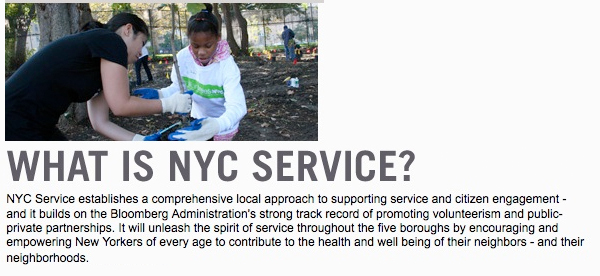 And how is it working? It's less than three months old and volunteer groups are already seeing results. "It's been a huge help," said Matt Wright, Assistant Project Coordinator for the "I Have A Dream" program in Ravenswood, told the Queens Tribune. In June Mayor Bloomberg named the first Chief Service Office to the city -- Diahann Billings-Burford.
Burford said in a recent interview: "I think to serve, it is to sacrifice, using your best gifts, give them to someone else, for another person's benefit. Yet for those of us who engage in service, we know that in that act, we are receiving more than we are giving."
And how is it working for us? Well, after less than an hour of searching, my son found five organizations he'd like to volunteer for, and fired off emails to each of them, seeing if they need him for the rest of the summer. Less than 12 hours later, he's already gotten one response. So we'll see if Blooomberg's NYC Service site can connect hands to work -- but early results say this could be a game changer for community volunteerism.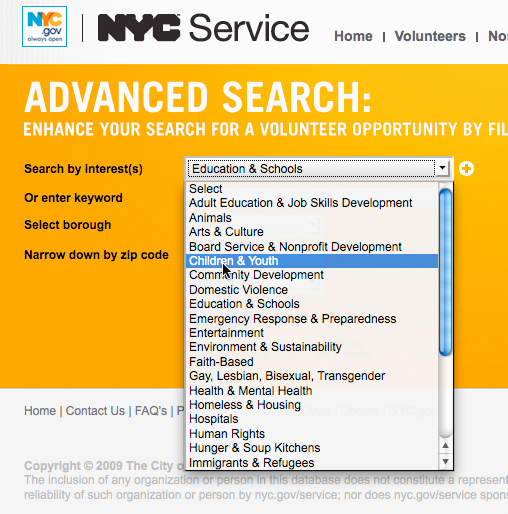 This Blogger's Books and Other Items from...
SUBSCRIBE AND FOLLOW
Get top stories and blog posts emailed to me each day. Newsletters may offer personalized content or advertisements.
Learn more