The unfolding events in Iran are creating some complex issues for mainstream media outlets playing by old rules.

For CNN, the unverifiable nature of the stream of Twitter messages has them both presenting, and disavowing any of the information they're getting from unknown sources. It's not their fault, it's the very nature of their role as a fact-checker and a truth-teller.

Yet, at the same time -- we're watching and participating in a global event, engaging in both critical reading of unverified posts and often becoming part of the story, re-tweeting twitter posts and forwarding YouTube videos. Twitter, understanding its central role as both the gatherer and megaphone for Iranian news and information has decided to come off the sidelines and allow their users to color their avatar's green, to show support for the protesters.

It's what Jerry Weinstein (@tummler10) calls "Distributed Activism."

The shift in both the voice of the newsmakers, and the engagement of observers is unprecedented, and should provide us with a glimpse of media's fundamental role in an evolving democracy.

For example:

On Flickr you can see etehraz's photostream -- live and uncensored.
(you can follow him on twitter as well; http://twitter.com/etehraz )

On Twitter you can follow TehranBureau and iransource45

And there's a updated aggregated channel of twitter feeds, flickr photos and uploaded and discovered video here: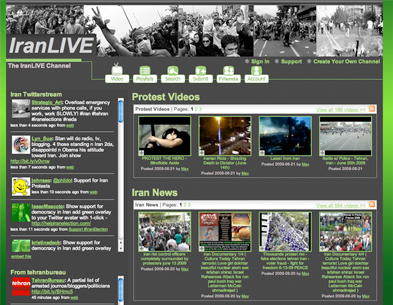 www.IranLive.Magnify.net

Also, on Twitter --

"Stand Free with Iran" is posting here

And even Google has gotten into the act, releasing a Persian language translator here

The point is, we're moving from an era of trusted authorities to an era where readers (and viewers) need to absorb information from multiple sources, and make their own sense of the data. It's hard work, being media literate in a fast moving world where truth can have multiple lenses.

Multiple points of view should result in a more complex, but ultimately more truthful and more nuanced world.

But it also means that the comfort of Walter Cronkite's "that's the way it is" brand of authoritative journalism is being replaced by a more complex cloud of information that requires a more engaged and critical reading and viewing of dispatches.

The events in Iran are important because they encourage us to both pay attention to an important and fast moving story, and offer us for the first time a way to amplify and participate in the coverage. For example, even as protesters in Iran were using Twitter to tell their story, a rumor spread through the web on Sunday that suggested that Iranian Government forces were using the location tags on Twitter handles to hunt down the protesters. True or not, hundreds if not thousands of twitter users around the world changed their location to Tehran to help camouflage the data being created by the actual protesters on the ground. This digital participation is likely to be a sign of things to come, as data transmission becomes the primary tool in gathering protesters to a mass movement, and governments and dictators look to clamp down on digital freedoms to keep control.

Gathering. Curating. Sharing. Organizing. These are the features that are becoming part of the mix of reader-contributed content and professional journalistic news-gathering. It's too early to say how this will evolve, but watching events unfold in Iran will certainly illuminate the changes in both Journalism and the new Digital Democracy that are forming both on the web and on the ground.
This Blogger's Books and Other Items from...
FOLLOW HUFFPOST