There's been plenty written about the emerging 'closed' system that is Apple. I have to say, mostly I've been a fan. For Apple users, closed means that apps work as advertised, devices don't crash and overall that there is a standard of software superiority that is upheld.
The Jobs eco-system makes life simpler.
But recently I've begun to wonder if Jobs' zero tolerance for porn policy might not have some dark and nefarious consequences.
So, let's examine Porn, and Apple, and Jobs - and see if the rules he's laid down amount to quality control or censorship.
First, let's start with the easy example - cartoons.
Cartoonist Mark Fiore submitted an app to the app store. The Nieman Journalism Lab reported that 'NewsToons', a collection of Fiore's cartoons, was rejected by Apple's App Store reviewers in December because it "ridiculed public figures."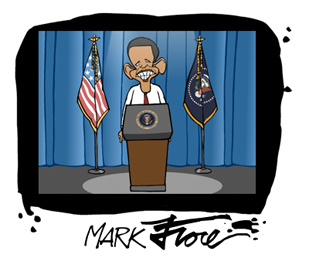 It was rejected. Makes one wonder if Jon Stewart would be rejected? What about Bill O'Reilly?
Now, Steve Jobs jumped in and said it was a mistake. The app was allowed to go in.
The good news is that Apple responded, the bad news is that there is a judgment call being made about what content is approved to go into the Apple system. This isn't an issue of software, or even of porn, but just a somewhat arbitrary decision by a mid-level Apple employee. Do I really want Apple to be the gatekeeper what content comes to my iPhone, or my iPad or my iMac?
Apple might say this is just an app decision - but remember that Apple makes Safari as well, so what stops them from deciding that Safari should determine what content flows through this Apple software? Seems like that's not an unreasonable position.
There are some images that we all agree are porn. I know that there is a lot of Porn on the web because Google lets me search for it: NSFW: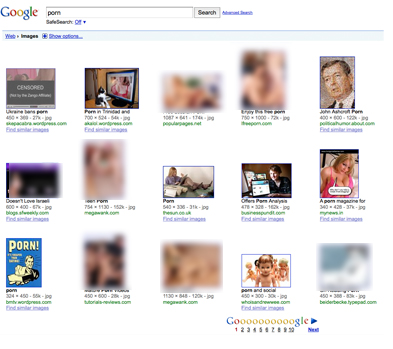 Search Result: 200,000,000 for porn
Does Apple plan to restrict Safari's searches like that? In fact, even the phrase NSFW has its grey area. PNSFW (Probably/Possibly Not Safe for Work), LSFW (Less Safe for Work), TSFW (Technically Safe for Work), and PNFO (Probably Not for the Office) are all acronyms that find there way to the web.
Recently, as I was working on a website for a well known shoeware company - I found a whole collection of videos that are technically 'safe' as they don't have any nudity, but there's no doubt that the folks who where making these videos expected someone to find feet arousing. (click at your own risk) To each his own, but how does the Jobs's Porn Policy respond to a PG13 site about sexy feet?
And then there are videos like this: Harry Houdini made a career out of getting tied-up and wriggling free of ropes, chains, and various bondage devices. But I'm pretty sure this is NSFW even if the woman pictured here is completely clothed. Ok, maybe not.
SFW / NSFW / NIGT See What You Think: LINK (NIGT = Not In Good Taste).
Frankly, I don't have the slightest idea how censors should, or can draw sharp lines between what is in good taste and what isn't. But I'm pretty sure I don't want someone at Apple deciding that I can't see this video.
Jobs' position is - if you want porn, get an Android phone. But it's not as simple as that. What about this site:
My point is, even the Supreme Court has said they don't know what porn is, but they know it when they see it. The point of the landmark Supreme Court decision was that 'community standards' must determine what is pornographic - and Steve Jobs is in essence saying anything on an Apple device is his community, so his standards.
Ok, you may say just one minute, he hasn't said anything about computers, just his App store - and that's true. But the fact is that the best way to manage porn on mobile devices might be to put it behind a pay wall - where you have to be identified and age verified.
Until the iPad was released, this seemed like an issue for free speech purists and open web advocates. But now, with Jobs both delivering almost half a million devices in less than a month - it's clear that he's going to have a significant platform to allow, or reject applications on the platform. And his decision to block Flash makes it clear that he's not above using his powerful position to make statements about and who gets to play with his bat and ball.
The web is about openness. It's about freedom. And if you're going to limit what software plays on your devices - then at least make sure the limits are technical, transparent and can be applied fairly.
Mr. Jobs - it's time to take a hard look at your anti-porn position. Because, after all, there are folks at Microsoft who would argue that some of the heavy breathing and sweaty palms that Apple fans exhibit suggest that fanboys can be aroused by an Apple unboxing. And if that is true, then maybe Bing will have to put some Apple fan video in the NSFW category.
Porn, it seems, is in the eye of the beholder.

SUBSCRIBE TO & FOLLOW THE MORNING EMAIL
The Morning Email helps you start your workday with everything you need to know: breaking news, entertainment and a dash of fun. Learn more