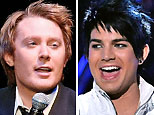 (SYOP News 5/23/09) Clay Aiken may wish he never opened his mouth or his blog. Aiken, who finished second to Ruben Studdard in 2003, blasted this season's runner-up on his blog deriding Lambert's version of Johnny Cash's "Ring of Fire" as "contrived," "awful," "slightly frightening," and added "Omigod, who dressed that boy?"
Aiken now writes that his comments were just meant to be colorful.
"Yes, I wrote that I thought my ears would bleed when I heard it," admitted Aiken. "But I never meant that they actually bled because Adam's atrocious performance. I just happen to be shaving when I heard him and cut my ear. The bleeding was just as much my fault as Adam's."
Award-winning TV writer, Steve Young, is author of "Great Failures of the Extremely Successful" and blogs at the appropriately-named SteveYoungonPolitics.com
FOLLOW HUFFPOST