Why Don't We Ever See Glenn Beck and Michael Scott in the Same Place?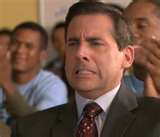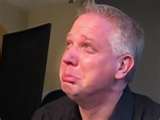 I was listening to Glenn Beck pontificate on his radio show about how what happened in the Third Reich is what is happening in America today and that he was surprised the Jews would not be sensitive to this. Being a Jew I wondered too, but not about the myriad of SS in the Obama administration but how this born-again Mormon knew so much about what I should be sensitive to.
Beck spoke about his ignorance of academia, being that he is self taught, but asked his listeners, "What if I am right?' Of course he whispered it which makes what he says so cool because then you know he sincerely means it. It was also at that moment that it all made sense. Glenn Beck is Michael Scott.
Michael Scott is a character in The Office, my favorite sitcom...other than the ones I was paid to write. Glenn Beck is a character on radio and Fox News. I now come to believe that they are, in fact, the same character.
It's really not so much of a leap. Both are stars on their own hit shows. Both are wont to tear up to make an impression. Both have been known to use a blackboard to rationalize a tortured point. Both have an incredibly conflicted view of who they are, beginning particular lines of reasoning with an aw shucks, I don't know nothin', before giving themselves a standing ovation for grasping the incomprehensible. Like their intimate understanding of how God works.
"Is there a God...? Then what are all these churches for?
Michael Scott
"God is giving a plan, I think, to me...that is not a plan."
Glenn Beck explaining God's submission of a plan that is not a plan
While neither is black they both have found Martin Luther King affects their lives in significant ways.
"...it was divine providence."
Glenn Beck on why he selected the anniversary of Martin Luther King's "I have a dream" speech as the day of his 8/28 rally at the Lincoln Memorial.
"I don't understand. We have a day honoring Martin Luther King, but he didn't even work here."
Michael Scott on MLK Day
They both know ultimate pain
Michael Scott: Can I ask you all a question? Do you know what it's like to be disabled?
Phyllis: I had scoliosis as a girl
Michael Scott: Never heard of it. No, a real disability, not a woman's trouble.
Creed: When I was a teenager, I was in an iron-lung.
Michael Scott: Wha? How...how old are you? The point is: I am the only one here who has a legitimate disability. Although I am sure Stanley has had his fair share of obstacles.
Stanley: I'm not disabled and neither are you.
Michael discussing his mind set after stepping on his George Foremen grill
"By Saturday night if they had come into my room with a handgun and said, 'OK, we can give you some more medication or take this gun and blow your head off' ... I would have honestly taken the handgun at that point and ended it."
Glenn Beck reporting to viewers his mind-set after his hemorrhoid operation
They both know how to relate to others' pain.
"When I see a 9/11 victim family on television, or whatever, I'm just like, 'Oh shut up' I'm so sick of them because they're always complaining." -"The Glenn Beck Program," Sept. 9, 2005
"I'm not a bad guy, I am a good guy, who just, hits women with his car."
Michael Scott after hitting his employee with his car.
Both Scott and Beck have a clear understanding of what it takes to breed racial harmony.
"You cannot take the hilarious black guy from the office; Stanley is part of what makes this branch so extraordinary. The boozy wisdom, the sassy remarks, the crossword puzzles, the smile, those big watery red eyes. I don't know how George Bush did it when Colin Powell left." Michael Scott fearing he would lose the one black in his office.
"
Obama has exposed himself as a person with a deep-seated hatred for white people or the white culture...(Obama) has a problem. This guy is, I believe, a racist." Beck explaining President Obama's racism.
Then again the Scott-Beck parallel can sustain itself purely on the double-over hilarity that emanates from sense of self.
"Darryl thinks he's such a man because he works in a warehouse. Well big deal! I worked in a warehouse, Men's Wearhouse. I was a greeter. I'd like to see Darryl greet people, probably make them feel like wimps. Not me. I - "Hello. I'm Michael. Welcome to Men's Wearhouse. We have a special on khaki pants today." It's just one example."
Michael Scott "The Office: Gay Witch Hunt (2006)
"You know, we all have our inner demons. I, for one - I can't speak for you, but I'm on the verge of moral collapse at any time. It can happen by the end of the show."
Glenn Beck Nov. 6, 2006
And the coup d'etat...Scott has Dwight and Andy sucking up. Beck has Pat and Stu.
So my question is not how Glenn Beck would know what I as a Jew would wonder, but why I would ever wonder why Glenn Beck doesn't know everything, including how to bring the dead back to life
And that, my friends, is what she said.
Award-winning TV writer, Steve Young, blogs at the appropriately named, Steveyoungonpolitics.com
FOLLOW HUFFPOST