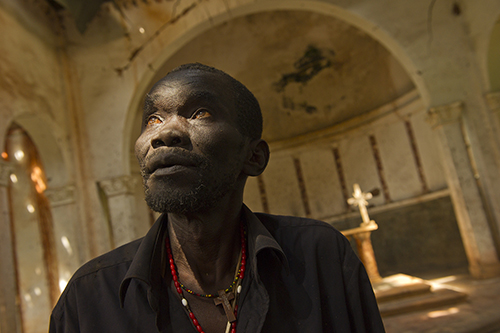 Southern Sudan 2010 (c) Karen Kasmauski
Philanthropy and the arts are often intimate partners -- friends with benefits, if you like.
But often the result is exclusivity -- high culture presentations that require so much foreknowledge or inside knowledge from the audience that the majority of people are left disengaged and uninspired.
Such a criticism cannot be leveled at the Annenberg Space for Photography -- one of Los Angeles' newest artistic showplaces. Connection is a priority here. The Annenberg's self-defined mission is to inform and inspire the public "by connecting photographers, philanthropy and the human experience through powerful imagery and stories."
So it was no surprise to find photojournalist and story-teller Karen Kasmauski giving a free talk as part of the Annenberg Space's ongoing IRIS nights lecture series this month. (Admission to the Annenberg is free at all times.)
Kasmauski has shot 25 stories for National Geographic and co-created two books, Impact -- From the Frontlines of Global Health and Nurse , both of which were nominated for Pulitzer Prizes. As her book titles suggest, she is interested in worldwide health issues, particularly how our treatment of the environment impacts people.
You can see a clip from her talk below where she describes a scary moment while working on a story about viruses. (The entire video of Kasmauski's talk can be viewed at the Annenberg Space for Photography site.)
Life and death situations aside, one thing that distinguishes Kasmauski's approach to photography is her remarkable ability to quickly build a rapport with her subjects.
I look at the world through family life... That determines how I relate to people and talk to people. One of the things that's really big for me is food. I like to cook for people. I collect recipes wherever I go. [For instance, how to stir-fry fiddleheads in the jungles of Sarawak.]... It's a really good way to connect to people in the field... I [also] start talking to people about a lot of domestic stuff. That's what's important to me, too. How do you run the household? How do you make that cloth? How do you cook that dinner?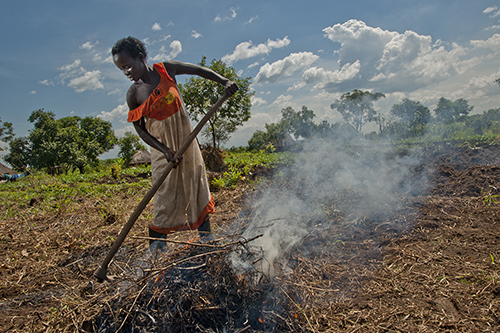 Southern Sudan 2010 (c) Karen Kasmauski
But beyond the talk of recipes and home life, there is always a story. Kasmauski got into photography in the first place to tell stories, she told me in an interview before her Annenberg talk. She researches the story long before she even snaps a frame. Then when she's shooting, she's able to react and anticipate.
When you are a story-telling photographer, it's almost a schizophrenic level. You're in the moment -- trying to figure out what's going on in front of you... At the same time, [you're] looking past the moment. Looking to see what might be happening. Ten seconds from now, an hour from now... trying to predict what might unfold in front of you.
The ability to anticipate in the field, Kasmauski told me, is dependent to a large part on preparation.
Even when I'm doing a single portrait assignment, I'm asking all these questions of the editors about the subject. And I call the subject and I ask them the questions... You always need to be open to spontaneity and creativity. [But] if you have the knowledge of what could be happening, then you can be open to it.
Kasmauski is a good fit for the Annenberg Space, which is funded by the Annenberg Foundation. The Foundation has always championed communication and new ways to share ideas and knowledge.
Foundation CEO and President, Wallis Annenberg, had the initial inspiration to create the Space for Photography. She sees the small, hi-tech exhibition hall and its programs as a way to give people new ways to see the world and hopes they will "leave feeling motivated to make positive change."
Kasmauski has spent most of her career seeking such change indirectly, using her photography to show how public health issues and scientific developments affect people. But she says the market for longer photo-journalistic stories is shrinking. So she is turning, like other talented photographers, to work in the nonprofit world.
Part of her Annenberg talk was devoted to a shoot she completed this summer in Southern Sudan for a large NGO. (There is a vote on independence due there in January.) She had nothing but praise for the organization, its programs and its staff.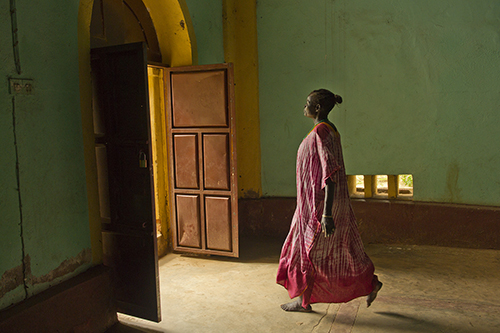 Southern Sudan 2010 (c) Karen Kasmauski
"As photographers, we have to be very careful about who we represent...It's important that we really believe in what they do."
However, she also sees dangers as photo-journalists take on more advocacy assignments with nonprofits:
Photographers must realize they aren't doing journalism, Kasmauski says. Instead, they are supporting a particular goal or goals of an organization. In this sense, it is like working for a corporation. "NGOs aren't necessarily looking for the story that should be told because they have an agenda, 'We have to raise money. We have to be able to keep this program going.'"
In serving a nonprofit, photographers should be careful about their approach. "You're walking a fine line with an NGO," Kasmauski says. "There are a lot of hardcore documentary makers out there that do fairly heavy-duty pictures of people in distress. Those pictures are not going to engage people. They are going to turn people off ... The other side of the coin is also ineffective. The big smiley faces of kids: if everything is so happy, why do you need our help? You have to have that fine line of photography that not only tells the story, but engages the viewer to bond with your subjects. To show the humanity in the subject. So that you can say, yeah that's kind of like me standing there."
Photographers should not work for a nonprofit just so they can get access to compelling shots for their porfortlios. Kasmauski was uneasy with both the large numbers of photographers who flew to Haiti after the earthquake and some of the images coming back. "Particularly in this day and age when people always want to see the extreme, the bloodiest images... The Haiti coverage was driving me crazy. It was like people were almost taking medical pictures of the poor victims -- close in on people's wounds."
If you sense that Kasmauski has a strong moral orientation, you have appreciated something central to her outlook and her work. A story illustrates the point. She was in her first job as a photojournalist, working at the Virginian-Pilot newspaper. In the field one day, she made a conscious decision not to take a photo of the face of a woman involved in an accident, though she covered story from all other angles. The television news camera operator, however, did get the shot. It played prominently in their coverage. She felt conflicted and went to her editor, who turned out to have an unusual attitude.
My boss said, "You are a human being. If taking that photo takes away from your humanity, don't take it." So I think that's a good way to judge things. If you think you're uncomfortable or you feel you've compromised yourself a little bit then you should probably not take that photo... Some people say you're not a good journalist if you don't take everything in front of you. I don't believe that. You're always picking and choosing anyway.
Kasmauski's next book project will be a memoir. It will cover her dual life as globetrotting photo-journalist and as a Virginia suburban mother of two. It will also focus on her love of food and cooking.
But I hope it will also tell the story of her rare radar for people. Normally when someone picks up a camera it is a cue for people to hide or act unnaturally. In Kasmauski's hands, the camera transforms into a conduit for compassion, a tool for connection. Her husband, Bill Douthitt, a senior editor at National Geographic, says she has an uncanny ability to understand body language even in foreign lands. She puts it this way.
When you're in the field, or trying to get stories, you're trying to find out what is that common denominator that links you to that person. You need to have enough of a bond so that person will be comfortable with you being there.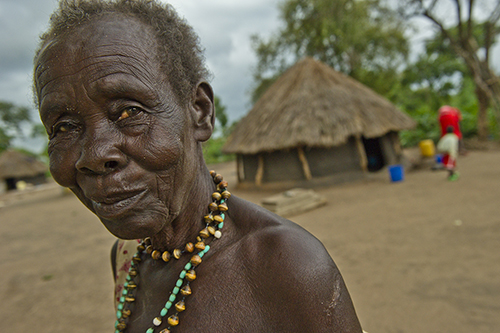 Southern Sudan 2010 (c) Karen Kasmauski Disclosure: Huffington Post is a sponsor of the current exhibition running at the Annenberg Space for Photography -- "Extreme Exposure."
This Blogger's Books and Other Items from...
SUBSCRIBE AND FOLLOW
Get top stories and blog posts emailed to me each day. Newsletters may offer personalized content or advertisements.
Learn more