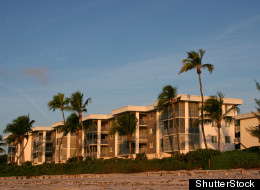 A recent survey of middle-aged Floridians found more and more of us don't hold out much hope for retiring as well off as our parents -- or even at all.
In a survey entitled "Voices of 50+: Dreams and Challenges," AARP found 44 percent of older Floridians plan to delay retirement if the economy does not get better soon, and 28 percent expect to work until they die.
The poll confirms that most Florida baby boomers -- especially those who've suffered great personal losses with the collapse of housing values -- are feeling helpless and pessimistic about the future of the Sunshine State. Only 20 percent said they were optimistic about an economic recovery here in the next two years.
Those polled are at an age when they should be earning the most money of their lives, yet the bipartisan pollsters found 69 percent don't expect to make enough to even consider retirement, and 58 percent worry they won't live comfortably when they eventually do stop working.
If the results of this poll prove anything, it is that the American Dream is dead for too many baby boomers in Florida.
"This survey paints a picture of Floridians age 50+ who are having to defer their dreams and come to terms with a tough economy," said Jeff Johnson, AARP Florida interim state director. "For an alarmingly large number, their dreams are delayed or slipping out of reach."
Tallahassee politicians should wake up and start addressing these economic anxieties, but Florida lawmakers have served more as advocates for financial, utility and insurance institutions than the middle class for years. And they are still callously waiting for an economic cycle to work its way through, particularly in regard to foreclosures. That antiquated thinking is destroying older workers -- and Florida's middle class as a whole.
Let's face it. Except for the wealthy, economic conditions in Florida are terrible. And despite what Govenor Rick Scott and our legislative leaders would have you believe, if creative initiatives are not undertaken soon, things will not get better for many years, if not decades.
In an economy forever based on tourism, real estate and construction, there continues to be no meaningful job creation. Even then, the jobs available in these sectors pay crappy wages. And for those lucky enough to be working, the state's right-to-work laws make for poor working conditions.
The biggest problem is that too many homeowners are underwater on their mortgages and lost their life savings when their home equity -- and stock fluctuations in their 401k(s) -- were wiped out by Wall Street shenanigans.
With rising food and energy prices, and higher property taxes and insurance premiums, it's become very expensive to live in the Sunshine State for workers and the retired alike. Yet the insurance market remains so messed up that Florida is one Category 5 hurricane away from insolvency.
Too many baby boomers and senior citizens are living on the edge, and if the drastic increase in Florida food-stamp recipients is any indication, it's plain difficult for Florida's middle class to stay out of poverty.
Florida benefited greatly from a migration of seniors and corporations seeking lower taxes and a better quality of life. Over the last three decades, a third of New York residents leaving the state have moved to Florida.
If the AARP poll is any indication, that migration will end. Perhaps there will be a reverse migration back to a region where, despite high taxes, people can make a living wage and older workers can again think about retiring.
Published in Florida Voices on August 10, 2012.
Steven Kurlander blogs at Kurly's Kommentary, writes a weekly column for Fort Lauderdale's Sun-Sentinel and is a South Florida communications strategist. His email is kurly@stevenkurlander.com
Earlier on Huff/Post50:
Fortune Magazine's 'Best Places To Retire Now'
Fortune says Santa Fe is the top choice for retirees looking for sunny climes because of its extensive cultural offerings and easy access to the Sangre de Cristo Mountains. Check out Fortune's other top picks for sun worshippers here.

Fortune says Charleston is the top choice for retirees looking for a small city, because of its rich history, gastronomic offerings and sandy beaches, as well as opportunities to take classes at the College of Charleston. Check out its other top picks for retirees who crave culture without the hustle here.

Fortune says Bend is the top choice for retirees looking for a home in the mountains because of its extensive outdoor offerings, including hiking, biking, kayaking, and golf, as well as its relatively affordable home prices. Check out its other top picks for outdoor enthusiasts here.

Fortune admits New York City is a surprising choice for a top retirement destination, but it defends its choice with hard data: there will be over 1.2 million people over the age of 65 living there by 2025, says the magazine. New York is a top choice for city slickers because, well, it's New York: there's no need for a car or even a kitchen, and you can't beat its entertainment options. Check out Fortune's other top cities for retirement here.

Fortune says Cuenca is a great choice for retirees open to the idea of retiring abroad (it's becoming an increasingly popular option, says the magazine) because of its low cost of living, great weather and modern healthcare. Check out its other top picks for globetrotting retirees here.
Follow Steven Kurlander on Twitter: www.twitter.com/@Kurlykomments