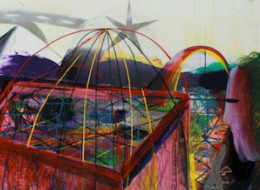 2011 was a strong year for the ever-resilient medium of painting as artists continued to push the idea of just what a painting can be in terms of materials, scale and subject. I expect that 2012 will be no different. Over the past twelve months I visited hundreds of gallery exhibitions and did dozens of studio visits. Because of New American Paintings, I was also privileged to review the work of the more than 5,000 artists who applied to our competitions in 2011. In short, I looked at a lot of painting, and still, I regularly came across artists whose work took me somewhere completely new.
I could have easily expanded the following list of Artists to Watch in 2012, but these artists--for various reasons--made a particularly strong impression upon me in 2011. Among them is one deceased artist, Forrest Bess, whose quiet influence on a new generation of painters is just beginning to be understood. Also on the list is Dona Nelson, a mid-career painter whose work I have long admired; in my mind, she is one of the most underrated mid-career artists working today, with the possible exception of Jessica Stockholder and a handful of others. As of yesterday, the cat is out of the bag, as someone leaked the 2012 Whitney Biennial's artist roster. Only six painters are included this time around, including the already mentioned Forrest Bess, and another of my other picks, Andrew Masullo, whose intimate, hard-won paintings have made him someone to watch for more than two decades. Dave Miko was a new, late year discovery for me. I came across a lone painting by him at the NADA Art Fair in Miami only three weeks ago and was riveted; only ten feet away at Eleven Rivington's booth I was pleased to see a room of extraordinary video collaborations by Miko and Tom Thayer. These works effectively bridged the seemingly unbridgeable gap between painting and video, and were one of the highlights of the entire Miami art fair circuit this year.
12 Painters to Watch in 2012
Forrest Bess, Untitled, 9 x 12 inches. Private Collection.

Anna Betbeze, Froggery, wool, acid dyes and watercolor, 92 x 55 inches. Courtesy of Kate Werble Gallery, New York.

Matthias Dornfeld, Untitled (Star), acrylic, gouache and spray-paint on canvas. Courtesy of Harris Lieberman Gallery, New York.

Echo Eggebrecht, Stopwatch, oil on board, 20 x 24 inches. Courtesy of Horton Gallery, New York.

Gabriel Hartley, Eyes, oil on canvas, 102 x 78 inches. Courtesy of Foxy Production, New York.

Andrew Masullo, 5265, oil on canvas, 16 x 20 inches. Courtesy of the artist.

John McAllister, Moony Jaunt Blithely, oil on canvas, 31 x 25 inches. Courtesy of James Fuentes Gallery, New York.

Dave Miko, installation. Courtesy of the artist.

Dona Nelson, Night Studio (front), acrylic on canvas with cheesecloth, 79 x 79 inches. Courtesy of Thomas Erben Gallery, New York.

Steve Roden, when rain is like sun and sun is like rain…, oil and acrylic on linen, 72 x 72 inches. Courtesy of Susanne Vielmetter Los Angeles Projects, Los Angeles.

Analia Saban, Paint (Gray), wet acrylic paint, on linen canvas contained in Poly-Nylon bag, 20 x 20 x 2 inches. Courtesy of Thomas Solomon Gallery, Los Angeles.

Jonas Wood, The Hypnotist, oil and acrylic on canvas, 108 x 168 inches. Courtesy of Anton Kern Gallery, New York.
New American Paintings magazine is a juried exhibition-in-print and the largest series of artist competitions in the United States. Working with experienced curators, New American Paintings reviews the work of thousands of emerging artists each year. Forty artists are selected to appear in each bi-monthly edition, many of whom go on to receive substantial critical and commercial success. Additional content focuses on the medium of painting, those who influence its direction, and the role contemporary painting plays within the art world.Visit New American Paintings for more information or to subscribe.
Follow Steven Zevitas on Twitter: www.twitter.com/newampaintings