Park City, Utah -- Given the boot from his friend's house, where he had been sleeping on the floor, rejected by his girlfriend, although she doesn't have the heart to tell him directly, working as a pooper scooper and feeder of lamas and now sleeping on the floor at work, life is not great for Linas. When given a 1976 VW bus, a shortened and odd looking 1976 model, Linas sets out across the country.
This is not, however, just another Great American Road Trip. Not an intense journey for self-discovery, not a grand tour to reveal the true soul of America. Yes there are plenty of back roads and rolling landscapes, meeting odd people, sleeping in cheap motel rooms and eating in greasy spoons, drinking in dive bars, plenty of the lonely and loony America. Still, Bass Ackwards is a cross country journey of a very different kind.
A lyrical, sensitive laid-back trip, Bass Ackwards is a universe from the hyped-up, hard-charging American "road rip" barreling across the land on the fuel of masculinity with the goal to snatch the ultimate essence of America. Directory-actor Linas Phillips is no Jack Kerouac-Neal Cassady wannabe. He has no interest in devouring a woman at every stop and ripping off into the sun set. In fact, quiet Linas likes kids, wants a steady woman. And Linas takes the time to inhale the air of America.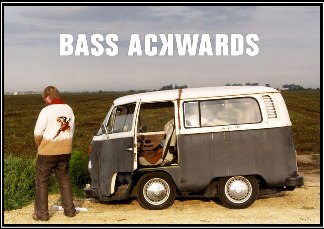 I have driven across the American continent a few dozen times over the last several decades -- in fact I drove from New York to here, to Sundace in Utah. Years ago I sucked up all the Kerouac books, and I have seen most of the American road films. I'm ready for a change. And this film gave me one.

A gentle soul traveling from a past on the west coast to a more hopeful, hopefully, time on the east coast, I see shades of John Candy in Linas. Open and engaging, in the beginning I expected him to get rolled and beaten by reality. But that's my paranoia. Soon I realized Linas' innocence is infectious. There were close calls. Yet, Linas' odd, easygoing America is ultimately non-threatening. And the divide of Red-Blue America is nowhere to be seen.

Although Linas was not looking for America, not really looking even for himself, his road trip is much more than simply moving through the landscape. He's moving through Americana, engaging with Americans, experiencing the nooks and crannies of our country. If you are looking for a different kind of road trip -- as I imagine a lot of women, and guys who have already done the Kerouac-Cassidy thing -- Back Ackwards is a good bet. Although a low-budget film, Linas Phillips has crafted his journey with a sensitivity, and reflection, that allows us to see America through a different lens.
New Video, the digital distributor, has made it possible to rent and purchase Bass Ackwards on iTunes, Amazon VOD, YouTube VOD and pre-order the DVD on Amazon.com. More outlets will be rolled out on Feb 1st.
I apologize for the less than perfect technical quality of the interview below, the sound quality, I'm a novice just beginning to shoot video interviews.
SUBSCRIBE TO & FOLLOW THE MORNING EMAIL
The Morning Email helps you start your workday with everything you need to know: breaking news, entertainment and a dash of fun. Learn more